Girlfriends of Pinellas County is a very special group designed for girls in 4th-12th grade. The mission of the group is to create a supportive environment for young ladies in Pinellas County that will encourage positive behaviors, enhance self-discipline, develop personal dependability, and cultivate high self-esteem by building strong relationships with positive role models. Opportunities will be provided for learning new skills by participating in community service projects, which will aid in developing optimistic attitudes and compassion for others. Mentorship will inspire young ladies to set goals and work towards their highest potential as productive, caring responsible, young ladies.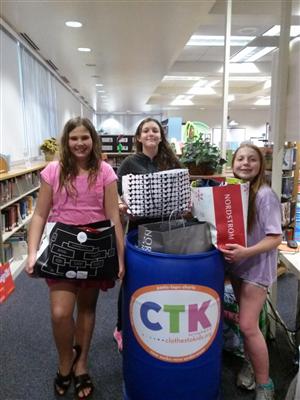 Girls will be mentored either individually or in a group. During this time the 4th and 5th grade girls will participate in lessons and activities centered around building friendships, dealing with bullying and standing up for themselves in a respectful manner, self-esteem, body image, health and how the media distorts a healthy body image. Participants will meet the second Wednesday of each month from 2:35-3:30 in Mrs. Lofstedt's office (in the Media Center). Since transportation will not be provided, students will need to be picked up or other arrangements for getting home will need to be made.
We ask that the members wear the Girlfriends "colors," which consists of black bottoms (pants, skirt, shorts, skorts) and a lavender, purple or pink top.
We are very excited to continue this program for our young ladies at Garrison-Jones. We hope you will be too. If you have any questions or would like more information, please contact our School Counselor, Vanessa Lofstedt, at (727) 469-5716 x2138 or email her at lofstedtv@pcsb.org