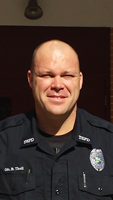 Phone: (727) 943-4900 x 2140
Email:
Degrees and Certifications:
Phone:
Email:
Degrees and Certifications:
TSHS School Resource Officers

Purpose: The School Resource Officer Progrma is designed to promote a positive relationship between students and law enforcement officers, provide a law-related education resource person, and help maintain a safe school environment.

History: During the 1981-1982 school year the first School Resource Officer program was piloted at Osceola High School. Deputy Terry Thomas, Pinellas County Sheriff's Office, was selected to serve as the first SRO. Successful implenetation of the program resulted in its extension and eventual placement of the program in every high school in Pinellas County. School Board / LEO Contract Cost for personnel and equipment are shared by the School Board and individual law enforcement agencies. Annual contracts detail expectations and expense. Officers are employees of their respective agencies and are evaluated by them with input from pirncipals.

Criteria: SRO's are chosen by principals from certified officers recommended by police agencies. Officers selected must present a model police officer image, reflect excellent communication skills, display a positive attitude, possess a warm personality, and show a sincere commitment to the welfare of the students. They must have the ability to deal effectively with students of various cultural, racial, and socio-economic backgrounds and to work cooperatively with school personnel.

Duties: Speak to classes on topics such as DUI, traffic, drugs, rape, and school safety. Act as a law enforcement resource person as requested by the principal. Conduct criminal investigations of violations of law on School Board property. Provide security and maintain peace on School Board property. Make arrest and referrals of criminal law violations. Appear at State Attorney investigations, depositions, trials, and sentencing. Provide transport to the Pinellas Juvenile Assessment Center (PJAC) and county jail. Coordinate emergency Medical Service (EMS) at the request of the principal. Coordinate transportation of witnesses to and from court. Provide student counseling upon request of principal. Secure, handle and preserve evidence. Recover school board property through work with other police agencies. Provide escort service for bank deposits. Make referrals to social agencies. Provide special truancy investigations and prepare for prosecution. Relay messages in emergency situations such as tornados, hurricanes, etc. Coordinate investigatiio of bus stop incidents. Wear the official police uniform except for occassion agreed upon by the principal when civilian clothes may be worn. Follow and conform to all school board policies. Maintain appropriate records and file required reports.