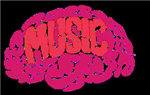 March is Music in Our Schools Month
The National Association for Music Education has designated March as Music in Our Schools Month. Researchers have studied the benefits of music education for decades, consistently finding strong correlations between music and academic achievement. The College Entrance Board found that students in music programs scored 63 points higher on the verbal and 44 points higher on the math sections of the SATs than students with no music participation.
Music not only impacts academic achievement, it also shapes the way our students understand themselves and the world around them. Let's think beyond the bubbles™ and educate the whole student.
"The skills gained through sequential music instruction, including discipline and the ability to analyze, solve problems, communicate and work cooperatively, are vital for success in the 21st century workplace"
U.S. House of Representatives, 2006
All County Honor Students:
Congratulations to the following students who participated in the 2015 All County Honors Chorus, Strings and Orff Ensem-bles. These students performed with approximately 250 of the best Music students from around Pinellas County. The students did an amazing job, I was very proud of all their hard work and dedication!
All County Honor Students:
Chorus: Aria Friedman, Lauren McCloy, Riley Rauck, Brendan Wells
Strings: Cecilia Dieffenthaller, Luna Garcia
Orff Ensemble: Elizabeth Cullen, Aubrey Harris
Upcoming Calendar of Concerts:
April 23rd – 1st and 2nd Grade Performance
April 30th – 4th & 5th Grade Chorus Performance at East Lake High School
May 7th – Kindergarten and 3rd Grade Concert
May 21st - String Ensemble and Drum/Orff Ensemble Performance
Thank you to all the parents and staff at CWE for their continued support of the music department at Cypress Woods.
Mrs. Freeman