Return to Headlines
A message from our principal, Mr. Florio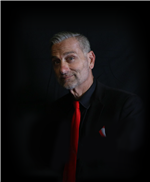 To the Community of Hollins High School and to all considering joining our team,
At Hollins High School we believe in infinite possibilities, that high school is not the last stop but the first stop on in student's journey to a rich, meaningful, and impactful life. We teach to inspire and ignite imaginations and prepare students for jobs and careers not yet imagined. Everything we do is in alignment to that purpose – as we continue to push and strive to maximize everyone's potential, administration, teachers, staff, students, and our parents – asking not "Why?" but "Why not?"
Why would we think we are immune to the adverse effects of listening to negative music and words and self-talk? Contrary to widespread belief the most powerful gadget in our world is not the iPhone in your pocket, but the head residing on top of your shoulders. What you put into it, what you consume, and what you talk to it about dictates the trajectory and the quality of life in which you will lead. Problems, difficulties, challenges, and struggles come to us all. How we respond in those situations determines the quality and success we will enjoy in our lives. And it is not about the amount of money and products we accumulate – it is about the peace of mind and happiness in which we live every day.
Mindset Matters. It is our school theme and mission and discussed in all that we do. If you have an attitude of can-do you will-do. Conceive. Achieve. Believe. Not as a pithy platitude to put on a T-shirt or poster, but as a commitment and belief that are in control of our response to the situations that life gives us. If we focus on the two things we can control – our attitudes and effort – we can maximize our chance at success while eliminating the "would've, could've, should've" excuses which always lead to regret.
At Hollins, our mission is to be the best public high school in the state of Florida. That is a big, bodacious goal to which many may discount as wishful thinking. But our focus is not on what others think. Our focus remains on getting one day better by comparing ourselves not to another school or person, but to who we were yesterday. Are we striving, thriving, and surviving – moving one inch closer to our goal and better than the day before? If working to the best of our ability with maniacal pursuit on improving, then we are already successful.
We are always looking to partner with a diverse group people, parents, individuals, and students who share in that passion and desire to be their best – and make the impossible – possible. When you become a part of Hollins High School you will be a part of a school team working to prepare, educate and inculcate each student with the skills necessary to accomplish and achieve whatever they imagine.