Return to Headlines
Gibbs High School Introduces to you the new school blog 'The Tea'
Written by X'Zabian Gwyn
Trending pictures & videos of GHS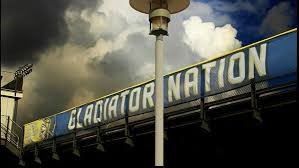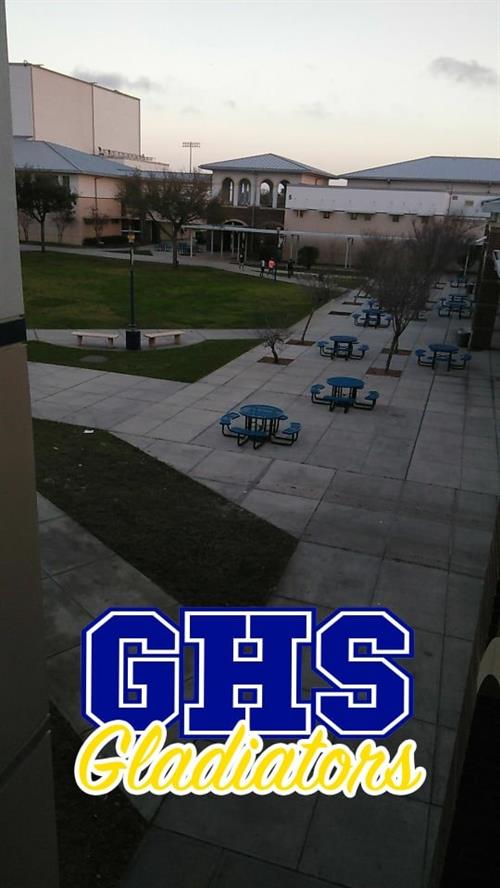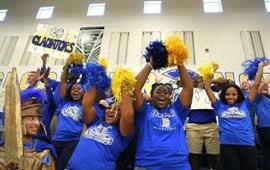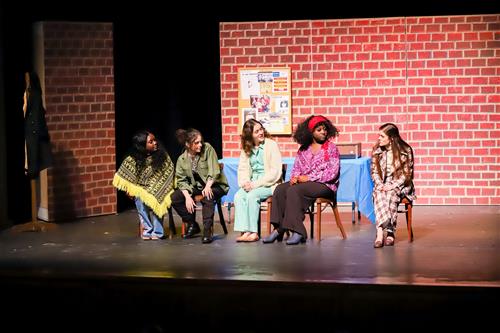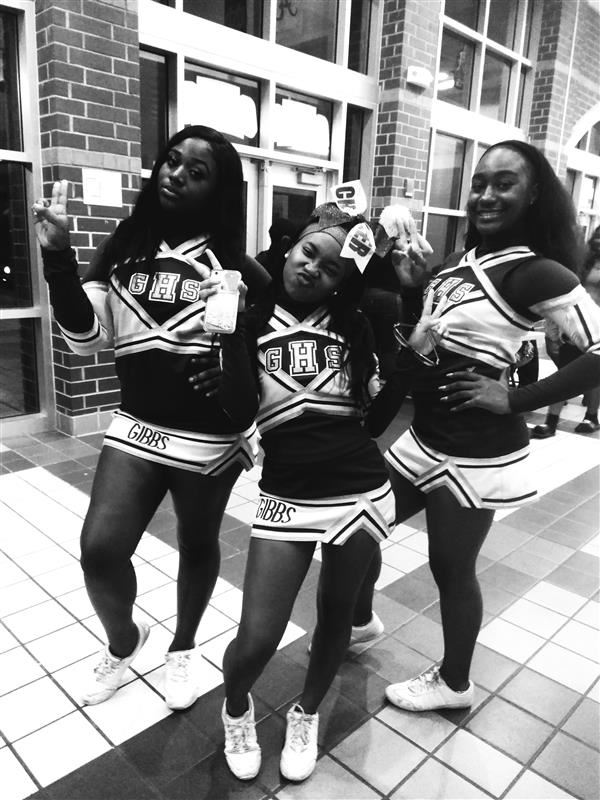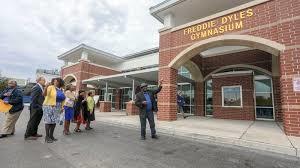 The Blogger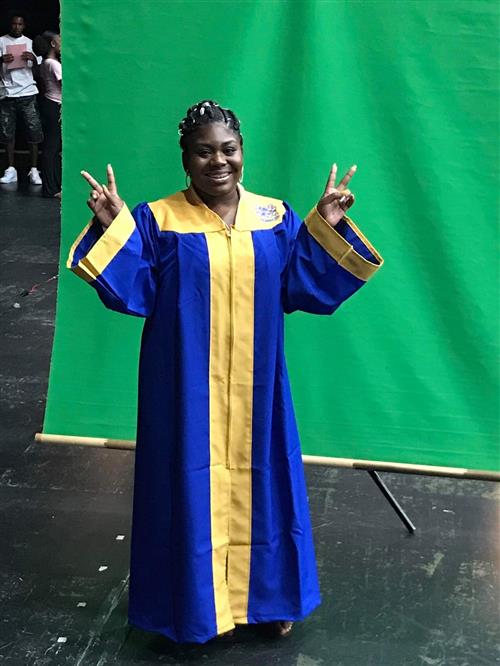 Welcome all G High students and faculty, my name is X'Zabian "Zabi" Gwyn and I am your official school blogger! My goal is to showcase everything our school has to offer and to keep you all informed and updated with all events Gibbs. From sports games to academics here is a place I hope you all will turn too when you need advice, questions answered, someone to reach out too, or simply a laugh. I have always wanted to start a blog and what better place to do so than with our very own school! I hope this will bring more student involvement as well as continue to strengthen the morale and school spirit of our fellow Gladiators each and everyday. I am a Dual Enrollment student currently majoring in Journalism and this is something I am very passionate about and I look forward to bringing you all the tea.
'Sip Sip!'
General Information as of February 7th, 2020:
Grit to Greatness
Congratulations again to Lerodrick James, Kendarius Cunningham, and Malik Golden on your official college football signing! If you missed the fanfare Wednesday afternoon in the quad both Lerodrick and Kendarius will be attending Florida Agriculture and Mechanical University (FAMU) this fall. However, Malik Golden will be attending Rochester Community and Technical College this coming school year in Missouri. The students and faculty of Gibbs High School are so proud of these 3 young men for their dedication to our school and to see how far they have grown over the years. These young men represented their school with respect, excellence, and pride, and I'd like to wish them all the best in their future endeavors as they continue making touchdowns!
Sip, Sip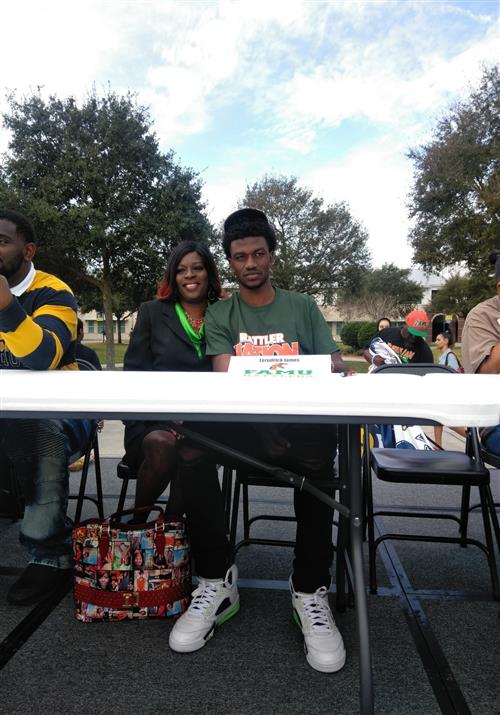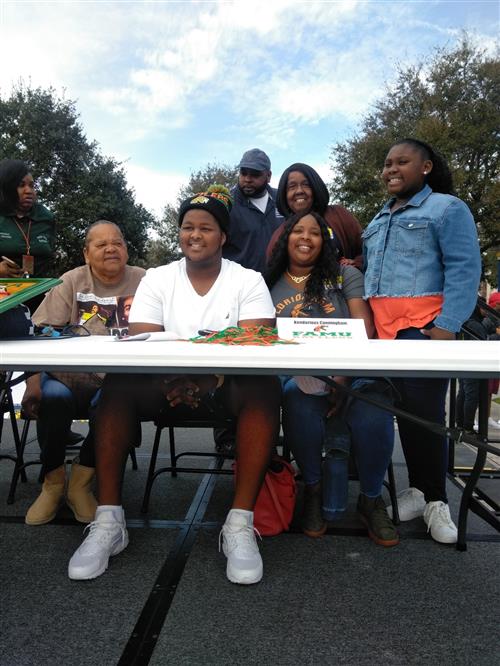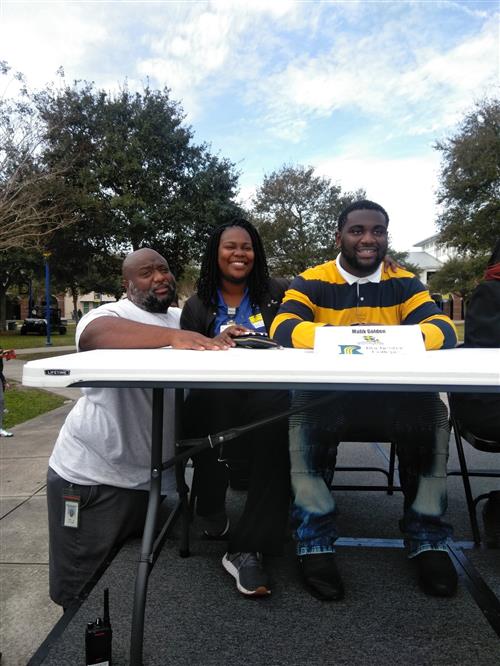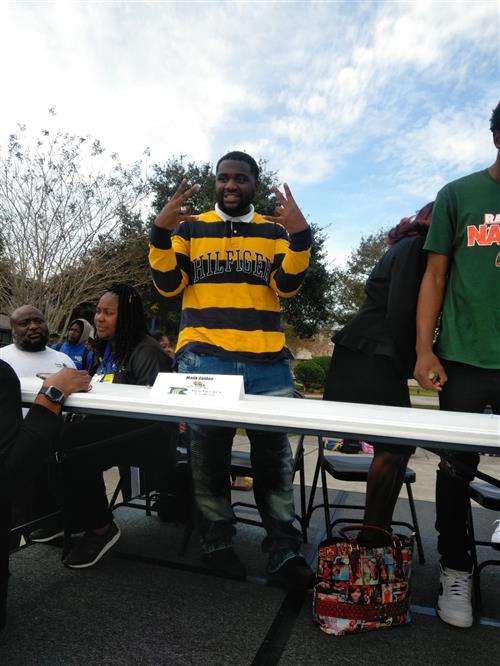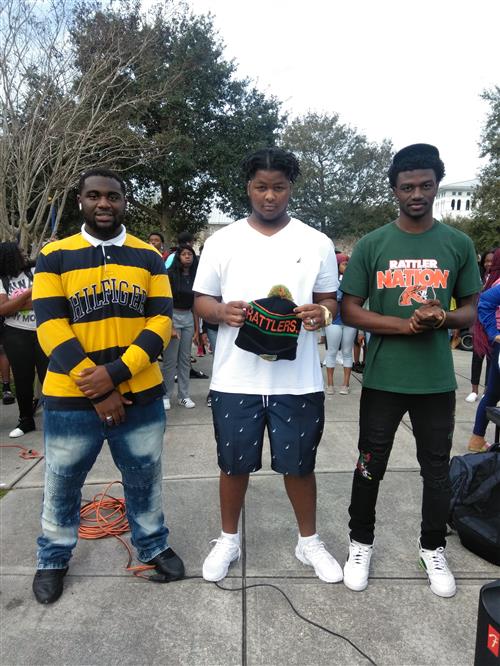 Honoring Freddie Dyles
On Saturday, February 1st, Gibbs High School's gymnasium was officially renamed in honor of a great man that coached basketball here for over 30 years. That man being the late Freddie Dyles! Freddie Dyles was a pillar to the community and even to those that did not know him, they still knew of his greatness. He's a legend who won 647 games and led Gibbs to 3 boys basketball championships. Now, Gibbs High School is honored to bear the name of such a great leader and man of strength. With a name like Freddie Dyles standing above us as we enter the gym and on the court as our players play, we must continue to persevere and make him proud! May he continue to rest in peace as Gibbs High School will forever be his home.


Play Review On: Heidi Chronicles
Written By: Wendy Weinstein
Directed By: Keven Renken
The play was opened beautifully by Darby McNeill a senior Musical Theater major who played the lead role of Heidi Holland, a woman who wanted equal woman's rights as well as to become an art historian.
Most entertaining scene:
Every scene throughout the duration of the play held humor and my favorite one was in the beginning. This scene was done by Arijana Collins who is apart of the Performance Theater program. She played Susan Johnston, the faithful friend of Heidi Holland's in which both girls were dancing at there homecoming dance of 1965'.
Most entertaining character:
The character I found to be most amusing was Scoop Rosenbaum who was portrayed by senior PCCA actor Thomas Marshall. During the play I couldn't help but refer to him as the 'dude in the red suit constantly drinking a beer.' The character was supposed to be a journalist [Blogger thoughts: Probably why I liked him so much] whom dropped out of Princeton University. What I enjoyed most about this character was his nonchalant attitude and slight arrogance that fanned off him.
Most likely to embrace the role:
Shadin Haitham who played the role of Peter Patrone is also a senior Performance Theater major. For those of you that do not know Shadin, he is a special kind of individual. He brings the party to the room no matter where he is as well as being the kind of person you instantly grow to love. What I found to be most astounding with this young mans performance, is the way he adapted to his role. The entire day of school before the first showing of Heidi Chronicles Shadin wore a head cap, this concealed anyone from seeing his entire head. This behavior was not unusual for him, but what was definitely shocking was when I layed eyes on him during the performance and saw that he had shaved ALL of his hair off!
This play took a unique perspective of the Woman's movement as well as unexpected plot twists. After going to the play (my first in 4 years) I felt as if I was no longer looking at just my friends and peers on stage but looking into the life of characters, into the lives of people I wanted to get to know better. Only true stars can make you forget who they are and remember who they are meant to be. But without those behind the scenes who physically made the props, costumes, handled the lighting, the sound, directing, and even managing the stage; none of this great work would have been possible. I applaud you all- everyone that took part in this production for a job well done. I know without a doubt that you are all destined for greatness.
Remember as always, that the show must go on!
(Please view the pictures below)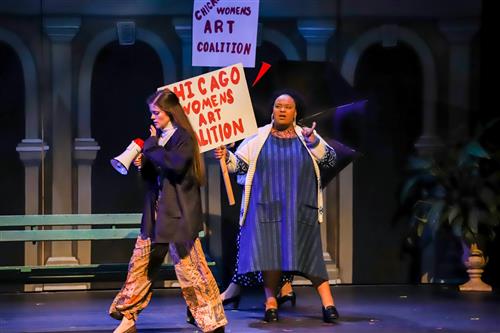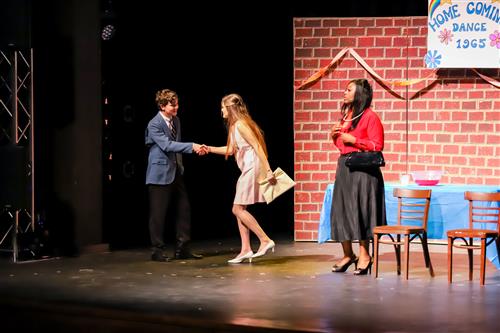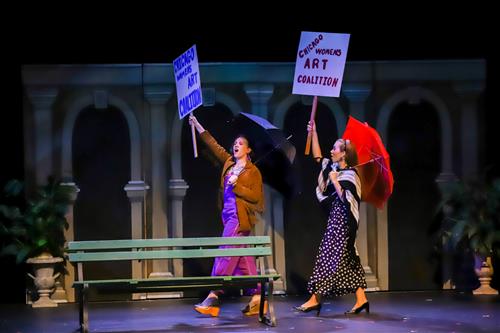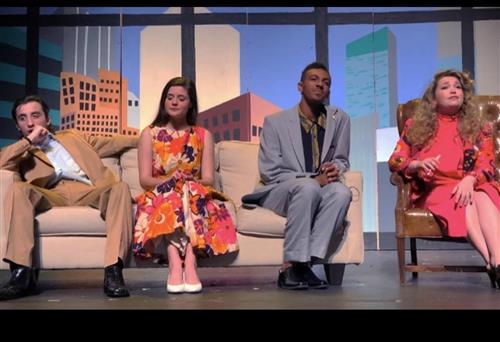 General Information as of January 23, 2020:
PCCA Presents to GHS: HEIDI CHRONICLES
It is not too late to catch a showing of this great play, put on by our peers. This play captures the essence of all art and beauty as well as portray the life of a young woman as she finds herself in the midst of the Women's Movement.
Showtimes: Thursday, January 23, 2020 and Friday, January 24,2020 @7:00 in the Grand Theater
Tickets: $8 for students & $10 for adults
Sports
Don't miss out on the game of the season! Gibbs High School's Boys' Basketball team will be battling it out tomorrow night on the court against Lakewood High School! JV game starts between 6:15 and Varsity plays around 7:15!
Tickets: $6
Attention Seniors (Updated as of 2/7/20):
Senior dues are currently $130, and it will continue to increase $10 each month as we get closer to the event! Payment plans are available.

Grad Bash this year will be held at Universal Studios. Tickets are being sold for $130 and seats are limited to a first come first serve basis. If you plan on attending, you need to hustle because seats are filling up quickly. Senior dues must be paid in ENTIRETY before Grad Bash tickets can be purchased.

Senior Breakfast tickets are NOW on sale for $25

This year's 2020 Prom night is nearing, and the theme is Candyland!!!
All purchases can be done in Mrs. Corbett's room, 2-232!!!
YEARBOOK SALES:
Something Gold, Something Blue, Something Old, Something New; is the 2020 yearbook theme!
The price is currently $65 and will be increasing after Spring Break! Payment plans are ONLY available on campus and guarantees the current price. You can also purchase your yearbook online at balfour.com

Senior quotes are currently $2 or $5 if you want your quote included next to your senior portrait! This is also on a first-come first-serve basis!
All purchases can be done in Mrs. Dennard's room, 2-242!!!

Blog Entry #2 (Week of January 13th, 2020)
"The Substance behind the Holiday- and 6 most fascinating things you didn't know about Dr. King"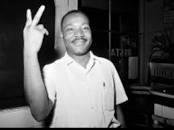 With Dr. Martin Luther King Jr. Day (b. January 15, 1929- d. April 4,1968) better known as 'MLK' day fastly approaching- a day to honor and commemorate his legacy and fight in the Civil Rights Movement. I figured it was only befitting to discuss the life of a man so famously known yet so generalized. Many people just know the basics- and by basics, I mean the fact that he was a famous civil rights activist in the mid-1900s, trying to bring about equality not just for African Americans but for all people of color. But there was more to this great man beyond his astounding 'I Have A Dream' speech or his endless determination to bring change to this world. Here I will take you on a journey of the top 6 things I found to be most fascinating about Dr. King and his life that many people may not know!
1. It's All in The Name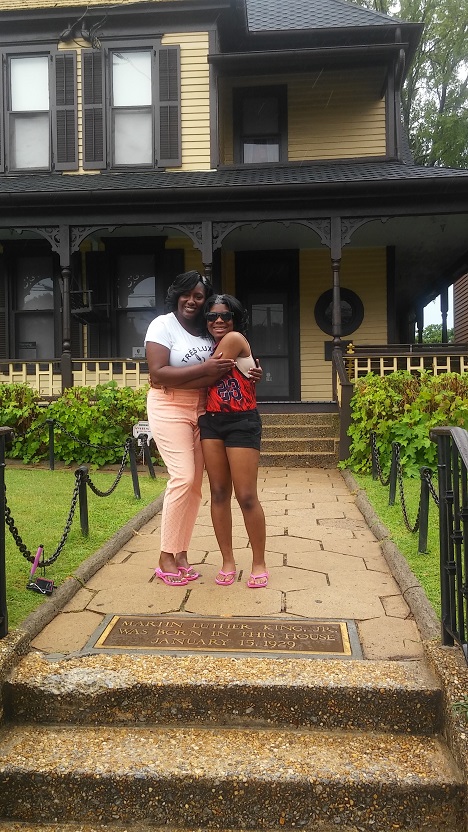 Believe it or not Dr. King was born in January of 1929 to the name Michael King Jr; a far cry from what we call him today. However, in 1934 the pastor of Atlanta Ebenezer Baptist church whom was also Dr. King's father, traveled to Germany and was influenced by a Protestant Reformation leader who went by the name of Martin Luther. Because of such an influence Dr. Kings father later returned home and changed his name as well as his five-year old's sons name to Martin Luther King Jr. Which is the name we famously know him for today.
2. Schoolin'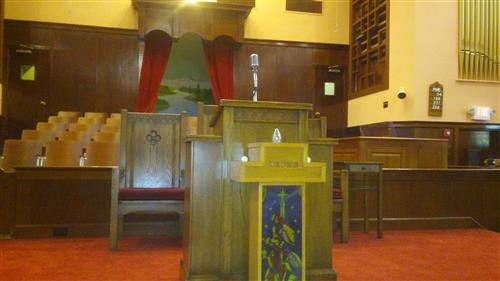 Dr. King had such a mind that he entered college at the age of 15 after skipping the ninth and twelfth grade. Seeming that his father and grandfather were alumni of Morehouse College, in 1944 Dr. King found himself applying there as well. Both his father and grandfather were also preachers but at the time Dr. King had no intentions of following their path. It wasn't until Morehouse College president Mr. Benjamin E. Mays convinced him otherwise that he decided to change his course of profession. Because of that influence Dr. King was ordained before he even graduated from college with his degree in sociology. By the time he was 26 years old in 1955 Dr. King had once again graduated, this time with his Ph.D. in systematic theology.
3. The First of Many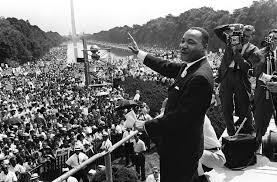 Many people including myself may not know that Dr. King's 'I Have a Dream' speech was not his first time speaking at the Lincoln Memorial. Six years prior to the March on Washington he gave a speech to a crowd approximating to 15-30,000 people. His first national address was calling on the United States to 'give us the ballot' and address the dilemma of voting rights in our country and the injustice the was occurring to so many people around the nation. The speech he orated that day was actually what pulled him to the front lines of activism and brought attention to him as a key leader to the Civil Rights Movement.
4. Chainless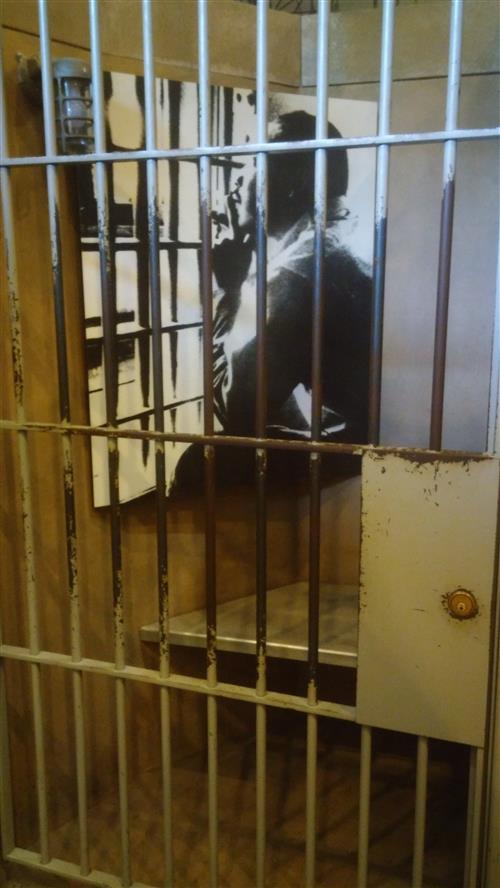 During a time of civil unjust when a person of minority or of color could be imprisoned for almost anything, how many times do you think you could have been imprisoned before giving up? Dr. Martin Luther King Jr was incarcerated 29 times for crimes as trivial as driving 30 miles per hour in a 25 mile per hour zone. However, the majority of his crimes seemed to fall under the form of civil disobedience. The courts of Birmingham, Alabama passed a law requiring anyone that wanted to perform speeches or marches to acquire a 'permit' because they did not want Dr. King or others like him protesting in their city. Even with the threat of incarceration looming as a possibility, Dr. King and his many followers continued their march through the city. Well, the city of Birmingham acted as they said they would, and Dr. King was put in jail for 11 days- during that time is when he wrote his iconic 'Letter from Birmingham Jail' defending his strategy of nonviolent resistance to racism and why he broke the law. Stating, "I am here because injustice is here…I would agree with St. Augustine that 'an unjust law is no law at all." Dr. King and his followers believed that the only way to bring about change was to be peaceful and nonviolent, he and others were ready to put their life and freedom on the line in the hopes of one day bringing about change.
5. The First Attempt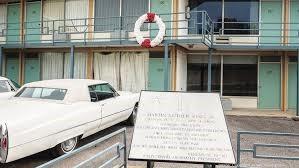 On April 4, 1968 Dr. King was assassinated at the Lorraine Motel in Memphis, Tennessee a tragic event for so many across our nation. Though that was the night he was fatally slain by a bullet, that was not the first assassination attempt on his life. Ten years prior on September 20, 1958 Dr. King was attacked by a woman in Harlem while he was signing books. The woman by the name of Izola Ware Curry approached Dr. King and asked him if it was indeed him. After Dr. King responded she went on to say, "I've been looking for you for five years," then continued to thrust a seven-inch letter opener into his chest. The tip of the blade came so close to puncturing his aorta (the main artery that carries blood away from the heart to the rest of your body) that doctors later told him he was one sneeze away from death. Even after such a near death experience and having to undergo numerous surgeries, Dr. King issued a statement while in recovery saying, "I feel no ill will toward my mentally ill attacker."
6. More than a Birthday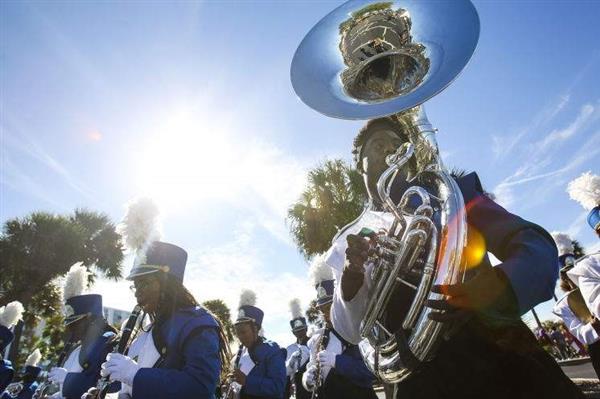 Dr. Martin Luther King Jr is the second and only other man to have had their birthday created into a federally observed holiday after George Washington. In 1983 President Ronald Reagan signed a bill to honor Dr. King which is why we are out of school every third Monday in January and there is a parade in honor of him every year in downtown St. Petersburg and other parades across the country. Wow.
Whether you stay home enjoying the day from school sipping a latte' from Starbucks, camping at the KOA, or taking a skinny dip at the springs. Or maybe you go out on MLK day wearing your newest J's, Hilfiger outfits, and Giuseppe's. With your fresh edge or Brazilian do' leaned back on 30-inch rims with your ear drums about to explode from the base in the trunk. Remember what this day is all about- what this day stands for. This day is to signify and honor a man and all those that stood alongside him in their pursuit to bring change to a world that didn't see so many as equal. Tears were shed, blood was lost, and lives were taken so that I could stand on a platform and speak to you all and so you could even have an education to sit here and read it. Because of King and those like him we can enjoy the simple things in life that so many of us take for granted. Things like having an integrated educational system, being able to have friends of all walks of life and to choose whom you love. Having the freedom to walk through the front door of a restaurant or movie theater. Choose to sit or sit as long as you like on any public transport system. The power to cast a vote and take part in our countries democracy to make change of our own.
These things did not come easy nor were they given. It took so many to stand strong in the face of evil to pave way for us and future generations to come, we owe it to them and everything that they stood for to continue to learn, teach, and share with others what they tried to gain for us. So let's be cognizant, this is not just a three-day weekend off! It's imperative that we remember and honor the legacy of Dr. King and those courageous enough to have fought in the movement to extinguish inequality. Fighting and sacrificing their lives so that we could one day have equal opportunities that they were so unjustly forbidden.
*Sip Sip*

Game Highlights from January 14th, 2020 (Gibbs vs. Seminole)
If you missed Tuesday's Boys JV Basketball game vs. Seminole here's the highlights of what happened including pictures:
The game started promptly at 6:20
Boys up to 4 points with Seminole catching up
By 6:29 pm Seminole takes the lead up by 2 points putting our boys at 6:4
Somehow between me looking away to send a text, Seminole made a three-pointer putting the score 9:4
By 6:48 pm Seminole is still leading with 22:15 but our boys are still doing their thing on the court!
Halftime
[Blogger thoughts:] With the end of halftime approaching, Seminole is still up on our mighty Gladiators. As always, we must have faith in our boys', and I know they'll make us proud as always.
By the end of 3rd period Seminole was up 8 points, making the score 42:34
[Blogger thoughts:] Our boys are catching up and I can physically see the determination radiating off them as they run up and down the court passing the ball.
With 1 min and 51 seconds left on the clock the Gladiators are still desperately trailing by 2
Final Game Score: Gibbs-45 & Seminole-50
It was a close game tonight between Gibbs and Seminole's Boys' JV Basketball game. We lost the game but not without putting up a fight. David Sirlin once stated that, "losing is a part of the game. If you never lose, you are never truly tested, and never forced to grow." With that said, our boys did us well tonight and win or lose we're still proud of them. Better luck next time team.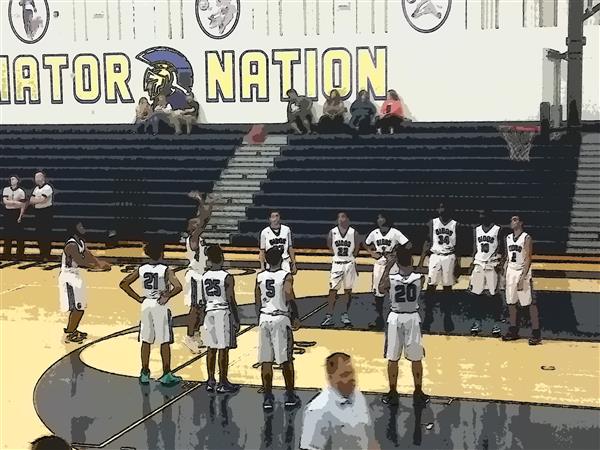 If you missed Boys Varsity Basketball game vs. Seminole here's the highlights of what happened including pictures:
First period ended with Gladiators leading 11:6
Second period ended with Gladiators still leading 17:14
With 5 minutes left on the clock in the last period we are tied neck and neck with 31 points.
Final Game Score: Gibbs 44 & Seminole 40
View the shots below and see for yourself how our mighty Gladiators came out triumphant. Tonight, we bass in the victory and tomorrow we prepare for the next battle. Way to go boys keep up the hard work!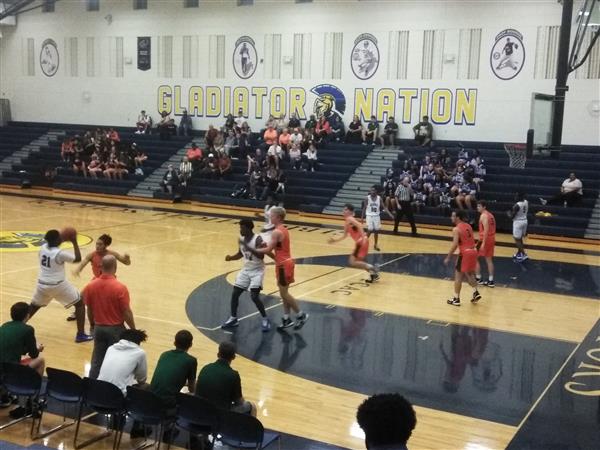 Blog Entry #1 (Week of January 6th, 2020)
"New Year New You"
Hurray! The end of 2019 has just come to an end and the birth of 2020 has begun. Last year may have been full of ups, downs, success, regrets, and heart aches. You may have found new friends and let old ones go. Maybe you didn't do as well as you hoped in classes like Algebra or AP World History, because at one point it had stomped me too. Maybe you missed a few more days of school than you expected too. What ever happened last year whatever that may be. Remember that this is a clean slate to start a new – a year full of possibility. For some of you this may be the year you can finally get your driver's license and enjoy that sense of freedom that comes from being behind a wheel, this may be the year you march across the stage and all your hard work and dedication pays off, the year you get into your dream college, the year your favorite sports team wins the championship (unless they're the Buccaneers), or maybe the year you find true friends or true love.
This 2020 we're moving forward and learning from our past and continuing to grow. Maybe 2019 was your best year, the greatest of all time even, but you can keep that pace going! Continue to cut out the negativity and always seek the positivity. Stay woke and keep slayin' Gladiators because this 2020 makes a new year and most importantly a new YOU!