Return to Headlines
PHUHS Alma Mater Challenge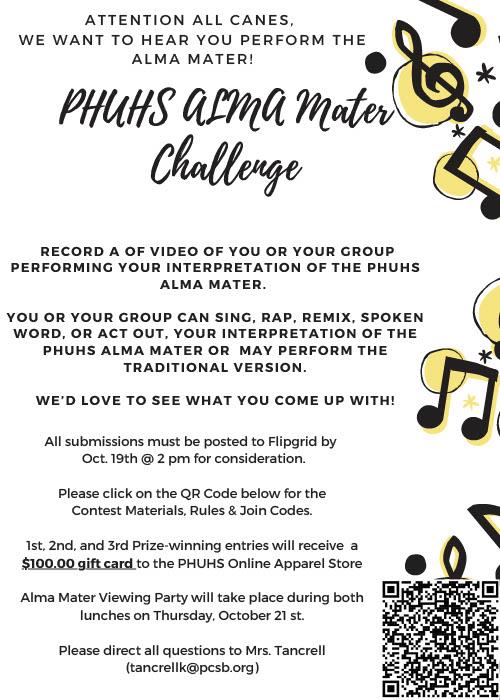 PHUHS Alma Mater Challenge
Directions

Canes we want to hear you Perform the Alma Mater! We'd love to see what you come up with!

Record A of video of you or your group Performing your interpretation of the PHUHS Alma Mater.

You Or Your Group can Sing, rap, Remix, Spoken Word, or act out, Your interpretation of the PHUHS Alma Mater or may perform the traditional version.

We'd love to see what you come up with!

Oct. 19th @ 2 pm for consideration.
Please click on the QR Code below for the Contest Materials, Rules & Join Codes.
1st, 2nd, and 3rd Prize-winning entries will receive a $100.00 gift card to the PHUHS Online Apparel Store.
Alma Mater Viewing Party will take place during both lunches on Thursday, October 21
Please direct all questions to Mrs. Tancrell (tancrellk@pcsb.org)

Join Flip Grid

Click the link below to join the PHUHS SGA Flipgrid Page:

Click the link below to upload your entry:

PHUHS ALMA MATERIALS

Lyrics:

PHU Alma Mater – written and composed by Justin Havard, founding director of PHU Chorus

Here's to you, Palm Harbor, Burgundy and Blue.

We, your sons and daughters, ever will be true.

Always striving for our best, to triumph o'er the rest,

We will aye be true to thee, 'ol PHUHS!

Here is a link to watch a video performance by the PHUHS Chorus, also: https://drive.google.com/file/d/1ewLV3-Tj20jFgLmkTpHrN4z408STjC67/view?usp=sharing

Click HERE for audio version without the singing.

PHUHS Viewing Party

Thursday, 10/21 during both lunches.

Mrs. Tancrell will provide participants with information at a further date.