Return to Headlines
Requesting a Final Transcript
REQUESTING A FINAL TRANSCRIPT
Graduating seniors must complete the Senior Survey in Naviance (found through your Clever account) to indicate where you want your final transcript sent after graduation. Please do so by May 26. See attachment.
Make sure you list a personal email as well as you will not have access to your school email after graduation. These will go out to the college or university you indicate the 2nd week in June. Please do not call the front office to request this. Additionally, you will receive a mailing after graduation with directions on how to access Naviance as an Alumni for future transcript requests, as all transcript requests will go through Naviance from this point forward.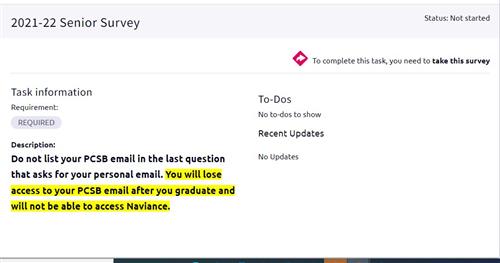 Naviance/Transcript Requests
In the coming weeks your school-provided email and login credentials will be disabled. That means that the way you currently access Naviance will no longer work. Since you may need access to Naviance in the future, we replaced your school-issued email with the personal email address you provided in the Senior Exit Survey. You can now log into Naviance and create your password. If you would like to continue to use Naviance you will need to follow the steps below to login.
Step 1 – Set/Reset Password: You will set/reset your own password using the following steps:
Go to your school's Naviance Student login page > "Alumni" tile > Forgot your password? > Enter personal email > Reset your password

You will then receive an email with a temporary password which you will use once to set your own password to use for future logins to Naviance.
Step 2 - Log into Naviance: Your username is your personal email address. Your password is the one you created after you received a temporary password by email.
Our school's Naviance Student login page is: http://student.naviance.com/stpetersburg, or you can navigate directly to www.naviance.com and click the Account Log-In for Students and Parents to search by zip code. In the future when you go to your school's Naviance Student login page, you will click the "Alumni" tile and log in with your new username and password.