Return to Headlines
Tarpon Springs High celebrates Dee Deal's 40-year career
May 25, 2023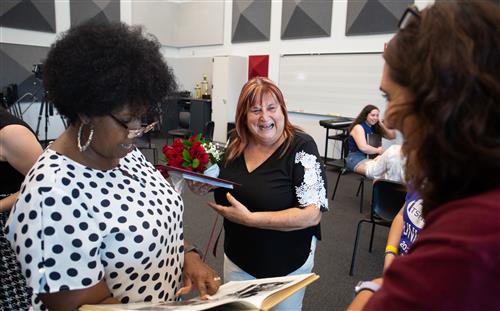 When Deidre Deal locks up her classroom for the final time on Thursday, she will be closing the door on 40-plus years' worth of memories.
Deal graduated from Tarpon Springs High School in 1979 and returned as a teacher in 1983. She's been there ever since. It's now time for her to retire.
Deal has done it all. As the accounting/business teacher, she taught students of all grade levels. She was the cheerleading sponsor. The student council sponsor. The junior class sponsor. The basketball coach. The holiday food basket drive coordinator. The flag football coach.
"It was never a problem," Deal said of agreeing to take on so many roles. "It was an easy 40 years."
Last week, during the school's final staff meeting of the year, teachers, alumni, former students and staff surprised Deal with a proper farewell. Each of them handed Deal a single red rose and spoke of a favorite memory. Stephanie Walden sang a snippet of "Wind Beneath My Wings." Fotini Sisois flew in from New Jersey, where she now attends law school.
"It's hard to think of just one memory because she's really a part of my everyday life," said Sisois, who took a Photoshop class with Deal in 2016 and was on the cheerleading team. "She's a big part of why I succeeded the way I did."
Deal was shocked to learn all the celebrating was for her. But her colleagues wouldn't have it any other way. While perusing yearbooks and reflecting on her time as a Sponger, Deal said the time has flown and she wouldn't have done a single thing differently.
"I did it because I enjoyed working with the kids so much," Deal said of "volunteering" to take on so many extra-curriculars in addition to teaching. "You get to know them on such a different level than you do in the classroom."
What's next for Deal? She plans to sleep past 6 a.m. for one. Maybe catch up on her housecleaning. But ultimately, she'll find her way back to being a volunteer at Tarpon Springs High School, she said.
"This is the only place I ever wanted to be," Deal said. "As long as they need me, I'll be there."