Return to Headlines
Week of May 3, 2021
Happy Sunday, BCE Family!
This week is Staff Appreciation Week, so please take a moment to let our teachers and staff know just how much you appreciate the work that they do EVERY DAY.
This year's theme is significant for a couple of reasons. One, this team is unbreakable. Two, this year marks Bear Creek's 60th Year School Anniversary (also known as the diamond year in a marriage).
That being said - Hold tight, as we prepare to SHINE BRIGHT! Bright like the DIAMONDS we are!
Please see our calendar of events for the months May/June
May/June Calendar of Events
May 3-7 – STAFF APPRECIATION WEEK
May 3 – Take Home Science Night Kick-off
May 4 – Grade 5 Day 1 FSA-ELA
May 5 – Grade 5 Day 2 FSA-ELA
May 6 – Nurse Appreciation Day
May 7 – Mid-term Progress Report Updates/Grades/Status are share with parents (via Focus/ hard copy)
May 7 – Level Celebrations – details forthcoming
May 7 – 60th Celebration – Students and staff are asked to dress up in their favorite apparel from the 1960s, as this year is Bear Creek 60th Year School Anniversary
May 11 – Grade 4 Day 1 FSA - ELA
May 11 – Grade 5 Enterprise Village Field Trip
May 12 – Grade 4 Day 2 FSA - ELA
May 13 – Grade 3 Day 1 FSA - MATH
May 13 – Grade 3 Day 2 FSA - MATH
May 18 – Grade 5 Day 1 FSA- MATH
May 18 – NO MAY PTA MEETING - CANCELLED
May 19 – Grade 5 Day 2 FSA- MATH
May 20 – Grade 4 Day 1 FSA- MATH
May 20 – Grad 3 F1 Portfolio Assessment
May 21 – Grade 4 Day 2 FSA- MATH
May 25 – Grade 5 Day 1 – SSA
May 26 – Grade 5 Day 2 FSA- SSA
May 27 – Grade 3 F2 Portfolio Assessment
May 31 – NO SCHOOL- MEMORIAL DAY
June 4 – LAST DAY FOR BACKPACKS
June 8 – Grade 5 Moving Up Ceremony (details forthcoming)
June 9 – LAST DAY FOR STUDENTS
June 9 – LAST DAY FOR INSTRUCTIONAL STAFF (TRADE DAY)
REMINDERS and UPDATES
Take Home Science Night – May 3-17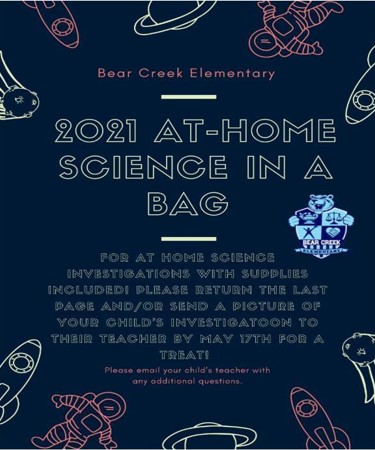 Grade 5 – Moving 0n Ceremony – June 8th (Details forthcoming)
Come Let's Celebrate