Return to Headlines
Week of May 16, 2022
Happy Sunday, Bear Creek Families.
Summer Bridge registration is now underway. Please see registration and transportation information below or contact your child's teacher for a registration form. For families needing extended childcare, please be sure to complete the YMCA application at your earliest convenience.
At your leisure, please peruse the calendar of events and May/June updates.
May Calendar of Events
This Week at the Creek – Days 162-166 (subject to change)
May 16 – Grades K-2 academic celebration @9am (cafeteria)
May 19 – Grade 3 – F2 Portfolio testing
May 24 – Grade 5 Field Trip to Enterprise Village
May 25 – Fifth Grade Moving on Ceremony/Parade @ 9am
May 25 – PE sponsored Field Trip for selected grade levels
May 26 – Last Day of School – Report Cards go home
May 26 – Early Release Day for students
June 6 – First day of Summer Bridge
June 30 – Last day of Summer Bridge
Important Updates and Information
Calling all 5th Grade Families – Fifth Grade Moving Up Ceremony
When: Wednesday, May 25th
Where: BCE Car Circle
What Time: @9AM
**Please see invitations below. This information was also sent home with students**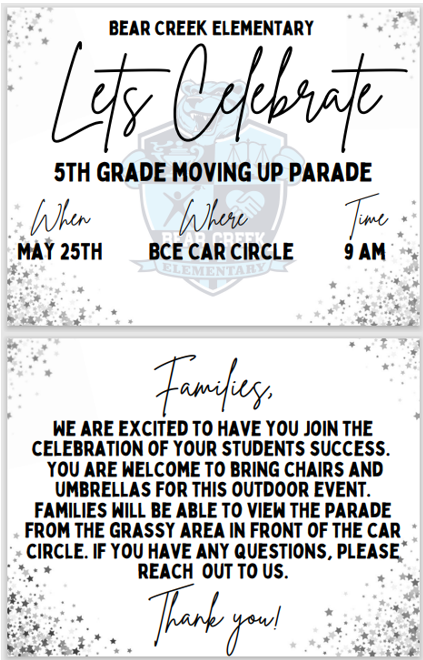 Summer Bridge
Register for elementary and middle school programs and the Math Blast Bootcamp at https://reservation.pcsb.org
Summer Bridge provides engaging learning activities over the summer to prepare students for maximum success when the next school year begins. Most of all, Summer Bridge is designed to be fun for students!
Learn about Elementary School, Middle School and High School programs.
Have Transportation Questions? Please contact the Transportation Department at 727-587-2020.
If your child is eligible for transportation, secure your seat soon!
The school district may need to create new bus stops to accommodate elementary and middle school students who enroll after May 1.
Transportation is available for eligible students! In alignment with School Board policy, regular transportation is provided for eligible elementary students attending their zoned school or a designated feeder school if students live more than two miles from the school.
The school district may need to create new bus stops to accommodate students who enroll after May 1.
If children can be accommodated at an existing bus stop, they will have transportation on Day 1.
However, if a new stop needs to be created, transportation will be provided, but it may not be available until a few days after Summer Bridge begins.
Another great reason to sign up and show up for Summer Bridge programs:
Students with excellent Summer Bridge attendance will be awarded a ticket for free admission to a local art venue!
Each ticket will grant admission for one student and one adult guest in July 2022.
Participating partners include Imagine Museum, Leepa-Rattner Museum of Art, The James Museum, Chihuly Collection Presented by the Morean, Tampa Museum of Art, The
Ringling Museum of Art, Dunedin Fine Art Center and Museum of Fine Arts St. Petersburg.
Current students who live in a different county:
A Pinellas County address is required to use the Student Reservation System: https://reservation.pcsb.org. If your child currently attends a PCS school with a Special Attendance Permit (SAP), you will not be able to enroll using the Student Reservation System. For enrollment assistance, please contact Student Assignment.
Need Help Applying? Contact Student Assignment at 727-588-6210.
Summer Bridge helps students succeed:
Elementary schoolstudents have continued to show impressive gains, with many students moving from "below proficiency" in reading, math or science to "at or near proficiency." Most students who came to Summer Bridge already scoring "at or near proficiency" still showed promising learning gains.
Middle schoolstudents have continued to demonstrate promising growth in reading, math and science performance, with impressive gains in reading ability.
High schoolstudents have continued to benefit from Summer Bridge. The programs help students prepare for the state's Algebra 1 EOC test, learn skills they need to succeed in high school and earn credits they need to graduate.
Important Updates and Information
Registered Volunteer Process/steps
For new volunteer for Pinellas County Schools please visit us at www.pcsb.org/volunteerresgistration
If you are already a registered volunteer for Pinellas County Schools, you need to reactivate your volunteer profile at https://focus.pcsb.org/volunteer
Please use your assigned V.account and password
Example:
Login: V.smitha
Password: Smith1973
If you have any questions, please contact Ms. Giering our Family and Community Liaison.
Lily Giering
Family and Community Liaison
Bear Creek Elementary
350 61st St S
St.Pete, FL 33707
727-893-2332
School to Family Communication
In an effort to reduce the use of paper, we will continue use electronic forms of communication with families. This year you can keep up with Bear Creek in the following ways:
The Bear Creek website will be our primary source of communication at https://www.pcsb.org/bearcreek-es. All weekly communication updates will be posted on our website by 6pm Sunday.
Classdojo will be used primarily for school-wide reminders and daily communication between parents and instructional staff.
School Messenger will be used to remind families or previously communicated information shared on the Bear Creek website.
Student agendas
Campus Expectations and Updates for the 2021-22 school year
Early Release Pick-ups
Please note that 2pm is the cut off time for early pickup. Prior approval from administration is required for all early release pick-ups after 2pm.
Whether students are car riders, bus riders, walk, or bike to school; please consider the following:
Student attendance is important and being on time matters.
Our student hours are 8:45am-2:55pm.
Our front office hours are 8:15am-3:55pm.
Students are not permitted on campus until 8:00am (unless enrolled in the YMCA).
All students must adhere to the Bear Creek expectations and all students are required to wear a uniform.
Shirts

Collared solid color in navy, light blue or white (no designs or patterns)
Bear Creek Spirit t-shirts – can be worn on any day of the week. Shirts should always be tucked.

Bottoms

Khaki or navy shorts, slacks, skirts, shorts, capris, or jumpers
No jeans, sweatpants, cargo pants or baggy clothing
Pants must be worn at waistline. If not, a belt must be worn.

Shoes
Safe and appropriate footwear must always be worn. Inappropriate footwear includes, but is not limited to – Crocs, backless shoes, sandals, roller skates, and bedroom slippers.
Winter Wear

Solid color sweatshirts, sweaters, and jackets in navy, light blue or white
No printing or designs allowed on outerwear
Hoods/hats may not be worn inside the classroom

Car riders must be dropped off in the car circle only.
All students must use the single point of entry (car circle) to gain access to our campus.
As in the previous years, all students arriving before 8:30am must report directly to the cafeteria.
Breakfast is free to all students and served in the classroom until 8:45am.
Students arriving after 8:45am are considered tardy.
To ensure the health and safety of students coming to the building, your assistance is needed with following:
Cleaning and sanitizing your student's water bottle daily. Please note that this is one of the suggested items on the student supply list. Disposable cups will be provided to students without a reusable water bottle.
Bear Creek is looking forward to another great school year!
Principal Houston
~Believe in the IMpossible by Embracing a WINNING Attitude~