Return to Headlines
Week of November 29, 2021
Week of November 29th
Happy Sunday, Bear Creek Families,
I hope that you all had a wonderful Thanksgiving. I know that our staff and students are thankful for our parents and community partners who came out to participate in the Great American Teach-In. Bear Creek truly appreciates you.
At your leisure, please take a moment to peruse this week's communication.
November/December Calendar of Events
November 29-December 17 – Winter MAP Testing Cycle
December 02 – PTA Skating Night for grades 1-5
December 03 – Jeans Day
December 09 – Y-Reads Family Engagement Event
December 09 – Holiday Concert (please see details below)
December 13-17 – BCE Spirit Week
This Week at the Creek and Month of November Updates
PTA Skate Night Fundraiser
Our first PTA Skating Party will take place on Dec. 2nd for grades 1st -5th students. In order to attend, students are not permitted to have any office discipline referrals, and no more than one incident report between 11/8-11/19. Historically, as we enter the holiday season there is an increase in behavior incidents. It is my expectation that students will continue to exemplify what it means to be a BEAR by following the Guidelines for Success. Please continue to encourage your child to be on their best behavior so that they may join us for this opportunity. Permission slips and fees will be collected on 11/29, 11/30 and 12/01. Fees will not be collected after 9AM. Permission slips were sent home with students prior to the Thanksgiving break.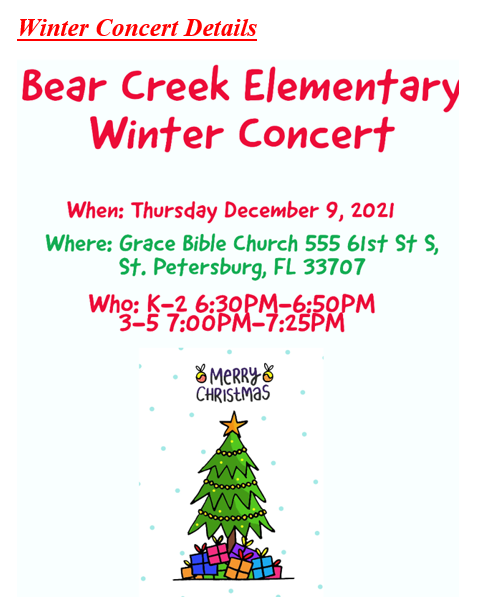 School to Family Communication
In an effort to reduce the use of paper, we will continue use electronic forms of communication with families. This year you can keep up with Bear Creek in the
following ways:
The Bear Creek website will be our primary source of communication at https://www.pcsb.org/bearcreek-es. All weekly communication updates will be posted on our website by 6pm Sunday.
Classdojo will be used primarily for school-wide reminders and daily communication between parents and instructional staff.
School Messenger will be used to remind families or previously communicated information shared on the Bear Creek website.
Student agendas
Campus Expectations and Updates for the 2021-22 school year
Early Release Pick-ups
Please note that 2pm is the cut off time for early pickup. Prior approval from administration is required for all early release pick-ups after 2pm.
Whether students are car riders, bus riders, walk, or bike to school; please consider the following:
Student attendance is important and being on time matters.
Our student hours are 8:45am-2:55pm.
Our front office hours are 8:15am-3:55pm.
Students are not permitted on campus until 8:00am (unless enrolled in the YMCA).
All students must adhere to the Bear Creek expectations and all students are required to wear a uniform.
Shirts

Collared solid color in navy, light blue or white (no designs or patterns)
Bear Creek Spirit t-shirts – can be worn on any day of the week. Shirts should always be tucked.

Bottoms

Khaki or navy shorts, slacks, skirts, shorts, capris, or jumpers
No jeans, sweatpants, cargo pants or baggy clothing
Pants must be worn at waistline. If not, a belt must be worn.

Shoes
Safe and appropriate footwear must always be worn. Inappropriate footwear includes, but is not limited to – Crocs, backless shoes, sandals, roller skates, and bedroom slippers.
Winter Wear

Solid color sweatshirts, sweaters, and jackets in navy, light blue or white
No printing or designs allowed on outerwear
Hoods/hats may not be worn inside the classroom

Car riders must be dropped off in the car circle only.
All students must use the single point of entry (car circle) to gain access to our campus.
As in the previous years, all students arriving before 8:30am must report directly to the cafeteria.
Breakfast is free to all students and served in the classroom until 8:45am.
Students arriving after 8:45am are considered tardy.
To ensure the health and safety of students coming to the building, your assistance is needed with following:
Cleaning and sanitizing your student's water bottle daily. Please note that this is one of the suggested items on the student supply list. Disposable cups will be provided to students without a reusable water bottle.
Bear Creek is looking forward to another great school year!
Principal Houston
~Believe in the IMpossible by Embracing a WINNING Attitude~