Return to Headlines
Pinellas County Schools named one of the nation's Great Districts for Great Teachers
March 7, 2017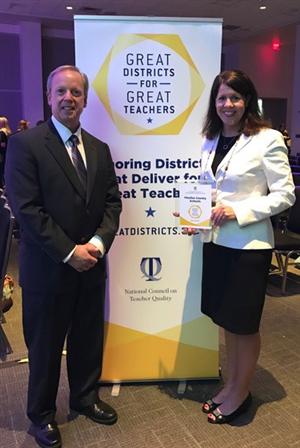 Pinellas County Schools has been named a Great Districts for Great Teachers recipient by the National Council for Teacher Quality (NCTQ). The announcement was made on Tuesday, March 7, 2017 at the South by Southwest EDU (SXSWedu) conference. Pinellas is among the first eight school districts in the nation selected for this recognition.
School districts were evaluated based on educator salaries, professional development and coaching support, efficiently run schools through effective management and operations, opportunities for teachers to take on leadership roles and ability to best meet the needs of students.
Pinellas County was one of eight districts of more than 120 considered by NCTQ to receive the honor. Pinellas was recognized for the district's competitive salaries and benefits, opportunities for professional growth and open communication with teachers.
"Our successes, especially the academic achievements made by students, are possible because of dedicated teachers," said Pinellas County Schools Superintendent Michael A. Grego, Ed.D. "One of our most important roles as district leaders is to ensure educators feel supported from the moment they are hired. Our Professional Development department is continually refining the onboarding, training and mentoring experiences for educators while paying special attention to the development of teacher leaders."
Superintendent Grego and Paula Texel, Associate Superintendent for Human Resources, attended SXSWedu in Austin, Texas to accept the honor. The SXSWedu Conference brings together 14,000 attendees for a conference on innovation in education.
To learn more about why NCTQ selected Pinellas County for Great Districts for Great Teachers,
visit greatdistricts.org
.