Return to Headlines
Clearwater High students embark on Civil Rights Tour throughout America's south
March 13, 2017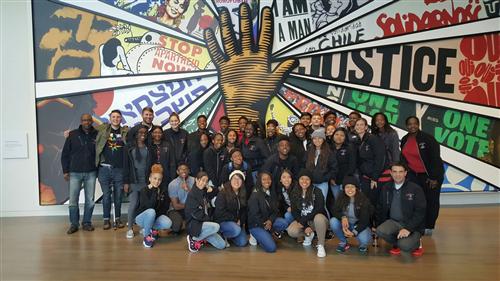 The first day of the 2017 Clearwater High Civil Rights Tour was packed with museum visits, interactive exhibits and conversation surrounding America's Civil Rights Movement. Students spent the day in Atlanta, Ga, which is known as the birthplace of the Civil Rights Movement.
Students toured The King Center, a global destination, resource center and community institution that pays respect to Dr. Martin Luther King's legacy. They visited the historic Ebenezer Baptist Church where Dr. King was a pastor, and the home where Dr. King was born and raised. They experienced the Center for Civil and Human Rights (CCHR). There, they watched and listened to emotional and moving experiences for the Civil Rights Movement. They sat at a simulated lunch counter sit-in where, through headphones, they could hear the words and the insults that were used at that time.
At the CCHR, students read handwritten letters to and from Dr. Martin Luther King Jr. and experienced the March on Washington, Dr. King's, funerals and major speeches, and the Montgomery Bus Boycott via big-screen movies. The students also enjoyed the African-American Panoramic Experience or the APEX Museum. The day ended with dinner with food provided by Paschal's Restaurant which was where Dr. King and many other Civil Rights leaders dined and held strategy meetings. After dinner, the students had an in depth conversation with Ernie Suggs, the Race and Civil Rights reporter for the Atlanta-Journal Constitution and shared their thoughts on the day during a circle discussion.
Thirty-two students from Clearwater High are participating in the Clearwater High Civil Rights Tour, a project-based personalized learning opportunity. This is the second year for the tour. Students have researched and are participating in experiences that connects them to the Civil Rights Movement in the United States.
The culmination of this project is an in-depth tour of sites with historical significance for the Civil Rights Movement. Students are visiting Atlanta, Ga.; Birmingham, Ala. and Memphis, Tenn. The trip started Saturday, March 11 and concluded Tuesday, March 14. Clearwater High students are meeting people who were key stakeholders, active participants and spectators of these important events. No professional tour guides are being utilized.
All learning is student-driven. On their return from the tour, the student participants, also known as CHS Freedom Ambassadors, will lead a project-based learning experience for other Pinellas County Schools school groups. Clearwater High School is part of the first group of schools in the district to implement Personalized Learning through our Pinellas Innovates plan.