Return to Headlines
Middle School Student Artwork Featured at Morean Art Center
April 14, 2017
Morean Art Center featured artwork created by several Pinellas County middle school students as part of the 2016-17 Word and Image: Arts and Education Partnership. Student artwork was on display March 3-April 9.
The annual event, sponsored by the Hough Family Foundation and Pinellas Community Foundation, is in its 20th year. It challenges students to create works of art based on a particular theme, and to incorporate a written statement within the piece. This year's theme was "On My Block." After the student artwork is submitted, a jury selects the top pieces for display at the Morean Art Center, located in St. Petersburg.
The Morean hosts four of these juried exhibits each year, including work from students at the elementary and high school levels.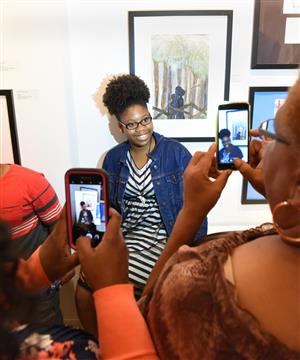 Here are the middle school students who were selected to display their artwork.
Honorable Mentions:
• Cassidy Millhouse, 8th grade, Clearwater Fundamental, teacher: Karen Santangelo
• Angela Jordahl, 6th grade, Dunedin Middle, teacher: Tom Schreiber
• Ana Fowler, 6th grade, East Lake Middle, teacher: Eileen Iacobucci
• Aimee Olson, 8th grade, John Hopkins Middle, teacher: Sandra Bourne
• Zakhar Sennikov, 7th grade, John Hopkins Middle, teacher: Julie Smith
• Kyla Telfort, 7th grade, Lealman Innovation Academy, teacher: Stephanie McKee
• Zoe Pillion, 7th grade, Madeira Beach Fundamental, teacher: Kathy McLean
• Veronica Mackenzie-Santiago, 7th grade, Safety Harbor Middle, teacher: Nicole Giovagnoli
• Mya Marsh, 8th grade, Safety Harbor Middle, teacher: Nicole Giovagnoli
• Elizabeth Hall, 7th grade, Seminole Middle, teacher: Gary Jones

Pinellas County Art Education Association Young Artist Award:
• Zachary Bryant, 7th grade, Richard L. Sanders School, teacher: Barbara Peters

Top Awards:
• Paul Comini, 6th grade, East Lake Middle, teacher: Eileen Iacobucci
• Carrah Goldman, 8th grade, Osceola Middle, teacher: Dwayne Shepherd
• Lakeva James, 7th grade, Seminole Middle, teacher: Gary Jones