Return to Headlines
Breakfast Honors National Merit Semifinalists and Hispanic Scholars
April 20, 2017 -
On Thursday, 20 Pinellas County Schools seniors were recognized at an Honors Breakfast for being National Merit Semifinalists and Hispanic Scholars. Students were chosen because of their exceptional PSAT scores, outstanding academic records, and contributions to their schools and communities throughout high school.
Each student was invited to bring their parent or guardian and an educator who helped to shape their life.

During his address to the group, Superintendent Michael Grego encouraged seniors to continue their lifelong pursuit of education. He reminded the group that while grades are important, the joy of learning is more paramount to long-term success. He invited students to return to Pinellas County throughout their lives to work and give back.

The breakfast was held at Pinellas Technical College's Clearwater campus. Students from Pinellas Technical College's culinary program prepared and served the breakfast, and the East Lake High School Jazz Combo provided entertainment.
The following students were recognized:
• Daniel Brooks, East Lake High School
• Manual Cuadra, Largo High School
• Alec Engl, East Last High School
• Christopher Eschler, Palm Harbor University High School
• Brandon Fallin, Palm Harbor University High School
• Christina Hayworth, Palm Harbor University High School
• Fay Hu, Largo High School
• Naomi Miller, St. Petersburg high School
• Jakub Pepas, Palm Harbor University High School
• Varika Pinnam, Northeastern High School
• Brian Price, Palm Harbor University High School
• Evan Rocha, East Lake High School
• Jay Shah, St. Petersburg High School
• Nikhil Sharma, Lakewood High School
• Ethan Smith, Lakewood High School
• Ashley Taylor, Northeastern High School
• Grant Konger, Palm Harbor University High School
• Courtney McBeth, Palm Harbor University High School
• Jay Mithani, Palm Harbor University High School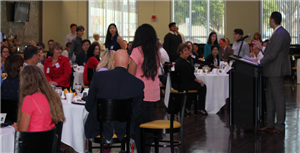 Students stand for recognition at breakfast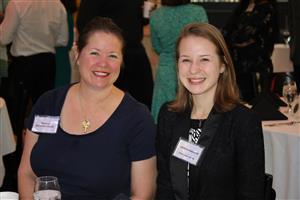 National Merit Semifinalist Christina Hayworth poses with her mother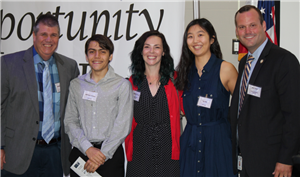 From left to right: Largo High School Principal Brad Finkbiner, National Merit Semifinalist Manual Cuadra, Largo High teacher Sommer Paquet, National Merit Semifinalist Fay Hu and Largo High teacher Brian Frasier