Return to Headlines
2017-18 Educator of the Year finalists named
November 15, 2017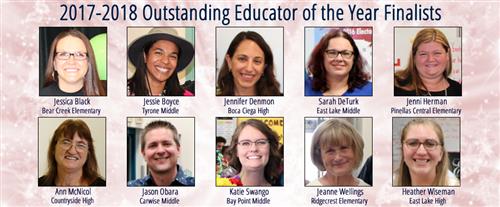 The 10 finalists in the 2017-18 Outstanding Educator of the Year recognition program have been named.


The Outstanding Educator of the Year finalists are:
Jessica Black, a fourth-grade teacher at Bear Creek Elementary School
Jessie Boyce, a mathematics teacher at Tyrone Middle School
Jennifer Denmon, language arts at Boca Ciega High School
Sarah DeTurk, a social studies teacher at East Lake Middle School Academy
Jenni Herman, a second-grade teacher at Pinellas Central Elementary School
Ann McNicol, a science teacher at Countryside High School
Jason Obara, a music teacher at Carwise Middle School
Katie Swango, a mathematics teacher at Bay Point Middle School
Jeanne Wellings, a gifted teacher at Ridgecrest Elementary School
Heather Wiseman, a language arts teacher at East Lake High School
A panel of judges determined the 10 finalists based on multiple criteria. The finalists will undergo an interview process and a second round of scoring by a different panel of judges, who will select the final winner.

The 10 finalists will participate on a float in the annual Snowfest Parade in St. Petersburg on December 2, 2017. All of the nominees and finalists will be honored, and the 2017-18 Outstanding Educator of the Year will be announced, at the annual Evening of Excellence, which is presented by the Pinellas Education Foundation. The evening is sponsored by Ditek, Humana and the Tampa Bay Rays, and will be held at The Mahaffey Theater in St. Petersburg on Wednesday, January 31, 2018.