Return to Headlines
East Lake High School hosts athletes from U.S. Special Operations Command's Warrior Care Program (Care Coalition)
Nov. 20, 2018
Connor Petracsek wanted to get an early start for the spring track season so the East Lake High freshman started hitting the school's track to work on his running technique. But last week, he was surprised when world-class sprinter Jerome Avery started giving him some pointers.
"It was very cool," Petracsek said. "It was very different but It was very cool."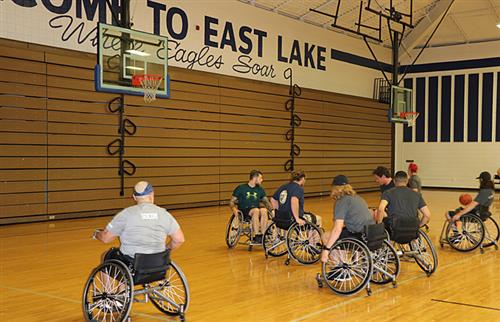 Avery, who resides in San Diego, was at East Lake High as part of the Department of Defense Warrior Games where U.S. Special Operations Command (SOCOM) is hosting athletes for a camp. Created in 2010, the Warrior Games introduce wounded, ill and injured service members and veterans to Paralympic-style sports and showcases the resilient spirit of today's wounded, ill or injured service members. The Warrior Games and other rehabilitation and recovery programs are offered by each service branch and provide opportunities for athletes to heal and to regain confidence and purpose.
In the last several years, East Lake High has hosted the athletes during camps held in the Tampa Bay Area. The athletes use the school's track and gym.
Avery is an American sprinter and is the running guide for the fastest totally blind sprinter in the world, David Brown. He is also a running coach for athletes who participate in the Warriors Games. Avery loves sharing his love for running with younger athletes, especially when that athlete shows initiative like Petracsek.
"I'm just happy to give a few pointers for things that work for me," Avery said. "(Petracsek) wants to learn and he is serious. It's awesome being a part of helping with what I've learned through the years. It's an amazing experience."
The local Warrior Games camp ends today but many of the athletes will return June 21-30 where the Tampa Bay Area will host the DOD Warriors games. There will be more than 300 U.S. military and international service members and veteran athletes participating. They represent the U.S. Army, Marine Corps, Navy, Air Force, and Special Operations Command. Athletes from the United Kingdom Armed Forces, Australian Defence Force, New Zealand Defence Force, Canadian Armed Forces, the Danish Defence Force, and the Netherlands Defence Force will also compete.
Athletes will compete in 14 events, including archery, wheelchair basketball, road cycling, time-trial cycling, field, golf, powerlifting, indoor rowing, wheelchair rugby, shooting, sitting volleyball, swimming, track, and wheelchair tennis.
To volunteer for the 2019 DOD Warrior Games or to learn more information, go to dodwarriorgames.com.