Return to Headlines
Our school organized a circus and performed our non-death defying feats on the evening of March 25th, called Circus Paw Paw, sponsored by Title I. We had over 315 attendees. This event was based on the book You See A Circus, I See… By Mike Downs.
We transformed the cafeteria and main corridors into a one-ring circus. Faculty and staff members portrayed the characters and Pearson Alexandratos, a staff member's son, played the main character in the story. We also included a bearded lady, ferocious animals, games, and an Illusionist. Hot dogs and popcorn were provided and each family received a copy of the book to take home.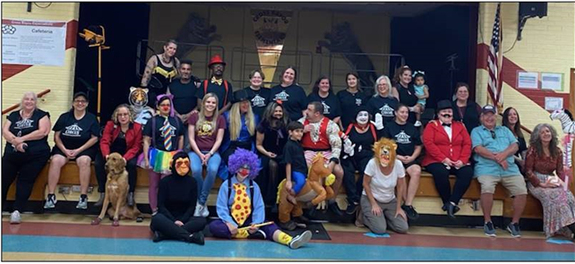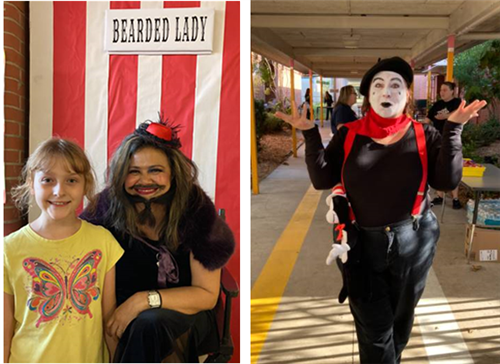 Ms. Caldea, Teacher grade 2 and Molly Kuespert and Mrs. Sacco-Eanes, DHH teacher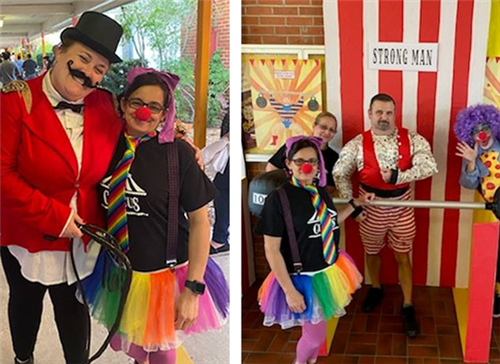 Master of Ceremonies Carisa Fisher, KG teacher, and Barbara Aguiree, PCS Bilingual Translator.
The strongman shows his strength. Cafeteria Manager Mike Theodore.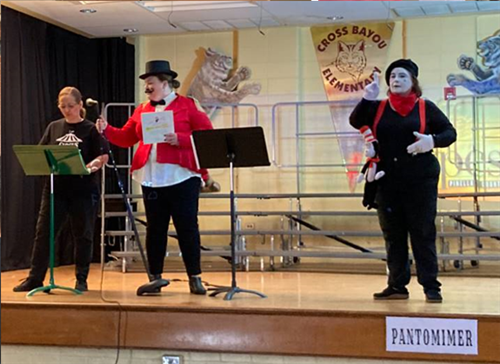 Mrs. Gonzalez, Spanish Interpreter, Master of Ceremonies, Miss Fisher, Kindergarten Teacher, and Mrs. Sacco Eanes, Interpreting in Sign Language.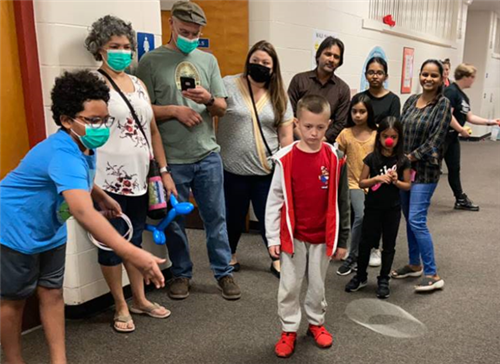 Families enjoying the circus games.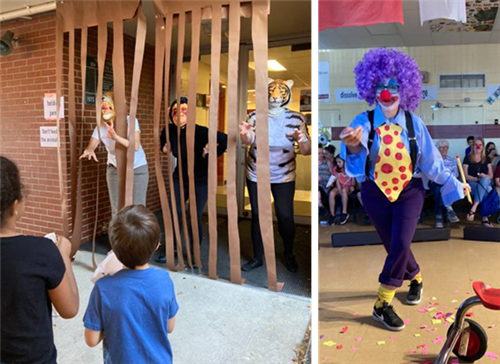 Circus animals, Lion, Monkey, and Tiger (Mrs. Rosenbluth, Gifted Instructor, Stacia Littlefield, DMT and Mrs. Wickett, School Principal), were safely penned up in their crate. No circus is complete without a clown. Family & Community Liaison, Christine Beatty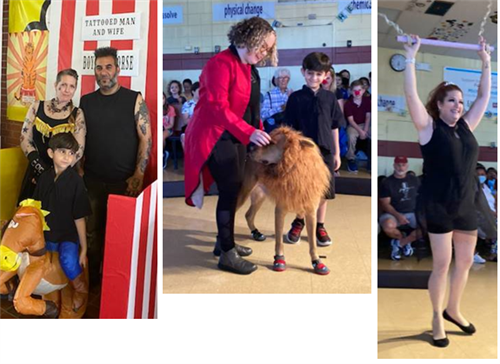 Robin Alexandratos, her husband Basil and son Pearson as the Tattood Family.
Lion Tamer and Art teacher Mrs. Valerie M. Núñez-Caicedo and her Guide Dog Mitchell.
Trapeze Artist soars through the air. Secretary Bookeeper Michelle Baxter.