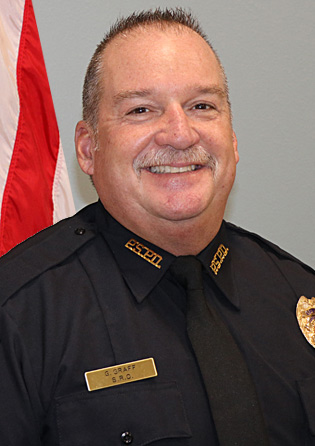 Officer Graff joined that Pinellas County Schools Police Department in August of 2018. He was born and raised in San Diego, CA. He attended and graduated from Mount Carmel High School, where he played varsity baseball and football.
He relocated to Georgia in 1984. He attended Kennesaw State University, where he was the starting catcher on the school's baseball team. In 1986, he joined the Douglasville (Georgia) Police Department as a night shift patrol officer. During his time on the force, he was promoted through the department's ranks. His first promotion was to the rank of Sergeant in the Patrol Division and was later assigned as a Sergeant to start the department's training division and bicycle team. He was then promoted to the rank of Lieutenant, where his first assignment was the Commander in the Criminal Investigations Division. He was later transferred as a Lieutenant to the Patrol Division and was reassigned to the Training Division as a Lieutenant. His next promotion was to District Captain in the Patrol Division. He was later reassigned as the Captain in the Criminal Investigations Division. He retired in 2015 as the Major of Operations.
Officer Graff attended Mercer University, where he earned a Bachelor's Degree in Criminal Justice. He also earned a Master's Degree in Public Administration from Columbus State University. Officer Graff also attended the F.B.I. National Academy graduating from the Academy's 197th session in 1999.
Officer Graff has been married to his wife Laura for 28 years. Together, they have three grown boys and are the proud grandparents of five beautiful grandchildren, with another on the way.