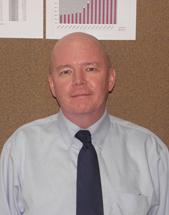 Kevin Smith
Associate Superintendent, Finance & Business Services
After having spent over 14 years in private industry in accounting and management positions, Mr. Smith joined Pinellas County Schools in 1997. His first assignment was Supervisor of School Lunch and General Accounting. In 2003 he was appointed to the position of Director of Accounting, and in December of 2009 was appointed to the position of Assistant Superintendent of Budget & Resource Allocation. In this capacity, he is responsible for the oversight of the district's nearly $1.4 Billion dollar budget as well as the reporting of FTE enrollment information to the State.

Mr. Smith earned his Bachelor of Arts degree (with a major in accounting) from the University of South Florida and completed post-graduate work there to meet the fifth-year educational requirement to sit for the Uniform Certified Public Accountant (CPA) examination. He is a licensed CPA in the state of Florida, a member of the American Institute of Certified Public Accountants, and a member of the Florida School Finance Officers' Association.