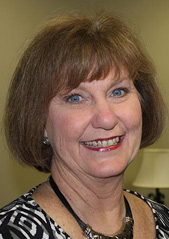 Pam Moore
Associate Superintendent, Teaching & Learning Services
As the Associate Superintendent of Teaching & Learning Services, Mrs. Moore is responsible for advocating, facilitating, and monitoring the alignment of district curriculum, instruction, assessment, and improvement initiatives supporting the goals of the District Strategic Plan. This work involves ongoing planning with district curriculum supervisors, coaching support team, and directors of elementary, middle, and high school levels. To support the needs of all schools, she collaborates with Teaching and Learning staff, Area Superintendents, and other district personnel.

Mrs. Moore graduated from Clearwater High School, and is a second generation graduate. Her teaching career began at North Ward Elementary after graduating from the University of West Florida with a degree in Elementary Education and Early Childhood in 1972. She received her master's degree in Reading Education, K-12, in 1978, and became a reading specialist at Dunedin Elementary. After several years in this capacity, she returned to graduate school obtaining her certification in Administration/Supervision, and School Principal. She served as the Assistant Principal of San Jose Elementary for several years prior to becoming Elementary Reading/Language Arts Supervisor from 1988-1991. She has held principalships at San Jose Elementary, Cypress Woods Elementary, and was selected in 1997 as the first principal of McMullen-Booth Elementary. After ten years of service to McMullen-Booth Elementary, she was appointed as the Assistant Superintendent for Elementary Curriculum and Instruction, a position transitioning in 2009 to include PK-12 Curriculum and Instruction. With the reorganization of district leadership, her role has changed to Executive Director, PreK-12 Core Curriculum.

Mrs. Moore's leadership has been recognized in a variety of ways including:
Educator of the Year, Pinellas County Schools, 1983
President, Phi Delta Kappa, 1988
PTA Honorary Life Membership Award, 1993
Little Red Schoolhouse Award, 1999
Pinellas County Council PTA Principal of the Year Award, 2000
President, Elementary Principals Association, 2001
PAEOP Boss of the Year, 2002
Mrs. Moore is a native Floridian, born and raised in Kissimmee. She currently resides in the Safety Harbor area. She is the proud mother of two sons, and thoroughly enjoys spending time with her two grandchildren.