2015 Pinellas County Teacher of the Year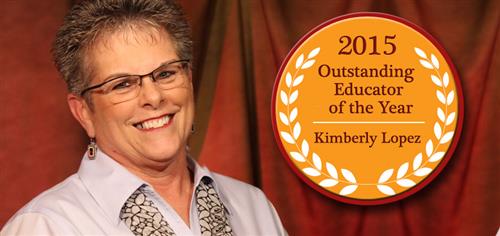 Kimberly Lopez, a fifth grade teacher at Melrose Elementary School, was named Pinellas County Schools' 2015 Outstanding Educator. The award was presented Tuesday night during the Evening of Excellence at Ruth Eckerd Hall.

Lopez began teaching in Pinellas County 36 years ago. Her teaching experience ranges from Exceptional Student Education, Alternative Education, and General Education. In addition, she has provided curriculum training for first-year teachers for the past 10 years. She is a member of the Leading the Learning Cadre and a student mentor.

"Teaching is not just a job, it has been my passion for 36 years," Lopez said. "I enjoy the challenges it brings each day and strive to help all students reach their potential."

Lopez will now be entered into the state Teacher of the Year competition sponsored by the Florida Department of Education.

The nine other finalists for Outstanding Educator were also recognized.
William Aligood, a fifth-grade teacher at Plumb Elementary
Charissa Chandler, a second-grade teacher at Sandy Lane Elementary School
Sharon Corvey, a Curriculum Specialist at Skycrest Elementary
Kathleen Earle, a Gifted teacher at Dunedin Highland Middle School
Amanda Johnson, a first-grade teacher at James B. Sanderlin IB World School
Loretta La More, a Science teacher at Dixie Hollins High School
Krista Lemon, a fourth-grade teacher at Leila G. Davis Elementary
Deborah Love, a Gifted teacher at Seminole Middle School
Krista Valentage, a sixth-grade World History teacher at East Lake Middle School.

In addition to naming the Outstanding Educator, Kathleen Earle was given the Outstanding Educator Fan Favorite Award. This award category was voted on by students, parents and the community via the Pinellas Education Foundation's website. More than 10,000 votes were cast for Fan Favorite this year.