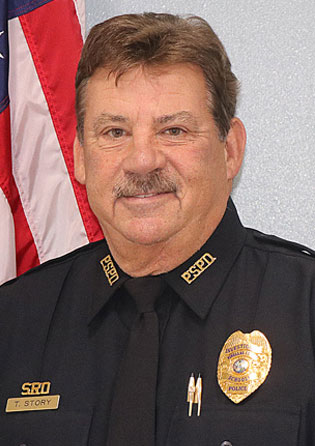 Michael "Tim" Story is a native of St. Petersburg. He attended North Shore Elementary, Bay Point Elementary, Bay Point Middle School and Lakewood High School. He also received an AA from St. Petersburg Junior College and a BS from the University of South Florida in Criminal Justice.
Officer Story began a career in law enforcement by joining the St. Petersburg Police Department in 1978. Officer Story had 29 years of service with SPPD and rose to the rank of Major. He worked/supervised in a variety of assignments that include Patrol, Robbery/Homicide, Internal Affairs, and the Training Division. Officer Story also had additional responsibilities such as Breathalyzer operator, Polygraph Examiner, and Field Training Officer. He was a TAC (Tactical Apprehension and Control) officer for 6 years and the Commander for 3 years.
Officer Story joined the Pinellas County Schools Police Department in 2007. His assignments include Carwise Middle School, Office of Professional Standards, Disston Academy, Pinellas Secondary School, and Richard O. Jacobson Technical High School at Seminole. Officer Story is married and has two sons that attend Florida State University.
Back to Pinellas County Schools Police