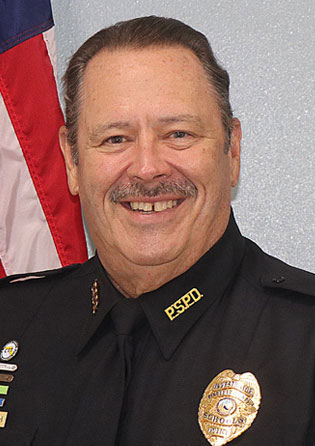 Officer Colbath is a product of Pinellas County Schools. A 1976 graduate of Seminole High School, he also attended Oakhurst Elementary, Fuguitt Elementary and Seminole Jr. High schools.
Officer Colbath has served the Pinellas County Schools Police for nine years and has served in law enforcement for nearly 40 years. He began his service with the Pinellas County Sheriff's Office in February 1981 as a Correctional Officer. He became a Deputy Sheriff in 1987, serving in Patrol Operations and Marine Law Enforcement, and as Explorer Advisor. He became a School Resource Officer at Seminole Middle School in 1991.
In 2001, Officer Colbath was reassigned to the Criminal Intelligence unit, where he worked with various agencies, including the Secret Service, Florida Department of Law Enforcement, FBI, CIA and Air Force Office of Strategic Intelligence at MacDill Air Force Base. He has protected dignitaries, including Presidents George W. Bush, George H. W. Bush, Bill Clinton and Barack Obama; and Governors Jeb Bush and Charlie Crist. In 2006, he also protected His All Holiness Bartholomew, Ecumenical Patriarch of the Greek Orthodox Church from Constantinople, for the 100th Anniversary of the Epiphany in Tarpon Springs.
Officer Colbath has been married for 33 years. He has two grown children, both graduates of Seminole High, an adopted son, and two grandchildren.