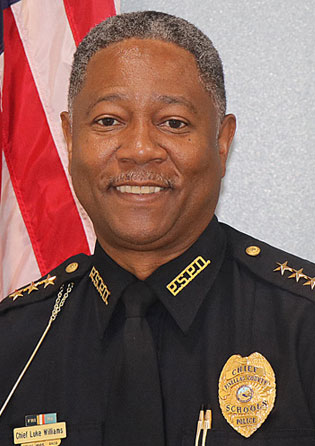 Chief Luke Williams took the helm as the chief of Pinellas County Schools Police on March 1, 2018. Before arriving at the district, he was an Assistant Chief at the St. Petersburg Police Department and assigned to the Uniform Services Bureau where he commanded more than 400 employees. Chief Williams served with the St. Petersburg Police Department 33 years, 18 of those as an Assistant Chief.
Chief Williams commanded the Investigative Services Bureau until 2006 when he was assigned to the Uniform Services Bureau where he served for 11 years. The largest of the department's three bureaus, Uniform Services is subdivided into three geographic police districts that provide direct police services to the community. Also included in the Bureau is the Uniform Support Division, which includes Community Policing and Crime Prevention, Field Training, K-9, Traffic, Road Patrol, School Resource Officers, School Crossing Guards, Special Events Coordination, and Volunteer Police Reserves.
Chief Williams holds a Master of Arts degree in Criminal Justice Administration and a Bachelor of Arts degree in Criminology from the University of South Florida. He also has an Associate of Arts degree from St. Petersburg College. Chief Williams is a graduate of the Police Executive Research Forum Senior Management Institute for Police (Boston), the Florida Criminal Justice Executive Institute Chief Executive Seminar, the Leadership St. Pete Leadership Program, the Eckerd College Leadership Development Program, the John F. Kennedy School of Government Senior Executives in State and Local Government Program at Harvard University, and the Federal Bureau of Investigation National Academy Quantico, Virginia.
A lifelong resident of the City of St. Petersburg, Chief Williams maintains a close connection with the community. He currently serves on the boards of the Community Health Centers of Pinellas County, YMCA of Greater St. Petersburg, and Bayfront Health St. Petersburg. In 2013, he was appointed the chairman of the Department of Juvenile Justice Circuit VI Advisory Board. His volunteer activities also include the 5000 Role Models of Excellence, the Men In the Making mentoring and role modeling program and many others.
Chief Williams received the University of South Florida Department of Criminology Wall of Fame Outstanding Ambassador Award, NAACP Community Service Award, University of South Florida Alumni Association Distinguished Alumni Award, Leadership St. Pete Outstanding Alumni Award, 2004 Chairperson for Leadership St. Pete, St. Petersburg Police Department Officer of the Year Award, National Forum for Black Public Administrators Recognition Award, and the Police Athletic League's Ed Schatzman Circle of Excellence Award recipient.