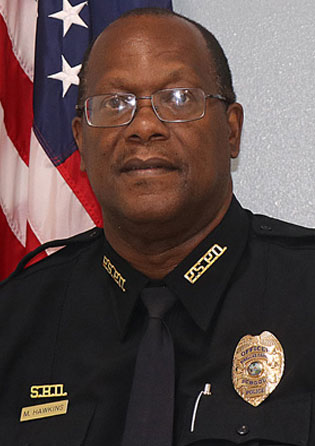 Michael Hawkins is a lifetime resident of St. Petersburg and a product of Pinellas County Schools. He attended Melrose Elementary and 16th Street Middle schools and graduated from St. Petersburg High School in 1977.
Officer Hawkins attended St. Peterburg Junior College and the Florida Seminary. In 1981, he joined the St. Petersburg Police Department, where he served for 32.5 years, as a patrolman and school resource officer, and as a robbery detective his final five years. During his tenure, he was a school resource officer at Gibbs High School for more than 25 years.
Officer Hawkins has received several awards, including the 1988 Florida Resource Officer of the Year award as the top SRO in the state and the 1996 Officer of the Year award for the St. Petersburg Police Department. He was also recognized five times as Optimist Club Officer of the Year.
He is married to Stacey and they have one daughter and a grandson. Officer Hawkins is active in the community and serves on the Pinellas County Urban League Task Force and at his church, where he is a licensed and ordained minister.
Back to Pinellas County Schools Police