Spectrum of the Arts learns the background of the debut of an original song written and performed by Dixie Hollins High School student
Aleigha Everitt and the Rebel Clefts.
Dixie FBLA members "left their mark" at District competition on Friday! Please congratulate the following students as they are on their way to State competition in March!
First Places:
Leilani Azcona & Nhan Nguyen: Emerging Business
Arin Muchitello: Journalism
Second Places:
Renna Stiehler: Business Communication
Jamie Barr: Intro to Public Speaking
Third Places:
Savannah Taylor: Job Interview
Fourth Places:
Fjona Merdari: Agribusiness
Kevin Ngo: Intro to Bus. Procedures
Fifth Places:
Amaya Cranston: Journalism
Polina Leger: Computer Problem Solving
Seventh Places:
Devan Munn: Agribusiness
Kim Ngo: Cyber Security
Congratulations to the following students whose original songs were selected for presentation in the FMEA Digital Music showcase in Tampa in January!
Jace Bray, Kai Wooten, and Gabe Reyes for their song "Lazy Sunday"
Phoenix Eads and Kaylee Ramos for their song "Bright Eyes"
Kai Wooten and Ethan Moore for their song "Daytime Swing"
Joseph Slaughter and Angel Fernandez for their song "Cyber Punk"
Tyler Ashlock, Rickie Williams, and Angel Fernandez for their song "Told Me Not To"
Congratulations to McKenna O'Reilly!
McKenna placed 9th overall at the State Dive Competition at Stuart FL!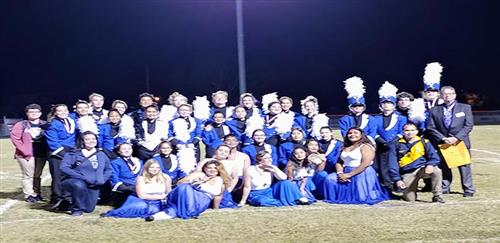 Rebels Regiment Marching Band from Saturday's Music Performance Assessment! They scored all Excellent ratings!