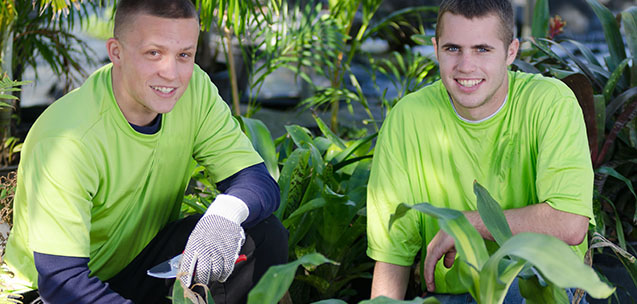 ---
Mission: The mission of this program is to prepare persons for gainful employment and use of best management practices in the various fields of horticulture and to upgrade the skills and knowledge for those already employed.
Program A010616 consists of a planned sequence courses.
Nursery Workers - Course ORH0862 (300 hours) – This course builds the students foundation knowledge to work in the horticulture industry. It focuses on the building of basic knowledge of plants, how they grow, function, and their benefits. This course includes classroom, inside, and outside lab experiences. Course content includes: emerging technologies in the horticulture industry; plant propagation; Best Management Practices for addressing plant problems, plant growth, and environmental stewardship; integrated pest management; using and applying fertilizers correctly; the use, maintenance, and planning of irrigation; pruning; plant classification and identification; safety practices in the workplace; safe use and maintenance of tools and equipment; harvesting, transporting, and installing plant materials; the use of plants in design using Florida Friendly Principles; and employability skills.
Nursery and Greenhouse Managers 1 – Course ORH0863 (450 hours) – This course elevates student knowledge by advancing the use of plant growth properties to propagate and grow new plants in a production nursery setting. Course content includes: plant identification and classification for propagation; pest control and monitoring; tools and equipment operation and maintenance; preparation of growing media and potting practices; setting up, maintaining, and repairing irrigation systems for propagation purposes; fertilization skills for growth and plant health; and maintaining and analyzing business records.
Nursery and Greenhouse Managers 2 – Course ORH0864 (150 hours) – This course develops a students understanding of the business side of managing a nursery. It prepares students to grow plants to the point of sale stage while monitoring and tracking business costs of producing plants. The student then analyzes the costs associated with nursery management and develops a business plan for profitability. Course content includes: chemical application and calibration of spray equipment; developing an irrigation and drainage plan for nursery stock; raising a plant crop to the point of sale; pruning, shaping, harvesting, marketing, processing, and shipping nursery stock; operating, repairing, and maintaining nursery equipment and facilities; and business principles.
Distance Education: This optional blended program is a combination of online learning and on-campus classroom and lab activities. Students attend the on-campus portion of the program three days a week from 7:30 a.m. to 12:45 p.m. The other two days, the student is required to complete ten (10) hours a week of online coursework for full credit of the two dedicated distance education days. Students will access the online curriculum through our school's current learning management system (LMS). For additional information go to the 'Online Programs and Courses' page.

Articulation Agreement(s): Statewide Golf Course Operations, A.A.S./A.S. Degree
Statewide Landscape and Horticulture Technology, A.A.S./A.S. Degree
Statewide Industry Certification - Certified Horticulture Professional to Landscape and Horticulture Technology, A.A.S./A.S. Degree
Industry Certification(s):
Florida Nursery Growers and Landscape Association (FNGLA) - Certified Horticulture Professional
Services Available: The Nursery Management program has a limited selection of plants for sale to the general public during the school year. Email wildeyj@pcsb.org to be placed on our email notification list or call (727) 893-2500, extension 2551 to find out the date and time of the next scheduled sale.
The program, courses, and seminars are offered at the St. Petersburg campus only, which is also a testing site for all certifications listed below.
Extended Day (Evenings and Weekends): Refer to Short Courses section for specific dates and times.
FNGLA Courses:
Certified Horticulture Professional
Certified Landscape Technician
Certified Landscape Designer
Certified Landscape Contractor
Additional Certifications: Seminars and classes are offered for continuing education units (CEUs) in several green industry areas of certification, including pest management.
Related Links
Minimum Satisfactory Academic Progress Requirement: 70%
Minimum Attendance Requirement: 70%
Basic Skills Entrance/Exit Requirements: Student's competency in reading, math, and language is pre-assessed using the Test of Adult Basic Education (TABE). Required basic skills grade levels are: Reading-9, Math-9, and Language-9.
---
« Back to Programs and Courses
* Length of program and all costs are approximate and subject to change.