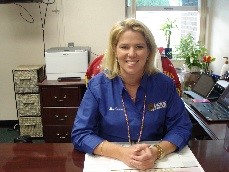 Leigh Owens, Principal
Leigh Owens joined the Bardmoor family in 2012 as our principal. Ms. Owens has been with Pinellas County Schools since 1999. During that time she served as a teacher at Pinellas Park Elementary, curriculum specialist, reading coach and most recently as the Assistant Principal at Southern Oak.

Personal Message:
My vision for Bardmoor Elementary is 100% student success. My mission for Bardmoor is to educate and prepare each student for further education, career and life. It is important for our students to not just be ready for middle school when they leave Bardmoor, but to also be lifelong learners prepared to take on high school, college and careers. Working together as a school, parents and community we will have successful students!
Shirley Garrett, Assistant Principal
Mrs. Garrett has been a teacher and administrator in Pinellas County Schools since 1984. She taught kindergarten at Walsingham, Bardmoor and Dunedin Elementary schools. Since 1997 Mrs. Garrett has served as an assistant principal at Belcher Elementary and now Bardmoor Elementary.

Personal Message:
I am very happy to be serving the students and parents of Bardmoor Elementary. It is my belief that all students can be academically successful through the united supportive efforts of the family and school. The Parent/Teacher communication is a critical part of that support. I appreciate the parental involvement I see and encourage others to make that commitment whether it is attending PTA meetings and after school programs or volunteering in classrooms. Parental involvement equates to student success.

Should you have questions or concerns you may call or visit me at school. I maintain an open door policy and welcome all parents who stop by. Together we DO make a difference.