Picture Day: Thursday, 8/25/16
Picture day is Thursday, 8/25/16
See flyer for more information: click here for picture day flyer
Volunteers:
Thank you for volunteering at Carwise Middle School. We appreciate your support to our students and our community. Ther is a new website to log in your volunteer hours:https://focus.pcsb.org/volunteer
This will enable you to activate your volunteer status and log volunteer hours. Your username is V.last name and first initial of first name. Password is last name and birth year (19_ _).
Yearbook club:
If you would like to help create this year's year book, the yearbook club will hold its first meeting this coming Thursday, August 25, after school until 5:00 in Ms. Kristi Russell's class room, #5-108.
School Supplies:
Are you interested in getting a jump start on school supplies for the year? Click under RESOURCES to get a GENERAL supply list for your student. Note: Some teachers may request additional/specific items.
Future Business Leaders of America (FBLA)
We are now one of a few middle schools in the State of Florida to have a Future Business Leaders of America (FBLA) Chapter. The students engage in State and National competitions. Every competition has a business focus. Students are provided the opportunity to meet and work with top CEOs and Entrepreneurs from all over the world. This is Carwise Middle School's first FBLA group. We are looking forward to competing on a state level in Orlando.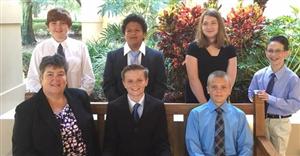 We are proud of our CMS Sharks!
Referendum Renewal 2016
Carwise has benefited every year from referendum money. Our sound system, chorus risers, chorus, band and orchestra dresses, sheet music, computer labs and keyboards, as well as ALL of our string instruments were purchased with referendum money. The referendum makes orchestra and music theater possible at Carwise.
The Referendum is up for renewal in November! For more information, please click on the links below.
Quick Facts about the Referendum
SPIRIT WEAR!
Due to the high number of requests, we are making another order for CARWISE SPIRIT WEAR! Show your Carwise pride and order your spirit wear!
Carwise Spirit Wear Order Form
NEED EXTRA HOMEWORK HELP?
The HOMEWORK HELP LINE

727 547-7223
Monday-Thursday
5PM-8PM
NEW STUDENT REGISTRATION
If you have a NEW student who needs to REGISTER for Carwise Middle School, please email Camille Godwin @ godwinca@pcsb.org or call our front office at (727) 724-1442.