Spring Concerts
Mr. Obara and Mr. Cook will be presenting the Carwise Spring Concert Series. Chorus Concert will be Tuesday, May 24, 2016 at 7:00 PM and the Band-Orchestra Concert on Thursday, May 26, 2016 at 7:00 PM.
These concerts represent the culmination of a dedicated year of hard work by the students and faculty. In addition each concert will have special performances by members of the chorus, band and orchestra.
Seating for the concerts is on a first come first serve basis.
This year the CMS Booster Club of the Performing Arts will also be selling light refreshments before and during the performances including: pizza, soft drinks, water, candy and chips.
Future Business Leaders of America (FBLA)
We are now one of a few middle schools in the State of Florida to have a Future Business Leaders of America (FBLA) Chapter. The students engage in State and National competitions. Every competition has a business focus. Students are provided the opportunity to meet and work with top CEOs and Entrepreneurs from all over the world. This is Carwise Middle School's first FBLA group. We are looking forward to competing on a state level in Orlando.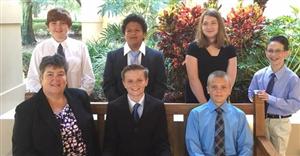 We are proud of our CMS Sharks!
SPIRIT WEAR!
Due to the high number of requests, we are making another order for CARWISE SPIRIT WEAR! Show your Carwise pride and order your spirit wear!
Carwise Spirit Wear Order Form
NEED EXTRA HOMEWORK HELP?
The HOMEWORK HELP LINE

727 547-7223
Monday-Thursday
5PM-8PM
NEW STUDENT REGISTRATION
If you have a NEW student who needs to REGISTER for Carwise Middle School, please email Camille Godwin @ godwinca@pcsb.org or call our front office at (727) 724-1442.
News: