School Survey

In an effort to improve system practices, J.L. Carwise Middle is conducting a Parent Survey. We value your opinion and ask that you take the time to complete this survey.
In order to complete the survey, please go to:
http://www.advanc-ed.org/survey/public/6433928
Please be assured that your responses to this survey will be anonymous. Your honest opinion is appreciated.
Thank you for your time and attention to this matter.
Asimina G. Patton
8th Grade Assistant Principal
Carwise Middle School
727.724.1442 ext.2109
Future Business Leaders of America (FBLA)
We are now one of a few middle schools in the State of Florida to have a Future Business Leaders of America (FBLA) Chapter. The students engage in State and National competitions. Every competition has a business focus. Students are provided the opportunity to meet and work with top CEOs and Entrepreneurs from all over the world. This is Carwise Middle School's first FBLA group. We are looking forward to competing on a state level in Orlando.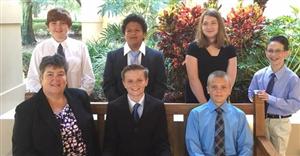 We are proud of our CMS Sharks!
SPIRIT WEAR!
Due to the high number of requests, we are making another order for CARWISE SPIRIT WEAR! Show your Carwise pride and order your spirit wear!
Carwise Spirit Wear Order Form
NEED EXTRA HOMEWORK HELP?
The HOMEWORK HELP LINE

727 547-7223
Monday-Thursday
5PM-8PM
NEW STUDENT REGISTRATION
If you have a NEW student who needs to REGISTER for Carwise Middle School, please email Camille Godwin @ godwinca@pcsb.org or call our front office at (727) 724-1442.