Shark Camp for incoming 6th graders
Carwise Middle School welcomes new Sharks during "Shark Camp"
Wednesday, July 27th - for students with last name starting with A-L
Thursdsay, July 28th - for students with last name starting M-Z
Parents - please plan on staying for a brief 30 minute overview.
School Supplies:
Are you interested in getting a jump start on school supplies for the year? Click under RESOURCES to get a GENERAL supply list for your student. Note: Some teachers may request additional/specific items.
Future Business Leaders of America (FBLA)
We are now one of a few middle schools in the State of Florida to have a Future Business Leaders of America (FBLA) Chapter. The students engage in State and National competitions. Every competition has a business focus. Students are provided the opportunity to meet and work with top CEOs and Entrepreneurs from all over the world. This is Carwise Middle School's first FBLA group. We are looking forward to competing on a state level in Orlando.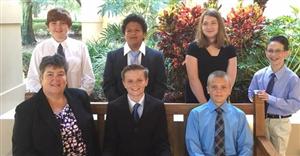 We are proud of our CMS Sharks!
SPIRIT WEAR!
Due to the high number of requests, we are making another order for CARWISE SPIRIT WEAR! Show your Carwise pride and order your spirit wear!
Carwise Spirit Wear Order Form
NEED EXTRA HOMEWORK HELP?
The HOMEWORK HELP LINE

727 547-7223
Monday-Thursday
5PM-8PM
NEW STUDENT REGISTRATION
If you have a NEW student who needs to REGISTER for Carwise Middle School, please email Camille Godwin @ godwinca@pcsb.org or call our front office at (727) 724-1442.
News: