Important Picture Day Information
Countryside High School Picture Day: Thursday, September 17 Picture Day ID: FA175123Q0
Picture Day is Thursday, September 17.
Simplify Picture Day by ordering online at mylifetouch.com. No need to send cash or flyer back to school when you order online
If you are a parent of a Countryside High School student serving in the military who is on active duty, regardless of the location, please contact Chris Vroman, secretary to the principal. Thank you very much! Contact Information: vromanc@pcsb.org 727-7956 #2007
Back to School Guide 2015-2016 http://www.pcsb.org/Page/3039
Florida Standards Parents Presentation Parents: Click here for information on the new FL Standards or go to Resources and select FL Standards Parent Presentation. More information on our website, please look under "Academics".
New Modified Dress Code for 2015/2016 - Please look under "About Us"
North Pinellas College and Career Fair 6:00 p.m. to 8:00 p.m. on Oct. 5, 2015 is a free event open to students, parents or guardians, and the general public. Last year we had over 140 exhibitors from colleges, technical schools, military branches of service, business professionals and major employers from across the state and nation. It's your one stop shopping opportunity for academic and career planning answers, and your chance to meet with recruiters and professionals. You can't afford to miss this networking opportunity!
Contact: Kathleen Lamb pcs.lambk@pcsb.org 727-7254-7956 #2079 Link on our website http://pcsb.org/domain/5986
School Financial Report for your information
http://www.flsenate.gov/laws/statutes/2014/1010.215
.
SENIORS ON-TRACK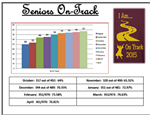 85% of our Seniors Graduated in 2015, an increase of 2% from 2014. The at risk graduation rate also increase from 44% to 59% in 2015!
Please contact Fred Whitaker for more information on the program or to donate to the cause. whitakerf@pcsb.org
Pinellas County Sheriff's office is giving parents free internet safety computer software for monitoring their child's computer activities. The software can be obtained from one of two locations: