For senior information, please visit http://http://pcsb.org/Domain/6081
Bell Schedules - please go to http://pcsb.org/domain/4108 on
Freshman Academic Night - Thursday, December 10 The agenda will consist of topics including: -ACT/SAT prep -NCAA eligibility -Bright Futures scholarships Contact: Kristen Clausen clausenk@pcsb.org
Interested in a scholarship – check out our website http://pcsb.org/Domain/6368
Time is running out to register! On November 14th, there will be a Free New SAT/ACT Combo Practice Test held by Kaplan Test Prep IN PERSON OR ONLINE to help students decide between the New SAT or ACT. The practice test will be held at the UNIVERSITY OF TAMPA, East Walker Hall #110, 401 W Kennedy Blvd, 33606, 10am. Please visit kaptest.com/satvsact registration deadline is November 6th.
District Application Process - What Parents Need to Know - Deadline January 15, 2016 http://pcsb.org/Domain/
District Application Program events begin next week. Share event dates, including school events and Discovery Nights, on your website, in newsletters and on school marquees.
The application period for the 2016-17 school year is Jan. 6-15, 2016. Additional information is available at www.pcsb.org/choice. For questions about the application process, parents can contact Student Assignment at 727-588-6210.
Seniors - Mark your Calendar! Graduation is Thursday, June 2 at Tropicana Field from 7:30 a.m. to 9:00 a.m. Contact: Steve Straub straubs@pcsb.org 727-725-1487 For more information concerning seniors, please go to http://pcsb.org/Domain/6081
Standards Assessments - Understanding the FSA Reports http://pcsb.org/Domain/6670
Scholar Diploma Designation
If your student is pursuing a scholar diploma designation, in addition to meeting the 24-credit standard high school diploma requirements, they must also pass the Biology 1 EOC and the US History EOC. If your student has not taken and/or passed these assessments yet and wishes to pursue the scholar diploma designation, then they must contact their guidance counselor to schedule a date and time to take these assessments. The next test window begins November 30, 2015. You can check to see if your student has taken and/or passed these assessments using FOCUS. Upon logging in, you will access their Test History under the My Information tab. Here you will see all standardized tests taken by your student over the years. Clicking on the arrow next to the assessment will provide additional information. A "P" indicates your student has passed this assessment. If you do not see either of these assessments, please have your student contact their guidance counselor as soon as possible. Students must TAKE these EOC's to graduate, but they must PASS them to qualify for the scholar diploma designation. Please visit our website for additional criteria on the scholar and merit diploma designations.
If you are looking for Countryside High School t-shirts, please go to the following website by EmbroidMe http://cougars.logoshop.com/
9th Grade Presentation - September 17, 2015 Please go to the following link for information shared at the presentation. http://pcsb.org/Domain/
Daily Student Announcements can be found under Clubs and Activities/Daily Announcements. Announcements are posted everyday. http://pcsb.org/Domain/4118
CAFETERIA ACCOUNTS - If you would like to put mony on your student's cafeteria account, please go to www.myschoolbucks.com
Florida Standards Parents Presentation Parents: Click here for information on the new FL Standards or go to Resources and select FL Standards Parent Presentation. More information on our website, please look under "Academics".
New Modified Dress Code for 2015/2016 - Please look under "About Us"
School Financial Report for your information
http://www.flsenate.gov/laws/statutes/2014/1010.215
---
SENIORS ON-TRACK Program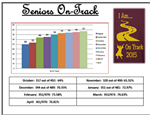 Graduate For Mas Promise: Make the promise to graduate, and be entered to win prizes, as well as a school celebrity concert. If 30% of our school makes the promise $500 will be donated to the Senior ON Track program directly going towards prizes for teh Senior Giveaway (using your cougar cash) in May for TV's, Amazon Fire HD's Printers and more. Spread the word to your friends to MAKE THE PROMISE! For more information see Mr. Whitaker. Make the promise here: https://getschooled.com/graduate-for-mas/ Students can also make the promise by texting Grad4Mas to 335577
85% of our Seniors Graduated in 2015, an increase of 2% from 2014. The at risk graduation rate also increase from 44% to 59% in 2015!
Please contact Fred Whitaker for more information on the program or to donate to the cause. whitakerf@pcsb.org
---
Pinellas County Sheriff's office is giving parents free internet safety computer software for monitoring their child's computer activities. The software can be obtained from one of two locations: