Road construction effecting Countryside High School beginning February 12, 2016 - Contractors for Pinellas County will be temporarily closing the westbound lanes of State Road 580 fronting Countryside High School from McMullen Booth Road to Landmark Drive on Friday, Feb. 12, to repair a leaking water main. The work is scheduled to take place over the long weekend as students are out of school for President's Day on Monday, Feb. 15. The repair is expected to be completed before students return on Tuesday, Feb. 16. For map of effected area and more information about the construction, please go to http://pcsb.org/domain/6993
SAT Prep Classes SAT Prep Flyer for Spring 2016
Pinellas Virtual School - HOPE registration is April 25 - May, 20, 2016. Classes begin May 23, 2015. For more information go to http://pcsb.org/Domain/5595
SUMMER DRIVER EDUCATION PROGRAM AT COUNTRYSIDE HIGH SCHOOL JUNE 2016 - Registration at Countryside High School begins at 6:30 a.m. oFebruary 9, 2016 on the Driver Education lot in the back of the school. You will need to register your child in person…no phone calls or emails will be accepted. Waiting lists will be available once sessions are filled. Any further questions, please contact Kevin O'Sullivan osullivank@pcsb.org Please go to http://pcsb.org/Domain/6989 for registration form and more information.
PARENT SURVEY - In an effort to improve system practices, Countryside High School is conducting a Parent Survey. We value your opinion and ask that you take the time to complete this survey. In order to complete the survey, please go to: http://www.advanc-ed.org/survey/public/7487383 Please be assured that your responses to this survey will be anonymous. Your honest opinion is appreciated.
District Application Acceptance Period opens Feb. 3 — If you applied for a PCS choice program, you must log into the Student Reservation System at reservation.pcsb.org to accept an invitation during the acceptance period, Feb. 3-10
Most Summer Bridge programs for students in elementary, middle and high school will take place Monday through Thursday, June 20-July 14. The district is sharing the dates early to give families time to make plans for the summer. Summer Bridge is designed for students who are not performing on grade level or need additional help to stay on track. The programs provide enrichment activities and intensive instruction to ensure that students are prepared for maximum success when the next school year begins. Registration dates have not been finalized. The latest information can be found on the district's Summer Bridge website, www.pcsb.org/summerbridge.
Want to see Mrs. Clausen, assistant principal for 9th grade, rock purple hair? Cougar U is collecting money to support the freshman class, if we reach $500 by February 26th, Mrs. Clausen will dye her hair purple. You can donate in the main office or administration office starting February 1, 2016.
Students, are you interested in getting rewarded for what you are reading? Plan on participating in the Cougar Spring in Reading Contest that starts on Monday, February 11, 2016. Document the amount of minutes you are reading on your own (meaning no homework or schoolwork), fill out a contest sheet available from your English and Reading teachers, and turn it in to Ms. Mency's office in the Reading contest box. There will be thermometers posted out in the concourse for you to see which grade level is winning. At the end of the day on March 11, 2016 total minutes read will be tallied and the TOP FIVE student from the winning grade level who participated will earn lunch, courtesy of the administrative team. See Ms. Clausen clausenk@pcsb.org if you have any questions. Have fun reading! For the form please click here - Cougar Spring into Reading Contest
Interested in:
Advanced Academics @ Countryside High School Advanced Academics at Countryside High School
AVID Program Application - please go to http://www.pcsb.org/avidapp
Bell Schedules - please go to http://pcsb.org/domain/4108
Cafeteria Accounts - http://www.myschoolbucks.com
Center for Computer Technology (CCT) - http://countrysidecct.weebly.com/
Countryside Apparel - http://cougars.logoshop.com/
College Shirt Days - Please go to http://pcsb.org/Page/18486
Daily Announcements - http://pcsb.org/Domain/4118
District Application Process - What Parents Need to Know - Deadline January 15, 2016 http://pcsb.org/Domain/
Dual Enrollment, Early College and Early Admisions - http://pcsb.org/domain/6604
Institute for Science, Technology, Engineering and mathematics (ISTEM) - http://countrysideistem.weebly.com/
Institute for Science, Technology, Engineering and Mathematics (ISTEM) - http://countrysideistem.weebly.com/
Modified Dress Code - http://pcsb.org/domain/5033
PSAT - www.pcsb.org/psat
SAT - www.pcsb.org/sat
Scholarship Information– check out our website http://pcsb.org/Domain/6368
Senior information -http://pcsb.org/Domain/6081
Sports Information - http://pcsb.org/domain/2594
Seniors - Mark your Calendar! Graduation is Thursday, June 2 at Tropicana Field from 7:30 a.m. to 9:00 a.m. Contact: Steve Straub straubs@pcsb.org 727-725-1487 For more information concerning seniors, please go to http://pcsb.org/Domain/6081
Standards Assessments - Understanding the FSA Reports http://pcsb.org/Domain/6670
Scholar Diploma Designation
If your student is pursuing a scholar diploma designation, in addition to meeting the 24-credit standard high school diploma requirements, they must also pass the Biology 1 EOC and the US History EOC. If your student has not taken and/or passed these assessments yet and wishes to pursue the scholar diploma designation, then they must contact their guidance counselor to schedule a date and time to take these assessments. The next test window begins November 30, 2015. You can check to see if your student has taken and/or passed these assessments using FOCUS. Upon logging in, you will access their Test History under the My Information tab. Here you will see all standardized tests taken by your student over the years. Clicking on the arrow next to the assessment will provide additional information. A "P" indicates your student has passed this assessment. If you do not see either of these assessments, please have your student contact their guidance counselor as soon as possible. Students must TAKE these EOC's to graduate, but they must PASS them to qualify for the scholar diploma designation. Please visit our website for additional criteria on the scholar and merit diploma designations.
9th Grade Presentation - September 17, 2015 Please go to the following link for information shared at the presentation. http://pcsb.org/Domain/
Florida Standards Parents Presentation Parents: Click here for information on the new FL Standards or go to Resources and select FL Standards Parent Presentation. More information on our website, please look under "Academics".
School Financial Report for your information
http://www.flsenate.gov/laws/statutes/2014/1010.215
---
SENIORS ON-TRACK Program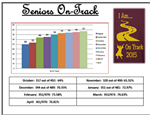 Graduate For Mas Promise: Make the promise to graduate, and be entered to win prizes, as well as a school celebrity concert. If 30% of our school makes the promise $500 will be donated to the Senior ON Track program directly going towards prizes for teh Senior Giveaway (using your cougar cash) in May for TV's, Amazon Fire HD's Printers and more. Spread the word to your friends to MAKE THE PROMISE! For more information see Mr. Whitaker. Make the promise here: https://getschooled.com/graduate-for-mas/ Students can also make the promise by texting Grad4Mas to 335577
85% of our Seniors Graduated in 2015, an increase of 2% from 2014. The at risk graduation rate also increase from 44% to 59% in 2015!
Please contact Fred Whitaker for more information on the program or to donate to the cause. whitakerf@pcsb.org
---
Pinellas County Sheriff's office is giving parents free internet safety computer software for monitoring their child's computer activities. The software can be obtained from one of two locations: