Back to School Guide 2015-2016 http://www.pcsb.org/Page/3039
Class Schedules for 2015-2016
Official Class Schedules will be distributed the first day of school through the student homerooms.
Homeroom lists (alpha order) will be posted on all doors leading into the school and throughout the concourse the first day of school. As soon as the homeroom schedule is available, it will be posted under "Student Information" - "Under About" us on our website.
DUAL ENROLLMENT STUDENTS
Dual Enrollment book day is Thursday, August 6th. You must go to one of the three designated locations to pick up your books on August 6th between 8am and 4pm. (Students who took summer classes must return their books before they will be able to pick up their books for fall.) Pinellas County Schools is unable to provide books to students who do not follow this procedure, so please be sure to go on this scheduled day.

SPC classes begin on Monday, August 17th – a week ahead of the classes at your high school. College classes are very demanding and your attendance from the very first class is extremely important. Be sure to attend the classes you have at SPC during the week of August 17th!

At the end of the semester, you will return your textbooks during the exam week to one of the three designated locations.

If you have any questions related to the dual enrollment textbook process, please call Jeanette Benkert at (727) 588-6543.
LOCKER ASSIGNMENT DAYS
Monday, August 3 – Senior Locker Assignments 8:00 a.m.-1:00 p.m.
Tuesday, August 4– Junior Locker Assignments 8:00 a.m. to 1:00 p.m.
Wednesday, August 5– Sophomore Assignments 8:00 a.m. to 1:00 p.m.
If you do not have a CHS lock, the cost of the lock is $4.00 (cash only). If you will be out of town during your locker assignment day, you may send a signed letter in with a friend stating you will accept any locker your friend selects for you. No locker changes will be made.
Avoid the back-to-school rush for physicals and immunizations
Posted: 27 Jul 2015 08:58 AM PDT
Parents can avoid the usual back-to-school rush at clinics and health departments by taking care of immunizations and physicals well before school is back in session on Aug. 24.
The Florida Department of Health in Pinellas County offers no-cost school immunizations for students through the age of 18. Health departments in St. Petersburg, Pinellas Park, Clearwater, Mid-County (in Largo) and Tarpon Springs provide vaccines without an appointment on weekdays from 8 a.m. to 5 p.m. For DOH-Pinellas health department locations, visit http://pinellas.floridahealth.gov/locations/index.html.
Some DOH-Pinellas clinics are also offering no-cost or low-cost school and sports physicals through Friday, Aug. 21. Clinics at Gibbs, Northeast, Boca Ciega and Pinellas Park high schools and DOH-Pinellas' Clearwater health department are offering the physicals on a rotating schedule for $26.50 or less, depending on family financial situations. School-based clinics are funded by the Juvenile Welfare Board.
To make an appointment or find out more about scheduling, call (727) 824-6900. Parents must accompany children and bring immunization records.
Florida Standards Parents Presentation Parents: Click here for information on the new FL Standards or go to Resources and select FL Standards Parent Presentation. More information on our website, please look under "Academics".
Freshman Orientation August 20, 2015 beginning at 9:00 a.m. For information go to the Freshman Website at http://cougaru.weebly.com/ - Information is subject to change over the summer, please check back for updates.
New Modified Dress Code for 2015/2016 - Please look under "About Us"
North Pinellas College and Career Fair 6:00 p.m. to 8:00 p.m. on Oct. 5, 2015 is a free event open to students, parents or guardians, and the general public. Last year we had over 140 exhibitors from colleges, technical schools, military branches of service, business professionals and major employers from across the state and nation. It's your one stop shopping opportunity for academic and career planning answers, and your chance to meet with recruiters and professionals. You can't afford to miss this networking opportunity!
Contact: Kathleen Lamb pcs.lambk@pcsb.org 727-7254-7956 #2079 Link on our website http://pcsb.org/domain/5986
School Financial Report for your information
http://www.flsenate.gov/laws/statutes/2014/1010.215
.
SENIORS ON-TRACK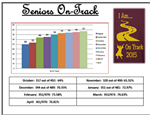 78% of our our seniors are on track to graduate! We are proud of our seniors!!!!!
Pinellas County Sheriff's office is giving parents free internet safety computer software for monitoring their child's computer activities. The software can be obtained from one of two locations: