Students, beginning Monday, October 31st the school will not be open to students until 6:30 am. Please plan accordingly.
PARENT UNIVERSITY
Join us at Pinellas County Schools Parent University, a free event that supports the education of students in grades K-12. PCS Parent University will be held 8-11:30 a.m. Saturday, October 29, at Countryside High School in Clearwater. The morning will be filled with a variety of workshops designed for parents to include academic and support programs, effective strategies that families can use to help their student succeed, and ways to advocate for students. Parents will also have the opportunity to speak directly with district staff about their concerns. Learn more at www.pcsb.org/parentuniversity.
New 2016-2017 PAPER LESS: REPORT CARDS
Paperless report cards begin at Countryside High School in October 2016. Please go to Focus/Portal to view your student's report card on October 25, 2016.
Pinellas County School (PCS) Focus/Portal
PCS Focus/ Portal is the student information system for Pinellas County Schools. Focus allows parents to log in and check their child's grades, attendance, discipline, etc. in real time. Focus also has a list of programs specific to parents, such as the Student Reservation System (SRS), PCS Online Community Center, Parent Forms, and Meal Pay. These programs are listed on the main page of FOCUS. Logging into PCS Portal gives the parents a one-stop shopping experience. Go to www.pcsb.org and click on the Focus button on the left side of the screen. You can use your Parent Connect User Name and Password to log into FOCUS. If you have difficulty logging onto Focus or do not have a User Name and Password please contact Kim Martinez at 727-725-7956 Ext. 2010.
COUNTRYSIDE HIGH SCHOOL GRADUATION 2017
Graduation will be held at Tropicana Field on May 16, 2017 from 7:30 a.m. to 9:00 a.m. Information about parking, which entrance to use, appropriate dress for graduates, and other misc. information will be distributed in early May. No tickets are required to attend the graduation and there are no limit to the amount of guests that can attend.
For more information concerning the senior class, please go to http://www.pcsb.org/Page/22093

Senior Adviser: Steve Straub straubs@pcsb.org 724-1487
Pinellas County Discovery Nights 2016-2017 - Discovery night for ISTEM and CCT at Countryside High School is scheduled for November 17, 2016 fro 6:00 p.m. to 7:00 p.m. in the Media Center.
District Application Period January 4 -13, 2017
Pinellas County Schools Referendum supports teachers and students
Pinellas County Schools Referendum supports teachers and students
The continuation of Pinellas County Schools Referendum will be on the Nov. 8 general election ballot. The Referendum strengthens reading, music and art programs; provides up-to-date technology; and helps recruit and retain quality teachers. Pinellas County voters overwhelmingly supported the Referendum three times, including its initial approval in 2004. An independent citizens committee oversees Referendum expenditures to ensure money is spent as voters intended.
The Referendum provides classroom libraries filled with diverse and up-to-date materials and increased training opportunities for teachers. Children benefit from intensive reading programs, waived instrument rental fees, and paid admission for field trips to museums and art galleries.
All schools receive equitable funding for quality art supplies, equipment and technology that help students produce strong works of art. All elementary music classes receive musical instruments, and all schools receive music equipment to ensure equity among music programs in the district.
Eighty percent of Referendum revenue supplements teacher salaries, demonstrating the high value placed on keeping quality teachers in Pinellas.
The half-mill tax costs the average single family homeowner less than $5.50 a month. Every penny of the funding goes directly to Pinellas County teachers and students. Learn more at www.pcsb.org/referendum.
Frequently asked for topics at Countryside High School:
Advanced Academics @ Countryside High School Advanced Academics at Countryside High School
Athletic Information - http://www.pcsb.org/domain/2594
Athletic Forms - http://pcsb.org/domain/4585
AVID Program Application - please go to http://www.pcsb.org/avidapp
Bell Schedules - please go to http://pcsb.org/domain/4108
Cafeteria Accounts - http://www.myschoolbucks.com
Center for Computer Technology (CCT) - http://countrysideprograms.com/
Contacts at Countryside High School - (Who to call) - http://www.pcsb.org/domain/5946
Countryside Apparel - http://cougars.logoshop.com/
College Shirt Days - Please go to http://pcsb.org/Page/18486
Daily Announcements - http://pcsb.org/Domain/4118
District Application Process - What Parents Need to Know - Deadline January 15, 2016 http://pcsb.org/Domain/
Dual Enrollment, Early College and Early Admisions - http://pcsb.org/domain/6604
Extended Day Learning Opportinites - http://www.pcsb.org/Domain/7699
Fundraisers/Special Events - http://www.pcsb.org/Domain/5299
Institute for Science, Technology, Engineering and mathematics (ISTEM) - http://countrysideprograms.com/
Modified Dress Code - http://pcsb.org/domain/5033
Picture Day App - http://http://goo.gl/DqC6bd
School Adivisory Committee (SAC) - http://www.pcsb.org/domain/3519
PSAT - www.pcsb.org/psat
SAT - www.pcsb.org/sat
Scholarship Information– check out our website http://pcsb.org/Domain/6368
Senior information - http://www.pcsb.org/Page/22093
Special Events/Fundraisers - http://www.pcsb.org/Domain/5299
Sports Information - http://pcsb.org/domain/2594
Student Information - http://www.pcsb.org/domain/3417
Summer Assignment for AP US History - http://www.pcsb.org/Domain/7337
Summer Reading Assignment 2016 - http://pcsb.org/Domain/5788
Volunteers & Partners - http://pcsb.org/domain/2592
PCS students have a new tool to track their progress By Lorri Helfand
Students can track their progress toward graduation and educational goals using the Florida Shines website. Parents and students will see a new link when they log into their portal accounts. Florida Shines enables students to:
Review credits and achievements for their path toward a standard diploma.
Ensure they meet the requirements to prepare for career or an industry-based certification or admission to a state university.
Review their progress toward meeting eligibility for Bright Futures.
A guidebook to help families use Florida Shines is available on the district Guidance site: www.pcsb.org/floridashines
Standards Assessments - Understanding the FSA Reports http://pcsb.org/Domain/6670
Scholar Diploma Designation
If your student is pursuing a scholar diploma designation, in addition to meeting the 24-credit standard high school diploma requirements, they must also pass the Biology 1 EOC and the US History EOC. If your student has not taken and/or passed these assessments yet and wishes to pursue the scholar diploma designation, then they must contact their guidance counselor to schedule a date and time to take these assessments. The next test window begins November 30, 2015. You can check to see if your student has taken and/or passed these assessments using FOCUS. Upon logging in, you will access their Test History under the My Information tab. Here you will see all standardized tests taken by your student over the years. Clicking on the arrow next to the assessment will provide additional information. A "P" indicates your student has passed this assessment. If you do not see either of these assessments, please have your student contact their guidance counselor as soon as possible. Students must TAKE these EOC's to graduate, but they must PASS them to qualify for the scholar diploma designation. Please visit our website for additional criteria on the scholar and merit diploma designations.
Florida Standards Parents Presentation Parents: Click here for information on the new FL Standards or go to Resources and select FL Standards Parent Presentation. More information on our website, please look under "Academics".
School Financial Report for your information
http://www.flsenate.gov/laws/statutes/2014/1010.215
---
SENIORS ON-TRACK Program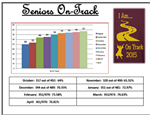 Graduate For Mas Promise: Make the promise to graduate, and be entered to win prizes, as well as a school celebrity concert. If 30% of our school makes the promise $500 will be donated to the Senior ON Track program directly going towards prizes for the Senior Giveaway (using your cougar cash) in May for TV's, Amazon Fire HD's Printers and more. Spread the word to your friends to MAKE THE PROMISE! For more information see Mr. Whitaker. Make the promise here: https://getschooled.com/graduate-for-mas/ Students can also make the promise by texting Grad4Mas to 335577
85% of our Seniors Graduated in 2015, an increase of 2% from 2014. The at risk graduation rate also increase from 44% to 59% in 2015!
Please contact Fred Whitaker for more information on the program or to donate to the cause. whitakerf@pcsb.org
---
Pinellas County Sheriff's office is giving parents free internet safety computer software for monitoring their child's computer activities. The software can be obtained from one of two locations: