Yearbooks will be distributed to seniors on May 8 in the auditorium lobby from 1:00 -1:35 p.m. Contact: Ms. Gray grayjenn@pcsb.org
Attention Graduating Seniors!
You must take the Senior Survey on Counselor Connect if you wish to attend senior breakfast or walk at the graduation ceremony on June 2nd.
To get to Counselor Connect, you will log into Focus.
Under Learning Resources, there is a link to Counselor Connect.
You should be taken directly to the website and not have to sign in again. ...
If this is the first time to log on since the survey became available, you will receive a pop up saying you have a survey to take.
If you do not have a pop up, you may click on the survey link from the Dashboard.
Florida's 2014-2015 ESE Parent Survey February 1 – May 31 http://www.esesurvey.com
Take the Exceptional Student Education annual parent survey
The annual Exceptional Student Education parent survey conducted by the Florida Department of Education is underway through Sunday, May 31. The survey gives parents of students receiving special education services the opportunity to provide feedback on their school involvement and provide comments on their child's school. This type of parent input is critical in determining if the district will meet the requirements for the state's Annual Performance Report. The parent survey is available online at www.esesurvey.com or www.pcsb.org/ese. To request a hard copy of the survey, contact Marty Massimo, FDLRS Parent Service Specialist at massimom@pcsb.org or 793-2723 x2043.
Could your child benefit from extra learning opportunities over the summer?
Registration for Summer Bridge is underway.Summer Bridge is especially important for students who are not performing on grade level or need additional help to stay on track. Summer Bridge provides engaging activities and intensive instruction to prepare students for maximum success. Most Summer Bridge programs will run Monday through Thursday from June 16 to July 23. Parents can register at https://reservation.pcsb.org. Schools will also assist families with the registration process. Find the latest information at www.pcsb.org/summerbridge. Contact the school for additional info.
Important senior information can be found under Clubs and Activities, then Senior Class.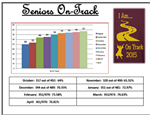 77% of our our seniors are on track to graduate! We are proud of our seniors!!!!!
Parents:

Click here for information on the new FL Standards

or go to Resources and select FL Standards Parent Presentation. More information on our website, please look under "Academics".
Interested in Virtual School - Check out www.virtualschool.pcsb.org
Testing schedule for the rest of the year can be found under Academics link under "Testing Information"
New Dress Code for 2015/2016 - Please look under "About Us"
Pinellas County Sheriff's office is giving parents free internet safety computer software for monitoring their child's computer activities. The software can be obtained from one of two locations: