Freshman Orientation at Countryside High School
Thursday, August 4, 2016 from 9:00 a.m. to 11:30 a.m.
There will be a meeting in the auditorium with students and parents beginning at 9:00 a.m.
Student and parents:
Can attend break out sessions
Tour school, browse informational tables for sports/activities
Purchase locks and get locker assignment ($4.00 cash for lock)
Purchase yearbooks ($65.00)
Create/add to café accounts (any amount of money)
Option to attend Camp Cougar U in the afternoon (see school website for more information. RSVP to Kristen Clausen at clausenk@pcsb.org).
Yearbooks and café accounts must be paid for with separate checks and made payable to Countryside High School. If paying by cash, exact change would be appreciated.
http://www.pcsb.org/countryside-hs
Summer Locker Assignment and Lock Sale
Seniors - Tuesday, July 26, 2016
Juniors - Wednesday, July 27, 2016
Sophomores Thursday, July 28, 2016
8:00 a.m. to 1:00 p.m. each day
On your locker assignment day, you can purchase a lock or use a Countryside High School lock from previous years as long as the number on the back of the lock is a V70 or V638.
If you have a previously purchased a Countryside High School lock you must bring your lock and combination with you on your locker assignment day because you will be asked to put the lock on your locker immediately!
If you need to purchase a lock they are $4.00 - cash only! Exact cash is appreciated!
If you will not be able to attend your locker assignment day: You can have a friend/parent/other relative get your locker assignment for you.
Your friend/parent/other relative will need a signed letter from you giving them permission to get your locker assignment. Locker assignment given is final, no changes will be made.
They must bring your lock and combination to the locker assignment day.
Parking Permits
Parking permits will be sold in the bookkeeping office during locker assignment days.
You will need:
Your driver's license
Current Insurance Card
License Plate number
$5.00 cash only
If you do not get your parking permit during locker assignment days, parking permits will be sold after school each day in the bookkeeping office once school begins on August 10.
Senior spaces will not be available until approximately mid-September.
Mark your Calendar - Back to School Night
Back to school night for high schools is Thursday, August 18, 2016
6:00 p.m. - PTSA Meeting in the Media Center
5:45 p.m.– 8:10 p.m. - Cougar Spirit Displays in Concourse
6:30 p.m.—8:10 p.m. - Classroom Visitations
BRIGHT FUTURES
There have been recent changes in legislation that may have an impact on Bright Futures. Some of the changes are effective for 2016 high school graduates.
College Board has redesigned the SAT® college entrance exam. The first Redesigned SAT® was offered to students March 8, 2016. Scores for this test and the concordant table will be available from College Board on May 10, 2016. College Board has informed OSFA that combining sections of the former SAT® with sections from the Redesigned SAT® will not be possible as previously shared. For additional information regarding Bright Futures and the Redesigned SAT scores, refer to the 2015-16 Florida Bright Futures Student Handbook – Chapter 1, page 4: College Entrance Exams at www.FloridaStudentFinancialAid.org/SSFAD/bf/bfmain.htm.
PCS students have a new tool to track their progress By Lorri Helfand
Students can track their progress toward graduation and educational goals using the Florida Shines website. Parents and students will see a new link when they log into their portal accounts. Florida Shines enables students to:
Review credits and achievements for their path toward a standard diploma.
Ensure they meet the requirements to prepare for career or an industry-based certification or admission to a state university.
Review their progress toward meeting eligibility for Bright Futures.
A guidebook to help families use Florida Shines is available on the district Guidance site: www.pcsb.org/floridashines
Interested in:
Advanced Academics @ Countryside High School Advanced Academics at Countryside High School
Athletic Information - http://www.pcsb.org/domain/2594
Athletic Forms - http://pcsb.org/domain/4585
AVID Program Application - please go to http://www.pcsb.org/avidapp
Bell Schedules - please go to http://pcsb.org/domain/4108
Cafeteria Accounts - http://www.myschoolbucks.com
Center for Computer Technology (CCT) - http://countrysideprograms.com/
Contacts at Countryside High School - (Who to call) - http://www.pcsb.org/domain/5946
Countryside Apparel - http://cougars.logoshop.com/
College Shirt Days - Please go to http://pcsb.org/Page/18486
Daily Announcements - http://pcsb.org/Domain/4118
District Application Process - What Parents Need to Know - Deadline January 15, 2016 http://pcsb.org/Domain/
Dual Enrollment, Early College and Early Admisions - http://pcsb.org/domain/6604
Institute for Science, Technology, Engineering and mathematics (ISTEM) - http://countrysideprograms.com/
Modified Dress Code - http://pcsb.org/domain/5033
PSAT - www.pcsb.org/psat
SAT - www.pcsb.org/sat
Scholarship Information– check out our website http://pcsb.org/Domain/6368
Senior information -http://pcsb.org/Domain/6081
Special Events/Fundraisers - http://www.pcsb.org/Domain/5299
Sports Information - http://pcsb.org/domain/2594
Student Information - http://www.pcsb.org/domain/3417
Summer Assignment for AP US History - http://www.pcsb.org/Domain/7337
Summer Reading Assignment 2016 - http://pcsb.org/Domain/5788
Volunteers & Partners - http://pcsb.org/domain/2592
Yearbook - http://www.pcsb.org/Domain/2586
Standards Assessments - Understanding the FSA Reports http://pcsb.org/Domain/6670
Scholar Diploma Designation
If your student is pursuing a scholar diploma designation, in addition to meeting the 24-credit standard high school diploma requirements, they must also pass the Biology 1 EOC and the US History EOC. If your student has not taken and/or passed these assessments yet and wishes to pursue the scholar diploma designation, then they must contact their guidance counselor to schedule a date and time to take these assessments. The next test window begins November 30, 2015. You can check to see if your student has taken and/or passed these assessments using FOCUS. Upon logging in, you will access their Test History under the My Information tab. Here you will see all standardized tests taken by your student over the years. Clicking on the arrow next to the assessment will provide additional information. A "P" indicates your student has passed this assessment. If you do not see either of these assessments, please have your student contact their guidance counselor as soon as possible. Students must TAKE these EOC's to graduate, but they must PASS them to qualify for the scholar diploma designation. Please visit our website for additional criteria on the scholar and merit diploma designations.
Florida Standards Parents Presentation Parents: Click here for information on the new FL Standards or go to Resources and select FL Standards Parent Presentation. More information on our website, please look under "Academics".
School Financial Report for your information
http://www.flsenate.gov/laws/statutes/2014/1010.215
---
SENIORS ON-TRACK Program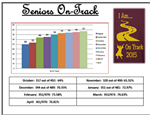 Graduate For Mas Promise: Make the promise to graduate, and be entered to win prizes, as well as a school celebrity concert. If 30% of our school makes the promise $500 will be donated to the Senior ON Track program directly going towards prizes for the Senior Giveaway (using your cougar cash) in May for TV's, Amazon Fire HD's Printers and more. Spread the word to your friends to MAKE THE PROMISE! For more information see Mr. Whitaker. Make the promise here: https://getschooled.com/graduate-for-mas/ Students can also make the promise by texting Grad4Mas to 335577
85% of our Seniors Graduated in 2015, an increase of 2% from 2014. The at risk graduation rate also increase from 44% to 59% in 2015!
Please contact Fred Whitaker for more information on the program or to donate to the cause. whitakerf@pcsb.org
---
Pinellas County Sheriff's office is giving parents free internet safety computer software for monitoring their child's computer activities. The software can be obtained from one of two locations: