Congratulations to our TV Production Crew!!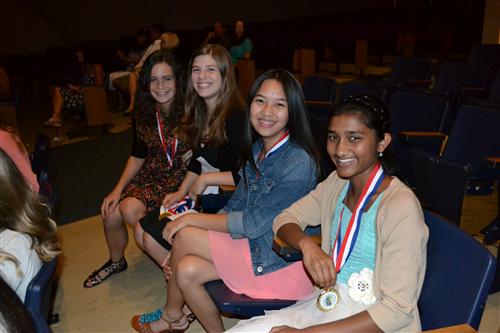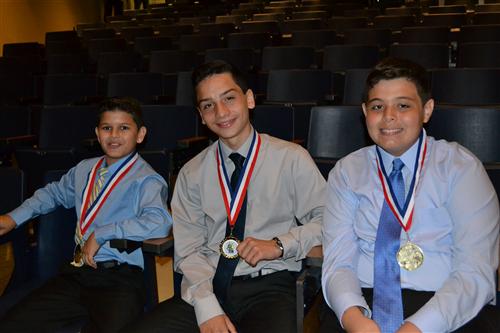 Animation Category
2nd Place A301 Osceola Middle
1st Place Only One Heart, Osceola Middle
Book Trailer Category
3rd Place No Passengers Beyond This Point, Ali White
2nd Place Mockingjay, Trent Gaymore
1st Place I Am the Messenger, Ryan Rivard
Comedy Category
2nd Place Typical Teenage Thoughts Emma Nickse, Gayathri Kotha, Mary Cruz
1st Place How to be a Gentleman Matthew Molina, Rami Mazouri
Documentary Category
1st Place TV Production Uncovered Emma Nickse, Gayathri Kotha, Mary Cruz
Drama Category
1st Place Dear Diary Savanna Oppel, Madie Pate, Breanna Stallings, Abdiel Rivera
Instructional Category
2nd Place The Do's and Don'ts of Instagram Ali White, Kiara Morrisey, Emma Nickse, Mary Cruz, Breanna Stallings
1st Place Do's and Don'ts of Middle School, Savanna Oppel, Sam Askey,
Music Video Category
1st Place Our Last Goodbye
Emma Nickse, Brooke Thrower, Sam Askey, Breanna Stallings, Abdiel Rivera
AND BEST OF SHOW!! 13 total awards!
Congratulations to Frankee Hendricks

for

receiving the Jim Courier Award!!
http://www.tampabaynewswire.com/2015/06/02/osceola-middle-school-student-receives-jim-courier-award-35377
Incoming 6th Grade Parents: Please make sure to get your Portal/Focus User Name and Password as soon as possible!
You can go to any school with a photo ID to obtain this! Make sure your child is attached to your user name and password.
Current 6th Grade Parents: Don't forget to schedule your child's physical and to get the required vaccination to enter 7th grade. You may drop the forms off any time through the rest of the school year or during the summer from 7:30am-3pm Monday through Thursday!
Bus information will not be available until August. The Transportation department will send home the bus cards with pick up and drop of location and times. The schools do not have access to this information until the beginning of the school year.