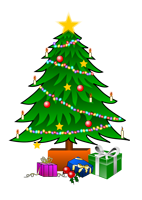 Holiday Break Ideas
Winter break is a wonderful time to try some family friendly activities to keep your students' skills sharp. Below are some activities you can try over the break.
1.Read for pleasure. Whether your child is in the mood for holiday stories like The Night Before Christmas or the newest installment from his favorite series, winter break provides the perfect opportunity to stash schoolbooks and read for fun.2
2.Make the most of car rides. Turn the drive to or from a holiday get-together into an opportunity to practice letters and numbers. You can look for license plates from different states, try to find the alphabet on the license plates, or count the number of red (or white or green) cars you see.
3.Ask for grocery list assistance. Have your child help choose what to buy, decide how much you need, check your supplies to see what you've already got, write or draw pictures on the list, and sort coupons.
4.Let kids help with online shopping. This helps children work on their computer and research skills.
Remember keep reading and have a fantastic break!
Ms. Jordan