Congratulations Largo Middle School!
We are now an International Baccalaureate Candidate School Middle School!
Summer Bridge Info click here en espanol
Algebra 1 Jump Start click here en espanol
Parent Survey Link
In an effort to improve system practices, Largo Middle School is conducting a Parent Survey. We value your opinion and ask that you take the time to complete this survey. In order to complete the survey, please go to:
Please be assured that your responses to this survey will be anonymous. Your honest opinion is appreciated. Thank you for your time and attention to this matter.
Monday March 13th - Friday March 17th NO SCHOOL - SPRING BREAK
Monday March 20th - NO SCHOOL - Professional Development Day
Congratulations to our Music Department for recieving the Secondary Music Enrollment Award for having the highest enrollment in our music classes in the whole state! Way to go Ms. Savia, Mr. Cassette, and Mr. Urban!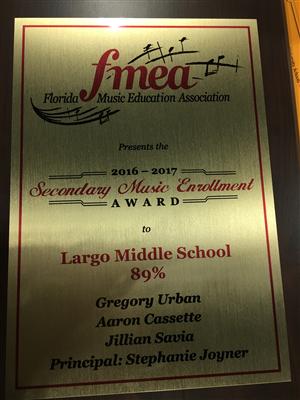 Test Dates:
Tuesday, February 28th - FSA Writing Test (120 minutes) all grades
March 6th-10th - 7th grade Civics & 8th grade Science
April 10th-13th - FSA 6th Grade Math /Reading
April 17th-20th - FSA 8th Grade Math /Reading
April 24th-27th - FSA 7th Grade Math /Reading
May 2nd - 8th Grade Science
May 4th-5th - Algebra and Geometry EOC Test
May 9th - Civics EOC Test
click for more info
Title 1 Parent Survey comes out today. Please fill out
and
return. Thank you!
Year books are on Sale! You may pre-order our 2016-2017 yearbook online http://www.yearbookordercenter.com
Special Thanks to Walmart on Missouri Ave.

and Dunkin Donuts

on Missouri Ave.

for their continued support as valued business partners.
Parents can add money to the account at: http://Myshoolbucks.com