Welcome to Dixie M. Hollins High School in Pinellas County, Florida. We're on Florida's west coast and we border both St. Petersburg to our south and Kenneth City and Pinellas Park to our east and north. A few years ago, a student told the principal that he thought Dixie was the "Greatest School on Earth." What a great compliment! And we couldn't agree more!
We are a proud and confident school. A school that cares about its students, families and teachers and that tries to create a place where learning is both rigorous and engaging, where creativity and the arts come through in everything we do, where all kids feel welcome and valued and where instructional innovation is our way of work.
We hope you visit our campus sometime to find out what a special place this school is. Oh, and don't tell anyone. We would prefer to keep this place our little secret.
Awards and Recognitions
Dr. Dan Evans, Pinellas County Principal of the Year!
Dr. Daniel Evans, principal of Dixie Hollins High School, was recently awarded Principal of the Year for Pinellas County. This award was quickly followed by a Certificate of Appreciation from Kenneth City Town Council. Kenneth City councilmember Carl Troup, a Dixie alum who has maintained ties to the school, recommended the honor.
Debate
Congratulations to Meridian Jenkins and James Ford who placed in The Great Debate. This is a Lincoln - Douglass style debate judged by members of the Pinellas Bar Association. The final debate will be held in front of three sitting Pinellas Court Judges on Tuesday, April 21st.
Congratulations to Calista Bodimer for placing in the CFL Regional Qualifier in Original Oratory. She will represent Dixie Hollins at the National Tourniment in Chicago over the Memorial Day weekend.

JROTC
Dixie JROTC competed Saturday at the district drill competition at Anclote HS. Out of 18 schools in our district, Dixie took 2nd place overall with seven 1st place, five 2nd place, and three 3rd place finishes.
World Languages
Four students accompanied French teacher, Elda Hall Yee, to France over spring break. Miya Dubarry, Kassandra Englmann, Jasmine Lee, and Marta Wilczynski.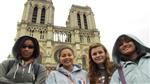 Graphic Arts Academy
GASPARILLA INTERNATIONAL FILM FESTIVAL:
Angel Callahan - Visitant (Best Picture and Cinematography)
Brice Kronz and Tori Lacey - Romance is Dead (Audience Favorite and Best Special Effects)
Mina Porto and Trey Thompson - The Sounds of Cindy (Best Female Lead)
Aaron Gauger - Emerge (Best Male Lead)
Aaron Gauger - Working Title (Best Screenplay)
PALM BEACH INTERNATIONAL FILM FESTIVAL (Over 1000 entries)
Angel Callahan (top 10)
Mikaela-Rose Piotrowski, Lyndsie Zimmerman and Milan Patrick (3rd Place)
Lyndsie Zimmerman and Milan Patrick (top 10)
NATIONAL SCHOLASTICS AWARDS (both students traveling to New York City award show in June)
Lyndsie Zimmerman and Milan Patrick – National Silver Award
SEMMY AWARDS
New Rebellion won first, second, and third place at the Semmy Awards last night for Video Production.
First place winners were Brice Kronz, Tori Lacey, Melody McGinness, and Alyssa Webster for their film "Romance is Dead".
The SEmmy Awards are given by St. Petersburg College. All SPC students and Pinellas County High School students are encouraged to participate in various categories.
SCHOLARSHIP WINNERS
The following students each received a scholarship from Pinellas Association of Educational Office Professionals (PAEOP) OF$500
Pauline Huneke Memorial Scholarship
Katie Payne
Paige Smith
4940 Expo - District video