Registration is in full swing here at Garrison-Jones!
Donna Hardman, DMT is registering 3 year old Emmalyn for
our 2016/2017 3 year old PK class!
Don't forget to register your child!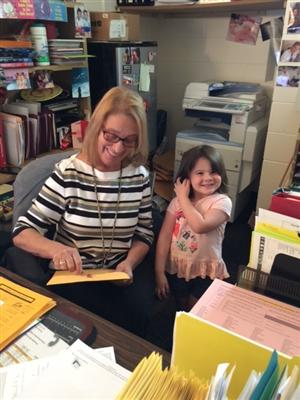 Fill the Bus Book Drive
Pinellas County Schools is working with community partners to curb learning losses over the summer. Help Pinellas County Schools put books in the hands of students this summer by donating books at the Fill the Bus drop-off dates and locations:
· 8 a.m. to 10 a.m., Monday, April 25 at Pinellas County Schools Administration Building, 301 4th St SW, Largo
· 10 a.m. to 1 p.m., Tuesday, April 26 at Tyrone Square Mall, 6901 22nd Ave N., St. Petersburg
· 10 a.m. to 1 p.m., Wednesday, April 27, Largo Mall, 10500 Ulmerton Road, Largo
· 10 a.m. to 1 p.m., Thursday, April 28, Countryside Mall, 27001 US Highway 19 N, Clearwater
Donations are also being accepted at Barnes & Noble stores and https://www.finditfunditflorida.com/pinellas/grant/26455 To learn more about Fill the Bus and how to donate, visit http://pcsb.org

PCS is going GREEN by moving to a paperless way of distributing flyers. Peachjar is the new electronic platform being launched February 29, 2016. You simply have to make sure our Garrison-Jones front office has your current email address or access flyers from our webpage by clicking the Peachjar eflyers icon at the bottom of Announcements!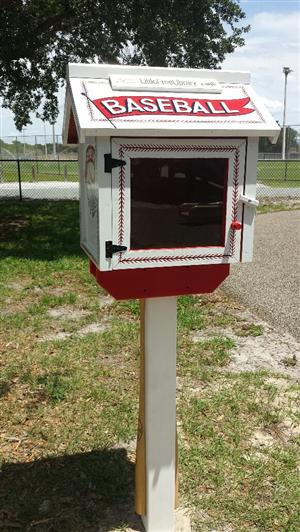 The little free library box at Vanech Park – Garrison Rd is sponsored by the Dunedin Council of Organizations. The DCO celebrated their 50th Anniversary in 2014. The box was painted by Liza Hopkins. It has a baseball theme to represent the Blue Jays Baseball Training Fields and the Vanech Fields. The Little Free Library movement has boxes throughout the world where people can take and leave a book. The goal is to promote reading and the love of books.
The faculty and staff at Garrison-Jones Elementary are committed to our students' education, while developing the whole child. Everyone here works hard to make your elementary school experience an extraordinary one. Here, you will find highly enthusiastic and committed parents, deep-seated community involvement, and long established business partnerships.
Garrison-Jones is a Pre-K through Grade 5 school with a focus on rigorous and relevant curriculum. We strive towards academic excellence while meeting the needs of all students. We are proud of our Spanish Dual Immersion Program where students learn academics not only in English but in Spanish. Students start in this program in Kindergarten and continue through to 5th grade. We also have a Dual Immersion VPK program at Garrison-Jones.
Volunteers are highly regarded as a contributing factor to our school's success. We take great pride in the strong relationships that have grown through our volunteer programs. Parents and community members are always invited to be a part of our school family, help support student academic achievement, and develop good citizenship. We strive to build memberships through our Parent Teacher Association (PTA) and School Advisory Council (SAC). We encourage our parents and families to volunteer their time on campus by tutoring or mentoring our students.
Parents are encouraged to maintain communication with your child's teacher by discussing your interests or addressing your concerns. Working together in a supportive environment, we can meet the needs of our students.