JOIN US FOR OUR KINDERGARTEN ROUNDUP! JANUARY 13, 2016; 5:30-6:30; GARRISON-JONES MEDIA CENTER. Click here for more information!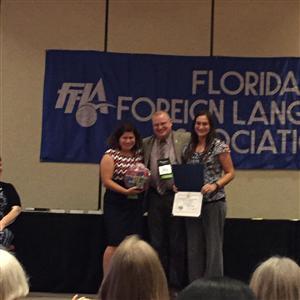 The Board of Directors of the Florida Foreign Language Association is delighted to announce the selection of Celimar Rodriguez, a 4th Grade Dual Language Immersion teacher at Garrison-Jones Elementary School in Pinellas County as the 2015 Teacher of Promise. The Teacher of Promise award is given each year to teachers in their first three years of teaching who show promise of being leaders in the profession. Celimar was selected because of her open and caring approach, her ability to engage her students and their families and her dedication to the field of bilingual education. Congratulations, Celimar!
Mark your calendars for the District Application Program Period for 2016-2017. Dates are between January 6 - 15, 2016.
Parent Information Sessions, where parents learn how to apply for programs:
November 3, 6:30 p.m. at Boca Ciega High, 924 58th St. S., Gulfport
November 5, 6:30 p.m. at Countryside High, 3000 State Road 580, Clearwater
November 9, 6:30 p.m. at Pinellas Park High, 6305 118th Ave. N., Largo
Information Fairs, where students and parents meet with representatives from all programs:
November 12, 6:00-8:00 p.m. at Gibbs High, 850 34th St. S, St. Petersburgh
November 14, 9:00 a.m. - noon at Pinellas Park High, 6305 118th Ave. N., Largo
More information about District Application Programs and important events is available at www.pcsb.org/choice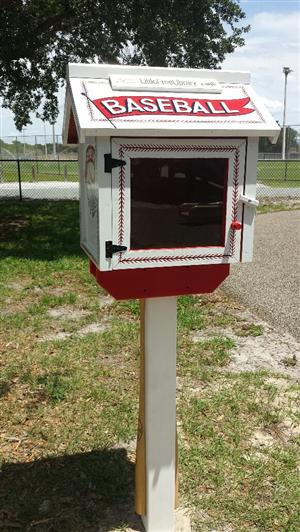 The little free library box at Vanech Park – Garrison Rd is sponsored by the Dunedin Council of Organizations. The DCO celebrated their 50th Anniversary in 2014. The box was painted by Liza Hopkins. It has a baseball theme to represent the Blue Jays Baseball Training Fields and the Vanech Fields. The Little Free Library movement has boxes throughout the world where people can take and leave a book. The goal is to promote reading and the love of books.
The faculty and staff at Garrison-Jones Elementary are committed to our students' education, while developing the whole child. Everyone here works hard to make your elementary school experience an extraordinary one. Here, you will find highly enthusiastic and committed parents, deep-seated community involvement, and long established business partnerships.
Garrison-Jones is a Pre-K through Grade 5 school with a focus on rigorous and relevant curriculum. We strive towards academic excellence while meeting the needs of all students. We are proud of our Spanish Dual Immersion Program where students learn academics not only in English but in Spanish. Students start in this program in Kindergarten and continue through to 5th grade. We also have a Dual Immersion VPK program at Garrison-Jones.
Volunteers are highly regarded as a contributing factor to our school's success. We take great pride in the strong relationships that have grown through our volunteer programs. Parents and community members are always invited to be a part of our school family, help support student academic achievement, and develop good citizenship. We strive to build memberships through our Parent Teacher Association (PTA) and School Advisory Council (SAC). We encourage our parents and families to volunteer their time on campus by tutoring or mentoring our students.
Parents are encouraged to maintain communication with your child's teacher by discussing your interests or addressing your concerns. Working together in a supportive environment, we can meet the needs of our students.