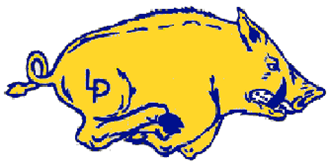 Largo High School Thespians competed Thursday, Friday and Saturday (Dec. 4 – 6) in Pinellas County District IV's Thespian Competition. Our very own Theatre Troupe 911 walked away with:
4 of our 18 events earned superior ratings (the highest marking you can achieve), including
Elisa Duka's Costume Design, which received "honorable mention"
Haley Brown and Landon McFee for their duet scene,
Sarina Patel and Darcy Boes for their duet scene,
Bianca Rotondo, Landon McFee, Kristine Bui, Sarah Duey, Johanna One, Jessica Norman, Emily Miloro, Laura Velez, and Guillermo Caro for their Largo group musical performance.
11 of our 18 events earned excellent ratings (the second highest possible rating) which are too numerous to list here!
Finally, our One Act rendition of "I Love You, You're Perfect, Now Change" earned a superior rating. An impressive feat for a school with no formal theatre! In short, Mr. Durst is SO proud of Troupe 911! We cannot wait to see how they all do at the state level in March!