Congratulations on a great start to the 2015-2016 School Year!
On Wednesday, August 26, 2015, Clearwater High School was recognized by the Career Education Board at the Superintendent's Roundtable! Our Career Academy of International Culture and Commerce has been recognized as an "Academy of Distinction"! In Dr. Grego's report to the Pinellas Education Foundation, he congratulated Clearwater High School for being recognized as a Model School by the International Center for Leadership in Education, and for receiving an award last year from the National Career Academy Coalition. Thanks for your continued support of the academy model, we would not be where we are without your continued support!!
Way to go Clearwater High School!
Friday, September 4, 2015, as part of the City of Clearwater's Centennial Celebration, Clearwater High School will be hosting the First Annual Clearwater Bowl!
Clearwater High School vs Countryside High School! The winning team will be presented the Mayor's Trophy! Come out and support our Tornadoes!!!!
We would also like to recognize all of our alumni at the game! Wear our school colors and be a part of the spirit tunnel on the field before the game starts! We will be meeting at 6:45 near the north end zone! Make sure you are there! GO TORNADOES!
Share this post with any alumni you know... Let's show Countryside who the real CHS is...
GO CT!
DRESS CODE:
Make sure you are in compliance with our modified student uniform Dress Code;
CONGRATULATIONS CLEARWATER HIGH SCHOOL!
For the second year in a row, Clearwater High School has been recognized as a Model School by The International Center for Leadership in Education (ICLE). Hundreds of schools apply, and only approximately twenty-five of the nation's highest performing and rapidly improving schools are accepted as models.
As a result of this recognition, Clearwater High School will have the opportunity to present several sessions on their school in June at the Model Schools Conference in Atlanta, Georgia (June 28 thru July 1).
Clearwater High School is the first and only school in the Tampa Bay Area to receive this distinction! Clearwater High School is being recognized for the way we continue to raise rigor and relevance for our students by utilizing a personalized learning approach within a Wall-to-Wall Academy Model with industry certifications options for our students. Their program truly prepares our students to be college and career ready!
GO TORNADOES!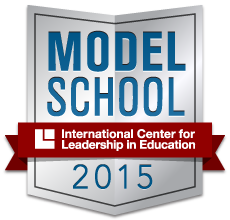 for important updates and information!
BACK TO SCHOOL NIGHT
Thursday, August 27, 2015 at 7:00 pm
The Athletic Department will co-sponsor a spaghetti dinner along with Creative Catering by Design
before Back to School Night on August 27th, 2015.
The dinner will be served from 5:00pm until 7:00pm in the cafeteria. Tickets cost $10.00 each.
Please contact Kathy Biddle to purchase tickets.
You can call Kathy at 727-298-1620 ext. 2114 or you can email her at biddlek@pcsb.org
Please support our Athletic Department and join us for dinner on August 27th!!!
Our first PTSA meeting is on Thursday, August 27th Immediately following our Back to School Nigh Program!
OUR VISION:
100 % Student Success
OUR MISSION:
The mission of Clearwater High School is to build relationships that will allow us to provide a rigorous educational process which gives students the relevant information and skills needed to prepare them for collage and carrer pathways that will truly develop a foundation for life that enables and challenges them to be successful in a global and multicultural society.