Welcome to the web home of Dunedin High School, located in the heart of picturesque Dunedin, Florida and home to the Mighty Falcons and the DHS Scottish Highlander Band, the Best Band in the Land! Dunedin High School is also home to two academies, a fundamental school-within-a-school, a thriving JROTC program, numerous academic and athletic offerings, and many other programs that are designed to meet student needs.
---
This year we have 55 kids on our Giving Tree, and would love for them all to get the things they wish for ... some want things as simple as socks and underwear, while others ask for clothes or shoes. There is a huge variety to pick from. If you, your club, church or civic organization are interested in helping with this, please do not hesitate to contact Sandy Jones at jonessan@pcsb.org. The gift requests are on the tree located in the front office, so stop by and grab one! We are also accepting cash donations and we're more than happy to do the shopping...just make checks out to Dunedin High School, with Giving Tree in the memo section (and cash is always welcome). The look on the kids' faces when they receive their gifts is awesome! Thanks so much for helping to spread the word.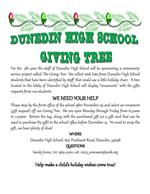 (Click the thumbnail for a full-size PDF of the flyer.)
---
Be Our Guest!
Would you like to have your student learn more about DHS and all we have to offer?
Students interested in the following programs are invited to shadow on Monday - Wednesday - Friday:
The Academy of Architectural Design and Business Technologies (Architectural Drafting, Building Construction, Electrical Wiring)
The Academy of Business Arts and Technology (Web Development, Digital Design, Introduction to Information Technologies)
We also offer: Cosmetology * Band * Drama * Chorus * NJROTC
The process...
Call 727-469-4100 (the main DHS number) and ask for Mrs. McCoige
She will take your name and register your child for our tour and classroom experience
Make sure you indicate the area of interest (the specific academy and/or program)
Students interested in the DHS Fundamental program are invited to shadow on Tuesday and Thursday:
Click here for the DHS Fundamental Student Shadow Request form, and follow the instructions!
The "shadowing" experience lasts from approximately 7:10 until 8:45 a.m. - we care about your student's education, and want to ensure that they can get back to their currently enrolled school for most of the day.
Hope to see you soon!