Welcome to the web home of Dunedin High School, located in the heart of picturesque Dunedin, Florida and home to the Mighty Falcons and the DHS Scottish Highlander Band, the Best Band in the Land! Dunedin High School is also home to two academies, a fundamental school-within-a-school, a thriving JROTC program, numerous academic and athletic offerings, and many other programs that are designed to meet student needs.
Falcons Out Loud Poetry Slam!
On Thursday, April 16, the Falcons Out Loud Poetry Slam Team hosted their first annual poetry slam competition at Dunedin High School. Performing for nearly 60 audience members were:
Erin Carlson
Taliah Gadsden
Holly Lazo
Niesha Radovanic
Amirah Rivers
Hannah Ruddock
Jordi Zapata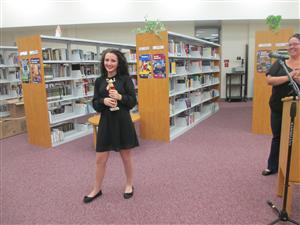 The results were: Erin Carlson, First Place, Amirah Rivers, Second Place and Taliah Gadsden, Third Place. The top two winners will represent Dunedin High School at the district slam on May 19th at the Largo Cultural Center. Contact Bill Moravec or Renee Foley for more information.
Way to go, Poets ! We're proud of you all! Click HERE for more about the event.