Return to Headlines
Competitive, enthusiastic, energetic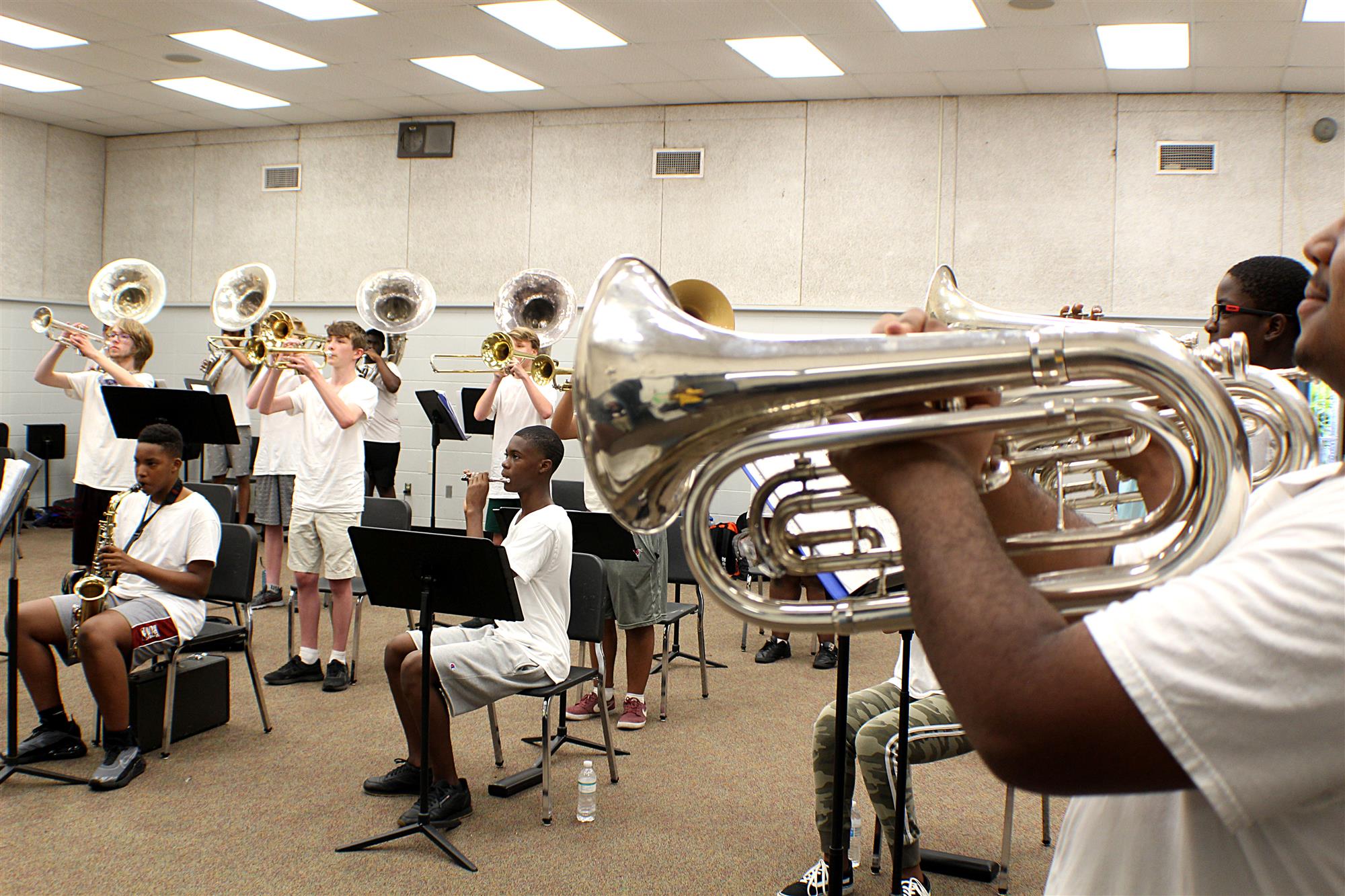 The band practices together on Oct.6 in the band room behind the auditorium. The band has a new director that is whipping the band into shape. "We know what it means to be a disciplined band; it makes a statement," band director Damian Lyles said. (JAY SANDERS | SNN)
By KYLER BUENDIA AND BELLA CROTEAU
SNN Staff Writers
Marching band. Their big instruments and loud voices rattling through the stands at football games, their choreographed routines out on the field during half-time - marching band is like no other at Lakewood. This year, however, the marching band faces a new challenge: the 2020-2021 school year and the effects of COVID-19.
New band director D. Lyles taking the position of previous teacher Michael Kernodle is one of the biggest changes. Lyles came to Lakewood from Azalea Middle School and has been teaching middle school band since 2009. He has played music since he was a child, first learning through church programs and starting in the third grade playing the trumpet. Since then he's learned baritone, tuba, percussion and now is playing low brass.
"As a musician, it kind of flows. It's not really too much of a challenge because there are some similarities in the instruments I was playing," Lyles said.
A new director is not the only difference for the Lakewood band. With the effects of the coronavirus hindering at-school education, it makes it difficult to forge a connection with students who are online. And even then, not a lot of people were prepared for the new school year.
Online schooling this year has affected all of Lakewood, but with the arts, where classes are more reliant on student connections, there are many more challenges. The musicians in the band have four-hour after-school practices four days a week, so the online students can practice all together with the in-person students.
Sophomore Spencer Karges has been playing tuba for nearly five years and this year is the tuba section leader. He comes to after-school practices everyday as he is an online student.
"I go through a lot more sunscreen than I used to," Karges said when referring to these lengthy outside practices.
Online students also get the opportunity on Mondays to come and play, what Lyles calls "fundamental days."
Senior band member Elizabeth Baker is an in-school student in the marching band. She's been in the band in years past and has said while this year is easier, it is still very different than before. While they do have masks and must stay spread out, both indoor and outdoor practices feel a lot smoother, with more interaction and more communication.
"It's a work in progress," Barker said.
Another change was the length of the annual summer band camp, which went from being the usual four to six weeks to the shortened two with the pandemic crisis. This summer the school was still prepping for students to return and the coronavirus still raged on, so the camp had to be cut short to keep all band members safe. While the band did practice outside, many people still felt unsafe, and this shortened camp was the solution.
He said Lyles expectations for band members - especially the section leaders - have been a lot more intense, even saying how they had to come to school over the summer to clean out the band room and it's 10-plus years of trash in corners and back rooms.
Baker on the other hand says Lyles is more personal, more of a "family guy" than strictly a band instructor and it's pushing them forward.
Freshman Jayden Smith came from Azalea Middle School, so the bass drummer came to Lakewood when Lyles did. He agrees this year is a bit more challenging, but he doesn't see any difference in the band director himself. While it is a strange year with nearly 30 fewer members and new music, along with mask policies and social distancing, Lyles is still the same.
"He's the exact same person, same rules, same methods - same person," Smith said.
Freshman Apryl Hester, though, hadn't met Lyles until just this year - seeing as she's new to the school also. The mellophone player started off doing online band but is back in school, having been one of the students to see both sides of the education system this year. She says this year has been much more difficult, not only being new to Lakewood and dealing with the pandemic but also switching to mellophone only this year - having done concert band these past three years with the clarinet. It's difficult but she wants to do it.
"I wanted to be there - so I did what I had to do," Hester said.
Another important concept of all bands is the art of performance - another thing that's changed this year. Until the band gets the vote from the county, all band performances are put on halt. This goes for small shows, winter concerts, this year's 2021 MPA (Music Performance Assessment) and even football games.
The lack of music at football games has proven to make a big difference. With the already altered football schedule and strict capacity limitations, games just aren't the same.
"It definitely affects the team before a game. The band usually is our hype up," senior Jabriel Jackson said.
Jackson plays center for the Lakewood team and has been playing football since he was 5. He says it isn't really noticeable when they're doing well but seeing as the marching band is a pick-me-up of sorts, it becomes evident when "we are aren't playing our best."
But even with the pandemic and challenges this band faces, they're still going strong. It is only two months into the school year but both Hester and Karges agree: The band feels like a family, a family that will continue on through the crisis of the 2021 school year.
"So that's what this band will be - more energetic, very enthusiastic, and very competitive," Lyles said.
To see more photos of the band, click here.