Welcome to the web home of Dunedin High School, located in the heart of picturesque Dunedin, Florida and home to the Mighty Falcons and the DHS Scottish Highlander Band, the Best Band in the Land! Dunedin High School is also home to two academies, a fundamental school-within-a-school, a thriving JROTC program, numerous academic and athletic offerings, and many other programs that are designed to meet student needs.
Watch our FABULOUS VIDEO about all that Dunedin High School has to offer!
AND, click here to download a two-page brochure about DHS
---
Get alerts about scholarships, deadlines, important graduation news and more from Dunedin High School Guidance on Remind. You have to sign up by clicking the link.
---
Curriculum Guides and Registration Forms for 2018-2019 are Available!!!
Click on the each document to see what classes are offered in each subject area.
---
FAFSA Day helps families complete an application for financial aid
St. Petersburg College will host a free event to help high school seniors and their parents complete the Free Application for Federal Student Aid (FAFSA). The event will take place 9 to 11 a.m. Nov. 11 at Northeast High School. More information is available at https://go.spcollege.edu/fafsanights
---
Mentors Needed for DHS Students
Mentors are committed to helping a student experience greater success academically, socially, mentally and physically.
Mentors help students:
Plan for school

Set career/personal goals

Make healthy choices about day-to-day life

Work through problems
Mentor meetings can take place anytime during school hours (M-F, 7:05-1:35).
To become a mentor you will be required to attend a (1 time) free mentor training course. For more information, please contact Kim Cerda at 727-469-4100 Ext. 2008 or email at cerdak@pcsb.org.
Click here for mentor training dates!
---
Great American Teach-In
DHS will be hosting the Great American Teach-In on Thursday, November 16, 2017. If you are interested in being a speaker anytime between the hours of 7:05-1:35 please contact Kim Cerda at 727-469-4100 Ext. 2009 or email cerdak@pcsb.org.
---
SAT and ACT Test Dates

Juniors and Seniors: SAT and ACT test dates at Dunedin High School have been announced. Please plan ahead and take advantage. Juniors and seniors who have not passed the FSA ELA should plan on taking August - October SATs and/ or ACTs as the concordant scores will likely become more difficult to obtain.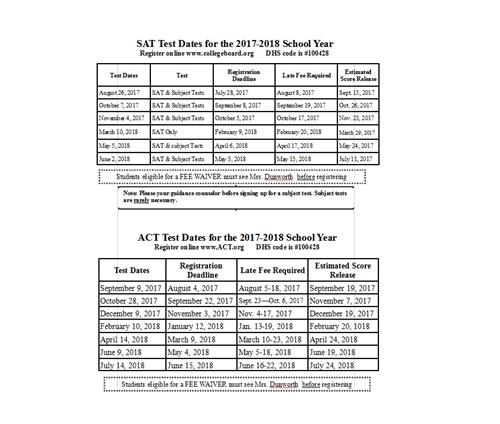 ---
Click Here for the Pinellas County Schools Bullying Reporting System

---
Class of 2018 - Click here for all information regarding your Senior Year!!