PSAT Information
8th Grade MYPCS Online students
Please click on the following link and complete the form to sign up for the PSAT. This will be a paper and pencil assessment held at Azalea Middle School from 9:40 a.m. to 1:15 a.m. on October 28 for our 8th grade MYPCS online students. he date for MyPCS Azalea Middle School student to take the PSAT is Wednesday, October 28th at 9:40 a.m. to 1:15 p.m. at Azalea Middle School. The PSAT assessment that will help you select high school courses and determine focus areas for academic growth. Once you complete this form additional details about the test and expectations will be sent to you. If you have any questions please call Ms. MacNeal at 893-2606 ext. 2060.
https://forms.office.com/Pages/ResponsePage.aspx?id=BZM8c9c5GkaGb_3ye_PH_56KNkYDm7pGpig1x53upWpUN1RLTEc1M0FNTTBLUEJUSFlJTDc1N04xQS4u
---
New laptops:
Our shipment of new laptops arrived on Friday and we are working swiftly to update these new devices for distribution. Students who attend Azalea Middle, face to face, will need to return laptops that were distributed during the spring October 15th, 16th and 19th . A student must return the previously assigned laptop, even if it was assigned from another school, before they can receive a new one. If there is any damage, a form must be completed prior to the assignment of a new laptop. Face to Face students, once they've returned the older laptop, will receive paperwork to be assigned a new laptop. This paperwork must be completed in it's entirety by a parent/guardian and returned to the school before a new laptop is assigned. Each new laptop including a charger, will be assigned in a bookbag with the device number clearly written on the outside of the bag. It is your child's responsibility to charge the laptop each night as well as carry the bag to and from school daily as it will be utilized in most classes. Laptops will be stored in classes before lunch and during PE.
---
October Students of the Month
MyPCS at home students, 6th Grade Margaret Ledesma and Aleah Rodriguez
6th Grade - Bobby Peterson, 7th Grade - Ariel Woodard and 8th Grade - Kia'Jah Williams (Shown Below)
---
AMS Says, #Gobucs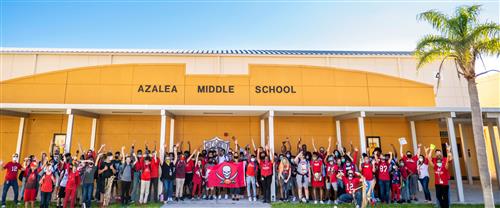 ---
Huge Thanks !!!
A huge thanks to Office Depot for their generous donation for use towards school supplies.
And to Texas Roadhouse for sponsoring the delicious lunch.
---
Welcome to the Azalea Middle School website and thanks for visiting! At Azalea Middle our mission is to create a quality learning environment for your child. A strong partnership between school and home is a critical component of your child's success. It is our desire that this website will be a useful resource for you. You will find important information about our processes and procedures, our calendar, digital resources your child can access from home and direct contact information for staff members who can answer questions or address concerns. We hope that you will bookmark this page and visit often.
After school enrichment opportunities
After school clubs and tutoring are available and transportation is provided. Please check with your child's school counselor for details. If your child did not pass one or more classes, please get him or her enrolled and participating in course recovery right away.
Guidelines for Success
At Azalea, successful Black Knights are respectful, responsible and safe. Please continue to support these ideals at home.
Stay in touch
If you have questions or concerns, please reach out to your child's teachers, school counselor, or assistant principal via phone or email. Email addresses can be found on our school website under under the Contact Staff Link in our shortcut menue (Left), or the About Us tab (top).
FOCUS Student Information System

New Video Tutorial For Families
This video will help families gain access and navigate the new FOCUS SIS.
Re-Opening Schools
Get information on school re-opening options