CHS & COVID-19 Update:
CT family, we know this is a time of uncertainty for many of us as we continue to support our families and one another. As we make the transition to digital learning, We want each of you to know that the safety and learning of your child is of the utmost importance. While our school building may be closed, learning will continue.
Class specific lessons begin on March 30th in Microsoft Teams. Any existing device in your possession that can access Clever and the Internet will work. If you already have such a device, visit our webpage for next steps. If you do not have internet access, contact Spectrum at 1-844-488-8395 or visit https://pcsb.org/coronavirus.
If you are without a device, centralized distribution of devices will occur at five locations across the district. Email your name, phone number, and grade level to either your teacher, your guidance counselor, or your AP to have them complete a registration form for you prior to your arrival at a regional distribution site. One of the five regional distribution sites will contact you when your device is ready for pickup. They will continue to assist families experiencing technical difficulties during school closures.
Your child should have received a message in their Pinellas County School Board (PCSB) R2.D2 email account from their teacher to join their online experience through Microsoft Teams. Please make sure they go online and acknowledge the message in Microsoft Teams. Information regarding how to log on, and technical support can be found on our district website.
Again, please see our district website for more information or contact the school via telephone at 727-298-1620 from 8:30am to 3:30pm with any questions. We will continue to keep our families updated via the website, Facebook and phone calls home. Thank you for your patience and flexibility. We are a strong community and I know we will continue to support each other as we move forward. Go Tornadoes!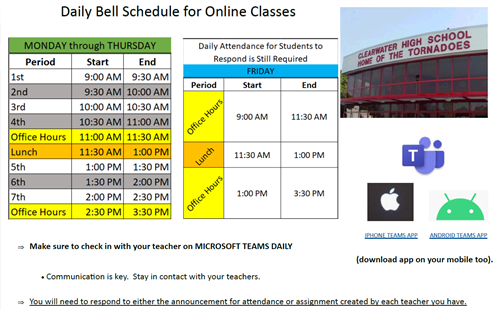 The schedule above shows when a student's teachers will be available online in real time for each specific period, with general office hours for any student from any period at additional times. Students must complete the daily attendance form/poll or assignment each day (including Friday) to be counted as "present" and in attendance by their teacher. Students do not need to complete their daily attendance assignment or submit it during the 30 minute block designated for their period, however, if students do not complete it on the date in question they will be marked absent for that day. If students do the assignment late, it should still be graded (if it's been assigned for a grade) after the date has passed, but they will still be marked as absent for the date in question regardless of its completion on a later date.
---
En los días recientes, hemos distribuido cientos de computadoras y iPads a los estudiantes y padres que necesitan tecnología para cambiar al aprendizaje digital. Aunque preferíamos tener su hijo(a) aquí en la escuela, estamos entusiasmado a empezar aprendizaje digital el Lunes, 30 de Marzo. La seguridad y el aprendizaje de su hijo(a) es lo más importante para nosotros. Mientras el edificio de nuestra escuela está cerrado, el aprendizaje seguirá.
Algún tiempo hoy, su hijo(a) debería recibir un mensaje en su cuenta de correo electrónico (R2.D2) para invitarles a unirse con las clases electrónicas por el programa "Microsoft Teams". Por favor, asegúrense de que su hijo(a) leen las direcciónes para entrar a Microsoft Teams y responden al mensaje de sus maestras en cada clase. Información sobre como meterse en el sistema y soporte técnico está disponible en nuestra página de web (PCSB).
Antes de que comienza el aprendizaje digital el Lunes, por favor, siguen hablando con sus hijos(as) sobre la importancia de participar en las actividades educacionales que están disponible en nuestra página de web. Si usted o su hijo(a) tiene algunas preguntas o necesita ayuda, por favor comunicar con la consejera o subdirector por teléfono o correo electrónico. Queremos estar seguro de que cada estudiante tiene la tecnología y aceso al internet que necesitan para participar en el aprendizaje digital. Seguiremos proveyendo más información en el futuro. Gracias por su paciencia. Somos una comunidad fuerte, y estoy seguro de que vamos a seguir apoyando a los estudiantes y sus familias en el futuro. Go Tornadoes!
---
Congratulations CHS Tornadoes!

Clearwater High School received a "B" designation from the State of Florida!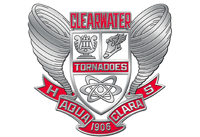 It takes an entire village, (faculty, support staff, students, district support, parents and community members) to make this happen!

The Class of 2019 received a 95% Graduation rate, with 88% of the class receiving at least one college credit!
Three times, The Washington Post has ranked Clearwater High School as the most rigorous high school in all of Pinellas County for the highest percentage of our Seniors graduating with at least one college credit! Way to go CHS!
Three times, Clearwater High School has been recognized as a Model School by the International Center for Leadership in Education (ICLE). We were recognized for continuing to raise rigor and relevance for our students through a personalized relationship building learning approach within a Wall-to-Wall Academy Model. The availability of industry certifications and internship opportunities truly prepares our students to be college and career ready.
The Career Academy for International Culture and Commerce (CAICC) has been designated a MODEL Academy by the National Career Academy Coalition (NCAC)! Our school was honored at the NCAC National Conference! NCAC indicated that it is quite evident that the passion of the school team (teachers and staff), coupled with the support of the administration, and the intense focus of our business community, has created a sustaining program for students, parents and the community! The rigor of the curriculum and the depth of our industry partnerships are to be commended!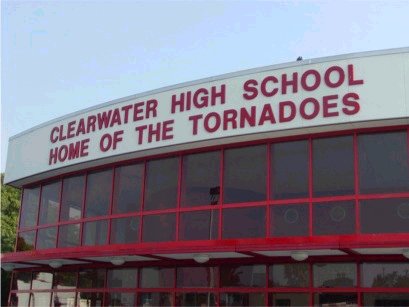 Clearwater High School believes in the philosophy of continual improvement. Over the last few years, we have made numerous enhancements to our curriculum and facility. Our advanced placement, dual enrollment, and honors programs continue to grow and excel. Dual enrolment opportunites are available to our student through Saint Petersburg College and Embry-Riddle Aeronautial University. The Advanced International Certificate of Education program (AICE) is an innovative and accelerated method of academic study offered solely through the University of Cambridge International Examinations (CIE), a division of the University of Cambridge, Cambridge, England. Please see your counselor if interested in this wonderful program.
As we all know, students are more engaged with technology than ever before! Thus, we have been compelled to utilize the concept of "Bring Your Own Technology" (BYOT). As a result, students are allowed to appropriately use their own technology on our campus, and we encourage it! Students are allowed to engage their own devices for researching the internet, gaining access to digital materials and content, review grades and attendance, and much more! If your child does not own their own technology, or if you prefer, they may check out a electronic reader from our school. As we progress, technology will continue to become a more integral part of our school curriculum. Rules and policies for appropriate technology use while on our campus, and how to obtain an e-reads will be given out during your child's homeroom. Homeroom lists will be posted soon!
To ensure and improve student performance, Clearwater High School implemented a sweeping change from traditional school enrollment to Wall-to-Wall Academies with industry certification options, truly preparing our students to be college and career ready!
These academies function as Small Leaning Communities and are centered on key interest areas of our Clearwater High students. This "academy environment" offers each student more personalized attention, recognition and care from teachers, staff, and peers. Integral to this "Academy Methodology" is the interest and career-themed approach designed to engage all students with learning that is rigorous and relevant!
Our Academies:
1. BLIS - Academy of Business, Leadership, & International Studies (includes CAICC & JROTC)
2. STEAM - Academy of Science, Technology, Engineering, Aeronautics, & Mathematics (includes CASA)
3. FAME - Academy of Fine Arts & Media Education
4. SHARE - Academy of Sports, Hospitality, and Recreational Education
If you have a not selected an academy, please contact your child's counselor to declare it!