The Advanced International Certificate of Education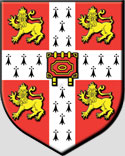 AICE Information
What is AICE?
The Advanced International Certificate of Education (AICE) is an international Diploma that students can earn via an advanced academic curriculum. The assessment program (syllabus, lab materials, etc.) are written and administered by a non-profit department (CIE) of the University of Cambridge in England.
AICE program courses and examinations are offered during grades 11 and 12 in schools worldwide registered as CIE Centers.

What do I have to do to earn an AICE Diploma?
Students must pass six credits worth of examinations. At least one examination must come from each of the three subject groups: Mathematics & Sciences, Languages, and Arts & Humanities. Advanced Subsidiary (AS) Level exams count for one credit and Advanced (A) Level exams count for two credits.

Where is AICE accepted and recognized?
The qualifications within the AICE Diploma framework have a currency with strong levels of international recognition. University applicants are able to refer to their levels of achievement both in terms of the constituent parts, and demonstrate the breadth of their studies across three subject areas. Therefore, students following an AICE program score a double advantage – admissions officers recognize the International A and AS Level gold standard, but also value a student's breadth of study.
Universities and other higher education institutes may have specific admission requirements for some courses and vary in the amount of credit given to AICE students so it is advisable to contact them directly for advice.

Which students can benefit from AICE?
Anyone planning to attend post-secondary education at the university level, as well as those enter the world of business, will benefit from studying this broad and balanced curriculum and the skills that they will gain from it.

What is the difference between Pre-AICE and AICE?
During the 9th and 10th grade, students will undertake pre-AICE classes. These classes are also referred to as IGCSE (International General Certificate of Secondary Education) and the overall goal of Pre-AICE classes is to prepare students for the rigors of AICE classes.
During the 9th, 10th, 11th and 12th grade, students will undertake AICE classes. The curriculum is designed to follow on from IGCSE, giving an integrated four-year curriculum.
What is the difference between an AS and an A Level exam?
Advanced (A) Level syllabuses and exams cover approximately two years of college-level curriculum in a subject. The Advanced Subsidiary (AS) Level syllabus and exam covers the first year of the two-year Advanced (A) Level curriculum. An AS level exam counts for one credit towards the AICE Diploma. The A-Level exam counts for two credits.

Do students have to earn the full AICE Diploma in order to earn college credits?
No. Students receive General Certificate of Education (GCE) subject certificates for AS and A Level examinations passed. Colleges award credit on a subject–by–subject basis according to grades earned on individual examinations passed.

Do many colleges and universities award credit for examinations passed?
Yes. CIE publishes a list on their website (go here to check if the college you are interested accepts As or A Level Coursework) of US universities that have provided written statements of their AICE (which includes AS and A Levels) recognition policy.
If a university admissions counselor is unfamiliar with AICE, suggest you ask to speak to the international applications counselor. All public universities and community colleges in Florida award up to 45 hours of college credit for AICE exams passed. For more information about college credit for examinations passed in Florida, visit the FACTS.org page on Articulation.
In addition, the Florida DOE recognizes the AICE program as an official acceleration mechanism and is included in the Bright Futures Scholarship Program as an additional means to earn scholarship monies.
Students who earn the AICE Diploma and have 100 community service hours are given the 100% Academic Scholars Award. Students who complete the diploma program, but do not earn the scholarship can still earn the maximum tuition scholarship with appropriate SAT and ACT test scores.
The Medallion Scholars Award is available to AICE Program completers as well for students who do not meet the high level SAT and ACT score requirements. For more information, please visit the Florida Bright Futures website.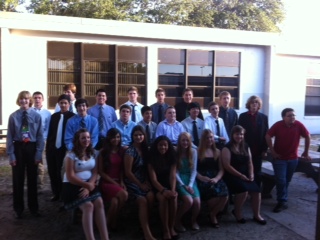 The above picture is from the AICE pinning ceremony for the freshmen.
Important AICE Links:
For the AICE Application Checklist click here.
AICE PowerPoint with more information here.
For the AICE Curriculum Sequence click here.
For the AICE Exam Tracking sheet click here and for the AICE Course tracking sheet click here.
AICE Diploma Students- Graduation Requirements click here.
AICE External Link: