Vision: 100% Student Success
Mission: To provide an equitable learning experience for all students and prepare all students for high school, college, career, and life.
Welcome
Welcome to the Oak Grove Middle School website and thanks for visiting! At Oak Grove Middle, we work hard to create a quality learning environment for your child. A strong partnership between school and home is a critical component of your child's success. It is our desire that this website will be a useful resource for you. You will find important information about our processes and procedures, our calendar with upcoming events, digital resources your child can access from home, and information on how you can be involved and engaged in your child's education. We hope that you will bookmark this page and visit often.
1370 South Belcher Rd
Clearwater, Fl. 33764
727-524-4430
Office Hours 9:00 am-4:30pm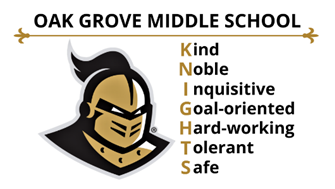 Collection of all 8th grade laptops with chargers will take place on June 8th during school hours and for online scholars until 6:00 that evening. We will also be collecting June 9th starting at 7:30 in the morning and during school hours. Please have your student bring their laptop/w charger to school that day.
Thank You to the Following Businesses for donating food/items for our 8th Grade Celebration.
Abe's Place
Capogna's Dugout
Chick-Fil-A
Culver's
Jason's Deli
Moe's
Nothing Bundt Cakes
Olive Garden
PDQ
Pollo Tropical
Taco Bell
Target
Tijuana Flats
Walmart Neighborhood Market
A Big Thank you to Jet's Pizza for donating pizza for Teacher's End of Year Luncheon.
---
In a year with so much change and uncertainty, our 8th graders have shown their strength and determination to be successful. Unfortunately, we are unable to hold a traditional graduation ceremony for our 8th graders. OGMS will be hosting a "Graduation Luncheon and Award Ceremony" for our 8th graders on June 8th, from 12:00-2:30.
All 8th grade scholars are welcome, both face to face and MyPCS.
If you would like to view the award ceremony, please follow the Zoom link below. https://zoom.us/j/92837982930? pwd=Y1hNQU05ZVVQY0VvL0NpbWdIWllEQT09 Meeting ID: 928 3798 2930 Passcode: 4iWTvW If you have any questions, please contact us at 727-524-4430.
We will be collecting 8th grade laptops on June 8th and 9th. Both F2F and MyPCS students are expected to turn in laptops and chargers. Information will be posted soon.
---
Parents can still fill out Free and Reduced lunch forms for their children online until May 31st for the 2020-2021 school year!! Myschoolapps.com
There are lots of parents trying to sign up their children for Summer camps and trying to get discounts for it. THEY WILL NEED A COPY OF THEIR FREE AND REDUCED LUNCH STATUS! In order for me to print these for them they MUST fill out an application, YES even though everyone is free this year.
These letters can also be used for free clothes from Clothes to Kids!!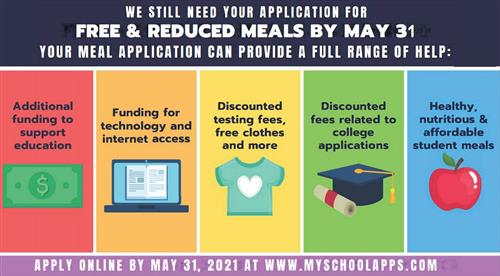 ---