Welcome to Oak Grove Middle
Home of the Golden Knights
1370 South Belcher Road
Clearwater, Fl. 33764
727.524.4430
WE ARE OAK GROVE MIDDLE SCHOOL.
WE MISS OUR GOLDEN KNIGHTS!
Click here for a message to our students
---
Important End of the Year Information
Textbook Return and PE Locker Cleanout:
May 26 – 28 – STUDENTS-students return books, library books, collect yearbooks, and pick-up of student personal items left in PE locker room, and classrooms - Location: Car Circle
Students picking items up from PE will pull to the back of the school- closest to the PE locker rooms. Only one student at a time will be allowed in the locker room
· Tuesday, May 26 (8:30-11:30 a.m.)-6th grade
· Tuesday, May 26 (12:30-3:30 p.m.)-7th grade
· Wednesday, May 27 (8:30-11:30 a.m.)-8th grade
· Wednesday, May 27 (4:30-7:30 p.m.)-Extra
Parents with multi-grade students can come whichever day/time listed above is good for them.
Parents/Students will be instructed to stay in the car and display a sheet of paper on the window that says
· STUDENT NAME
· GRADE
Yearbook distribution
Students can collect their pre-purchased book according to the following schedule. There will be no yearbook sales at this time.
· May 26th: 8:30-11:30
· May 27th: 8:30-11:30
· May 28th: 5:00 pm-6:30 pm
Instrument return- All School owned instruments must be returned for inventory. Students returning their instruments will bring them to the back band room door.
· Tuesday, May 26 (8:30-11:30 a.m.)-6th grade
· Tuesday, May 26 (12:30-3:30 p.m.)-7th grade
· Wednesday, May 27 (8:30-11:30 a.m.)-8th grade
· Wednesday, May 27 (4:30-7:30 p.m.)-Extra
---
Parents need help with Virtual Learning? Click on the link below for PCSB Parent Virtual Academy
https://www.pcsb.org/parentacademy
OGMS Virtual Class Schedule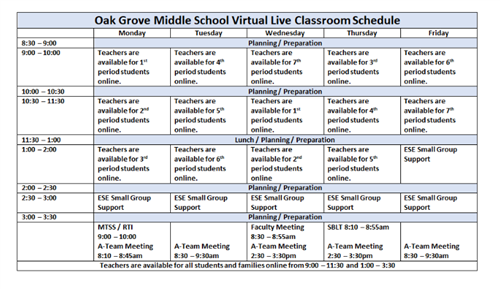 Regional Digital Device Distribution Process

As we transition from school-based to regional distribution, please follow the following steps should a student/family in need inquire about obtaining a digital device:
1. As schools receive calls from families requiring access to a device or Internet, school staff will need to complete the Regional Device Distribution FORM to preregister the student.

2. School staff will need the following information to complete the Regional Device Distribution FORM:
• School Name, Student Name, Student Contact Phone Number and Request (Device or Internet)

3. Schools should direct the parent to the site closest to your school (see list below)

4. Five regional distribution sites will be open on Friday, March 27 and Monday, March 30 from 8-10 AM or 2-4 PM

5. Additional dates and times will be added to assist families experiencing technical difficulties during school closure.

Regional Site
Address
Ozona Service Center
525 Pennsylvania Avenue Palm Harbor 34683

Coachman Service Center
2235 NE Coachman Road Clearwater 33765

District Administration Building
301 4th Street SW Largo 33770

Meadowlawn Service Center
5900 16th Street North St. Petersburg 33703

Title I Office
2499 25th Street South St. Petersburg 33712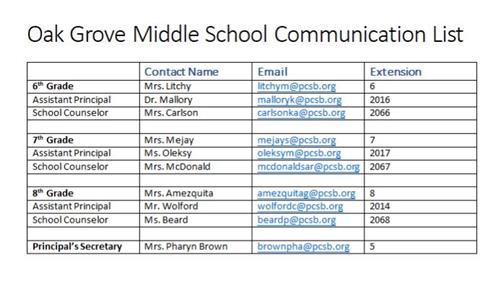 ---

---

---
RESOURCES FOR FAMILIES
Food Pantries Mid-to North County
---
Hispanic Achievement Award Recipients
Maria Baxcajay
Alex Pagan
Jolette Trejo-Resendiz
Helen Santillan

---
Volunteer Opportunities at OGMS
Want to Become a Mentor? Attend a Mentor Webinar
Front Office - 9am-1pm or 12pm-4pm Monday through Friday
Job Responsibilities: Answering phones, greeting parents, students and community members, checking in/out students, small alphabetizing or counting projects, etc.
PTSA - Various days and times
Jobs: Board Members, Fundraisers, Teacher Appreciation, Family Night Events
Mentors & Tutors - Various days and times throughout the school year
Job Responsibilities: Mentor students in the Take Stock in Children Scholarship Program, tutor students in the classroom.
We need mentors! Find out how you can become an inspiration to a child.
Click here for Mentor Information
---

Ms. Baker OGMS Teacher of the Year
---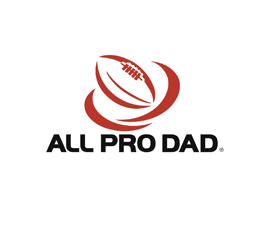 Hey Dads and Oak Grove Students


You are invited to Breakfast each
month
For FREE
When: the 3rd Tuesday each month at 8am
Where: in the Media Center
Spend some quality time together at breakfast. We also
discuss a different character topic each month and just
have fun!
Please join us you can RSVP online here: https://allprodadsday.com/chapters/11041
Contact:
Bucky Worboys bworboys@dupontregistry.com (727) 776-9550
---
Personalized Learning Pathway for students
The Personalized Learning Pathway is a new online platform that helps students navigate their path to academic and career success.
The PLP helps students:
Build resumes and keep track of achievements, goals, hobbies, and volunteer and work experience.

See their performance on assessments and access targeted lessons to improve.

Track progress toward graduation and discover areas they may need to address.

Keep track of advanced coursework, industry certifications and performance on college entrance exams to determine if they are ready for college and careers.
Students can access the Personalized Learning Pathway through the Clever login on the home page of the PCS website or the Pinellas County Schools Clever page.
---
Please participate in your child's education and the Oak Grove family by signing up as a volunteer.
There are many ways to help: chaperoning field trips, mentoring students, tutoring students, assisting with office work, helping in classrooms, computer helpers, PTA/PSTA, School Advisory Council Member (SAC), ESOL tutors.
We also have other opportunities for you: The Great American Teach-in (November) Finance Park with 8th graders. DADS Take Your Child to School day(September). Stay tuned for more details.
Contact
---
Student download for Office 365.
All students in Pinellas County Schools can download Office 365 to use at home.
Go to o365.pcsb.org Log in using r2.d2@pcsb.org and your student password.
---
Need Homework Help?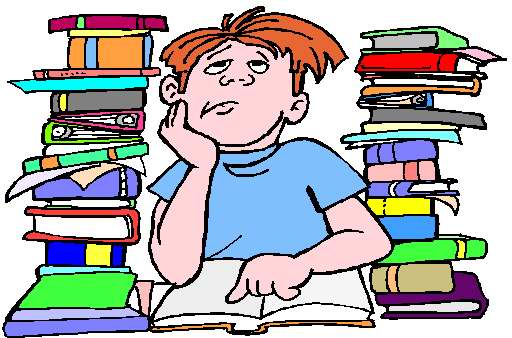 Click here
---
What can I find on the PCS Family Engagement Mobile APP?
---
Florida KidCare
Through Florida KidCare, the state of Florida offers health insurance for children from birth through age 18, even if one or both parents are working.

---