Learning Option Change Request for 2nd Semester:
Please click on the link below to communicate your request of change in learning option for your child. If you do not want to make a change you do not need to do anything. 2nd semester begins January 20th, 2021. Our School Counselors will reach out to communicate the start date for the change of learning option you select. Please understand that this may result in changes to your child's schedule to ensure we safely transition them to the applicable option per your request.
Thanks,
Change in learning option form (click here)
---
ATTENTION 8TH GRADE FAMILIES!
It is time for High School Discovery Fairs!!
2020-2021 Pinellas County Schools Discovery Fair Information - Click Here
---
Would you like your child to have a scholarship for college?
The Take Stock in Children Scholarship program through the Pinellas Education Foundation may be able to help.
Please see attached flyer for information.
Take Stock In Children Application Flyer
If you have any questions please contact Sally Centner at centners@pcsb.org
---
Apply for Free/Reduced Lunches
Click on the link to My School Apps www.myschoolapps.com
To put money on your child's lunch account go to My School Bucks www.myschoolbucks.com
---
Osceola Middle School has been recognized by the FLPBIS Project as a 2019-2020 Bronze PBIS Model School! Positive Behavior Interventions and Support (PBIS) is a school-wide framework that, according to national research, enhances student quality of life and reduces problem behaviors. By establishing this framework, OMS staff are developing skills, making changes to the school environment, acknowledging appropriate behavior, and using data to identify supports for our students. As a PBIS Model School, OMS demonstrates a commitment to positive and equitable outcomes for all students!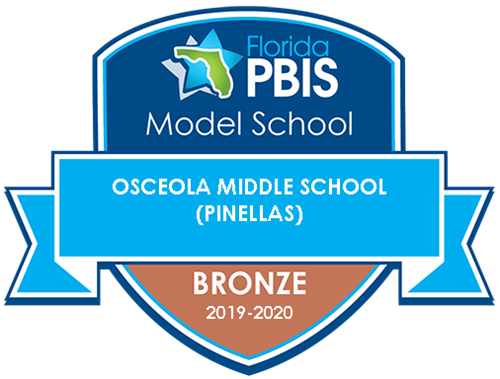 ---
YEARBOOKS FOR SALE
Please click on the link below to purchase your 2020-2021 Yearbook.
Last day to purchase a yearbook is March 1, 2021!!
OMS 2020-2021 Yearbook Online Order Form
In an effort to include OMS MyPCS students in the yearbook, students will have the ability to submit photos through a website called eShare. The instructions are listed below. These photos may be candids and would be included in the student life pages. Students should be in Pinellas County dress code. If you have any questions please contact Marisa Martino at martinom@pcsb.org.
Upload Picture Information Click Here
---
If you have any medical questions for our school nurse please email Mr. Guertin at guertind@pcsb.org.
Pinellas County Schools Health and Safety Message regarding the Coronavirus (COVID-19) can be found at the following link https://www.pcsb.org/coronavirus
---
Moving to Seminole, Florida?
Need to Register your student?
Call 727-588-6210 to Reserve a seat.
If your child has an IEP call 727-588-5128 to reserve a seat.
Items to bring with you to complete registration:
If you are moving from Out of State/County:
Two proofs of your address - Can be a combination of mortage/lease agreement and/or utility bills (Water, Cable, Garbage).
Current Shot Record - You can take your out of state shot record to any Pinellas County Health Department and they will transpose it for free onto the Florida Form 680.
Current Physcial
Birth Certificate and Social Security Card
Grades from Previous School
If you are moving from within Pinellas County:
Two proofs of your address - Can be a combination of mortage/lease agreement and/or utility bills (Water, Cable, Garbage).
If you have any other questions please contact Ms. Levecque, DMT at levecquec@pcsb.org.
---