Congratulations Largo Middle School!
We are now an International Baccalaureate Candidate School Middle School!
Summer Bridge Info click here en espanol
Algebra 1 Jump Start click here en espanol
No Shots, No School! Be ready for 7th grade!
Why PSAT? go to SATpractice.org
Parent Survey Link
In an effort to improve system practices, Largo Middle School is conducting a Parent Survey. We value your opinion and ask that you take the time to complete this survey. In order to complete the survey, please go to:
Please be assured that your responses to this survey will be anonymous. Your honest opinion is appreciated. Thank you for your time and attention to this matter.
Thursday May 25th - Last Day for Students
- DISMISSAL 2 HOURS EARLY (2pm)
May 17th - Exploring Music Concert 7pm
May 20th/21st - Music Dept. Universal Field trip
Test Dates:
May 17th - Exams 8th & 4th
May 18th - Exams 3rd & 7th
May 19th - Exams 2nd & 6th
May 22nd - Exams 1st & 5th
Please fill out
and
return the Title 1 Parent Survey. Thank you!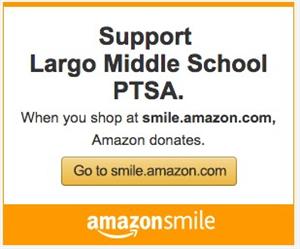 Year books are on Sale! You may purchase our 2016-2017 yearbook online http://www.yearbookordercenter.com

or at the school for just $25!
Special Thanks to Walmart on Missouri Ave.
and Dunkin Donuts on Missouri Ave.
for their continued support as valued business partners.
Parents can add money to the account at: http://Myshoolbucks.com