Dear MBFS Families,
Here are some school news updates and reminders:
RAYS SPIRIT NITE SEPTEMBER 10, LAST DAY TO BUY TIX
The 2021 Baseball continues and our Tampa Bay Rays have the best record in the American League! The Rays have put together a fantastic ticket offer for Pinellas County School students, employees and their families for the Miami Marlins vs. Tampa Bay Ray's game on Saturday, September 25, 2021 at 6:10 pm. At the time of this message over 110 fans have purchased tickets ALREADY!!!!
Lower Level tickets will be offered at $18.00 a ticket. Exact cash is preferred, but checks will be accepted. Checks should be made payable to Madeira Beach Fundamental School. You can bring in your payment to your teacher or drop it off in the Front office.
The deadline to purchase tickets is Friday, September 10th. Order forms will be distributed with our students Thursday, September 2. You can send in your order forms with your child, or purchase these in our front office thru September 10. Each school that sells 150 or more tickets will receive a visit from the Rays Mascot, Raymond and the Rays Street Team to their campus during the Fall of 2022!!! And for purchasing a ticket thru school and attending your family will receive September general membership meeting credit.
So let's show our Rays Crazy Spirit, and let's pack the house at the Trop with a madfun fan base and show the community that "We are better together."
Mr. Chris Ateek,
Principal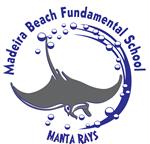 PRINCIPAL'S POSTS...
SEPTEMBER
17 SAC/ Parent University, 5:30P *For general membership meeting credit
DROP OFF AND PICK UP PROTOCALS
Please be mindful there is no parking and walking up for drop off and pick up of students.
Please review the following video that can help you navigate our car line:
**********************************************************************