Season's greetings from the beach!
As we end another year (2018), and break for winter (December 22, 2018 to January 7, 2019), I wanted to take a moment to express my gratitude to you. You bring sunshine to the greater community with your many gifts and talents.
In the spirit of this holiday season, I want to extend my thanks to all of you for everything that you do for our school. As you enjoy the break, it is my hope that each of you 'pays it forward', through kindness, talent, treasure, and good tidings to others. That's what makes the next two weeks so special.
It is during these times (in the quiet) that I am especially reminded of my own good fortune to serve as your proud principal. I truly am the luckiest person in the world. My career as a school teacher and leader has afforded me vast, varied, and richly rewarding opportunities to teach and to learn from young people. And of course, you all. I do hope you too feel the same way about what you do. The faces and actions of our children, their enthusiasm, hope and joy for life is a reflection of you. The world awaits them!
And to you, our school families, and students, please have a safe and joyous holiday season. As school tradition has it, our Mad Beach Santas will be in the car line Friday morning to greet you. And as a show of thanks to you, choral students will bring in the sounds of the season. In addition, food service staff will be handing out candy canes that morning to you. If you have a Santa costume, and you'd like to join me...please email me at ateekc@pcsb.org. Park and walk up for a cup. See you then, or bright and early Tuesday, January 8, 2019.
Respectfully,
Chris Ateek, Principal
**************************************************************************************************************
Important to know....
School Vision: 100% student success
School Mission: Madeira Beach Fundamental will provide a rigorous student-centered learning environment to ensure 100% student success by working collaboratively with all faculty, staff, and community stakeholders.
**************************************************************************************************************
To accomplish this mission, Madeira Beach Fundamental has 7 Goals:
76% of our students scored at the proficient level or above as evidenced in the Spring, 2018 English Language Arts Florida Standards Assessment. We expect our performance level to be 80% of students achieving ELA proficiency by Spring 2019.
87% of our students scored at the proficient level or above as evidenced in the Spring, 2018 Mathematics Florida Standards Assessment. We expect our performance level to be 89% of students achieving Mathematics proficiency by Spring, 2019.
86% of our students scored at the proficient level or above as evidenced in SSA proficiency (level 3 and above). We expect our performance level to be 90% by May 2019.
90% of our students achieved at the proficient (Level 3 and above) as measured by the 2019 Spring EOC Civics Assessment.We expect our performance to increase from 90% to 93%, as measured by the 2019 Spring EOC Civics Assessment.
100% of students will be provided with opportunities for physical movement on a daily basis to maintain student engagement in content.
The percent of all students earning credit for acceleration coursework will increase from 81% to 85%, as measured by qualifying course credit scores and/or industry certifications earned as measured by the *Acceleration Rate.
100% of our students will be provided restorative practices (community circles) on a regular basis to increase community building opportunities and reduce the number and percent of discipline incidents for each student subgroup.
**************************************************************************************************************
2018-2019 8th grade National Junior Honor Society Interest

NJHS is a service organization for students who exemplify and demonstrate the following traits: service, leadership, character, and citizenship. Eligible eighth grade students will be evaluated by a faculty advisory council on the basis of these traits. To be eligible for membership consideration, students must be in eighth grade and have a 3.0 grade point average on a 4.0 scale beginning with grades active in sixth grade and meet the behavioral and character requirements. If, after a student has been selected, but before the formal induction, the student is involved in an incident which places his/her qualifications in question, induction will not take place until the faculty advisory council re-evaluates his/her standing.
Students must also be able to verify at least 20 hours of community service with documentation. Acceptable forms of documentation include a letter or the form available on the website with signed documentation of the service done and number of hours. Service hours may be completed at the same place and should be signed off by a non-family member. The hours may begin at the beginning of his/her seventh grade year and need to be completed by the first day of 8th grade.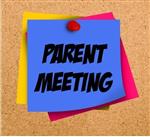 2018-19 General Membership Meeting Opportunities...

*** Earn January Credit by:
Volunteering at the Daddy Daughter Dance;

Attend your child's National Junior Honor Society induction ceremony on Thursday, Nov. 8th;
Participate in the 2nd annual Manta 5K/Fun Run on Saturday, November 10 @ 8:00am.
*** Sign up to volunteer in November using the link below. ***
1. SAC/Parent University - Next mtg date - 1/22/19 @ 5:30pm

2. PTSA (Fall Festival) - Next mtg date 1/14/19 @ 5:00 - 7:30pm (Membership cards in Media Center)

****For SAC or PTSA meeting credit, you must arrive no more than 15 minutes from the start of the meeting opportunity you attend, and remain for the entirety of the meeting. Parking will be tight so arrive early, and available to you on our middle grades pe field. Please do not park on the car line itself. General membership meeting cards will be found in our media center for sign in.
3. Other Mtg. Credit opportunities:
Are you interested in earning meeting credit without attending a night time meeting? Our IAC needs you! Be a part of the IAC committee that meets on Tuesday and Thursday afternoons. You do not have to attend all meetings...serve when you can. Please email Mrs. Ivy (ivyd@pcsb.org) or Mrs. Crandall (crandallb@pcsb.org) to be added to the list of IAC volunteers. Serving on two IAC meetings equals one month's meeting credit.
You could receive General Membership Credit for lending a helping hand in the mornings and/or afternoons!! We could use your help in the mornings and afternoons with covering some of the gates or assisting in the parking lot on campus. If you are willing to help two mornings a month (or more if available) you will receive membership credit for the month of February. You would need to be on campus for about half an hour per shift. You do not need to be a Level II volunteer, but you MUST be a registered volunteer that has activated their FOCUS account for this school year. If you need help registering/activating your account, please contact our Family & Community Liaison, Stacie Allen at 727.547.7697. To sign up for one or multiple shifts, click on the link below:


Sign-up to Volunteer in November!