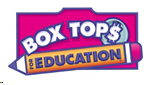 Welcome back to school, parents! My name is Holly Polson and I'm thrilled to be our school's Box Tops for Education™ Coordinator.
Clipping Box Tops is an easy way to help earn cash for our school. Each one is worth 10¢ for our school! Just look for the pink Box Tops on hundreds of products. All you have to do is clip them and send them to school.
Last school year, we earned $379.90 for our school from Box Tops and used the money for classroom supplies and field trips. This school year, our goal is to earn $1,000.
For more information on Box Tops, including a list of participating products, go to BTFE.com. Be sure to sign up as a member (it's free!) so you can check out our school's earnings details and get access to coupons and bonus offers.
If you have any questions, please don't hesitate to contact me. I'm here to help make our school's Box Tops for Education™ program a huge success this year.
Thanks for your help!
Coordinator name: Holly Polson
Phone: 727-455-3949
Email: hollyp1116@yahoo.com
The Anona Eagle is looking for a classroom to land! The classroom with the most box tops turned in for the month will win an extended visit from our Anona Eagle (plush) in their Classroom!
---
Dear Anona parents and families!
It was wonderful meeting you all, and we are so grateful to collectively be such a wonderful group of parents at Anona. We believe that a large part of student success is a direct result of a strong relationship between the parent and the school. Participating and supporting the PTA is one of many ways to do so, and we thank you for sharing your contact information to stay in the loop. Our goal this year is to keep an open line of communication with parents, and ensure the opportunities to help are clear. If at any time you have questions, you can email this Anona PTA email address and we will get back to you. Also, if you want to contact any of us directly, please feel free to do so!
General ANONA PTA email that we all access - AnonaElementaryPTA@gmail.com
Holly Polson - President (Grace's mom 5th grade Mrs Lee / Mr. Black)
Jessica Streets - Treasurer (Savannah's mom 2nd grade Mrs. Toenjes)
Jennifer Savarese - Secretary
PTA is taking a new approach to fundraising this school year. We have opted out of catalog sales and would like to put our energy and efforts into 2 donation base Fundraiser. Fundraisers completely support the PTA. Also, we would love to hear your ideas and learn what your skills are! We encourage anyone who has an itch to get involved to please do! Involvement can be as simple as joining the PTA through membership. You can also attend our monthly meetings. Additionally, you can donate some of your time to help us complete tasks. We will operate mostly with Sign Up Genius for ease. You will get emails with sign up slots for the events we have lined up for the year. If you are able to help out, please sign up! If for any reason you are unable to complete the task you signed up for, we kindly ask that you notify us so we can make other arrangements.
We look forward to a successful year, and here are some of the exciting events we have planned for the students and families:
Please also visit our PTA Facebook Page Anona Elementary PTA for events and up to date information.
October 27th Friday - End to PTA Membership Drive - winning class gets a Pizza Party
November 2nd Thursday - VPK / Kindergarten Mixer (FREE event)
November 10th Friday - Walk-a-thon (during school day) - FALL FUNDRAISER
December 6th Wednesday - Reading Under the Stars
February 7th Wednesday Pasta / Bingo / Date Night!
February 14th Wednesday - Read-a-thon (during school) - SPRING FUNDRAISER
May Teacher Appreciation Week!
Again, we thank you for providing your contact info, and look forward to getting to know you this year. It is exciting to know we are all working together with the same interest in mind, our children!
Happy back-to-school time to you and your little Anona Eagles!
Sincerely,
Anona PTA