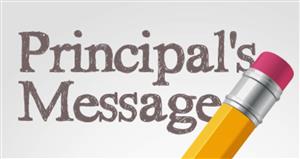 Hello Wildcat families,
It's hard to believe it has been almost 5 months since we have seen each other. Who would have ever thought we would be faced with this much uncertainty in education and health? While I don't have all the answers I would like to assure you of a few things as you make your choice for returning to school. My greatest task is to make sure your children are as safe as possible when you decide to return them to Lake St. George. As you now know from our Superintendent, Dr. Michael Grego, parents have 3 choices to return to school. Those choices are on the district website and I have also included an attachment. Lake St. George only has connection to option 1 which is face to face schooling or option 2 which is called MyPCSonline.
If you choose Option 1, it is traditional school however, things will be different. All staff and students must wear masks, social distancing will be established in every location and visitors (including parents) will not be allowed (or very limited) on campus. All meetings including Open House, IEP and teacher conferences will be held virtually for at least the first 9 weeks of school. PTA/SAC meetings will be virtual. All school events that normally take place in the first 9 weeks of school are cancelled. With that being said, we are still striving to find our family friendly, student-centered atmosphere. I think we did a pretty good job staying connected with our Wildcat Morning Paws show during the original virtual span. If you give us a chance with this option, I know we will find a balance that we can all be happy with. We will strive to learn what we missed academically and rocket forward on new curriculum. We will follow the CDC, Florida, Pinellas and Health Department guidelines with our focus on student and teacher safety.
If you choose Option 2, MyPCSonline, you will still be connected to Lake St. George. This is not Florida Virtual School. Choosing option 2 you will keep your seat here. You will get all our correspondence and still be a part of our school. You will be taught virtually by a Lake St. George teacher. It will be different than our previous virtual stint. It will be more rigorous and the hours will equal regular school hours. If by chance schools are shut down again, this is exactly where we will transition. This is a great choice if you love our school but are weary of returning to the building. This option buys you some time of waiting a bit longer until COVID-19 cases decrease before returning to brick and mortar school.
I would like to say that as of today our district is still planning on opening on August 12th. However, the Superintendent has said this could change due to the current cases of COVID-19. I sincerely hope you choose one of these 2 options. We are working hard to keep our school safe. I am available via email and will reply quickly whenever possible. Please don't hesitate to ask questions. This is a stressful time for all of us. The only way we can get through it is by working together.
Best Regards,
Monika Wolcott
Principal
Lake St. George