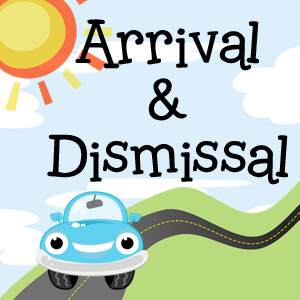 **Arrival and Dismissal Reminders**
School s

tarts at 8:35am and may start arriving on camp

us at 8:05am with classroom doors opening at 8:20am. Please do not drop your child off any earlier than 8:05am unless they are a 5th Grade Safety Patrol. Siblings of patrols must remain in your care until the 8:05 arrival time. We have a YMCA program available here at LSG for morning and afternoon care starting at 6:30am to 6:00pm. Please contact Jill Keller for more YMCA details.

Breakfast is served for all students for FREE from 8:05am till 8:35am.

If you are dropping your child off in the carline, please know that you MUST move all the way down towards the Kindergarten overhang area if there is available space in the line. Please do not stop in front of the flag pole. Students of all grade levels are allowed to enter through the Kindergarten door areas if needed. There are many adults and Safety Patrols available to help guide your child to the proper area.

Please watch your speed in the carline as we have many families using our crosswalk areas.

Please do not park along CR 95 for any school event. There are No Parking signs posted along those areas.

When picking up your child in the carline please make sure your "Last Name" Name tag is visible on the passenger side visor of your vehicle. This will help move the carline smoothly and efficiently.

Do not leave your vehicle unattended in the carline. If you would like to walk up to the school to meet your child at dismissal, please use our school parking lot and crosswalk areas.

If you see your child waiting for you at dismissal, please do not stop where they are located in the carline. Please continue moving all the way down towards the Kindergarten area and your child will walk to your vehicle.

During rainy day dismissals please note that the carline may move at a slower pace and we appreciate your patience as we dismiss students in a safe manner. We will do our best to keep your child from getting soaked on the way to your vehicle. Make sure your name tag in the car is visible.
Thank you for your attention to these reminders as we continue to go forth this school year. We appreciate all your support and please contact our office if you have questions or concerns.